There is perhaps no better way to cool off on a famously hot afternoon than with a giant scoop of ice cream in Columbia. This is actually one of our favorite things to do with kids in Columbia. Luckily for all of us, there are several great ice cream shops and eateries with excellent frozen treats.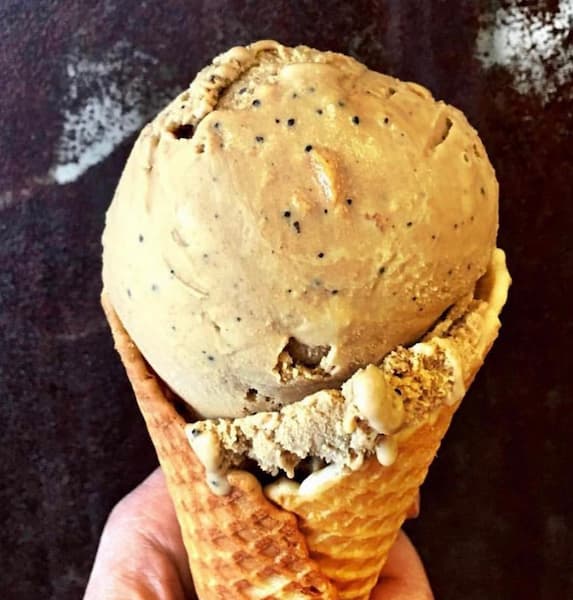 Whether you're after a homemade waffle cone, authentic gelato, trendy rolled ice cream, or a giant ice cream sandwich, we share it here in our guide to the best ice cream in Columbia.
What You'll Find In This Article
Where To Get Ice Cream in Columbia
Below is a map of all of the ice cream places highlighted in our guide. We love the map view because it helps you quickly see what's nearby.
Ice Cream Shops In Columbia
We are kicking off this list with the best places to get ice cream in Columbia. This includes gelato and frozen yogurt. If you are looking for a different type of frozen treat, skip over this section to see our top picks for Italian ice and snowballs.
If small-batch, handcrafted ice cream is your love language, you will absolutely love Sweet Cream Co. It's located on Main Street and is the perfect place for ice cream, sorbet, milkshakes, cookie sandwiches cold brew and even a chai latte. Don't miss their homemade waffle cone!
Sweet Cream is open late, so it's a fun spot to pop into while on a date in Columbia. There a few tables inside or you can grab it to go and take a romantic stroll on Main Street.
The Baked Bear is an ice cream shop in Five Points that specializes in ice cream sandwiches. Choose your cookie base and your ice cream flavor to make your perfect dessert!
If ice cream sandwiches aren't your style. you can order by the scoop instead or just get a brownie or cookie. We personally love the Bear Bowl which comes with a warm chocolate chip cookie and a scoop of ice cream.
Rosewood Dairy Bar is perfect for a diner-like burger, fried chicken and excellent soft-serve ice cream. We especially love the chocolate-dipped ice cream cone. It's locally-loved and an iconic Columbia establishment.
It's a walk-up spot located on Rosewood Drive just at the edge of Shandon. There's some indoor seating available as well as a few tables outside. Rosewood Dairy Bar has a definite Diners, Drive-Ins and Dives feel and is a great restaurant for kids in Columbia.
Another great local drive-in is Zesto located in Forest Acres. It's a beloved spot for milkshakes, chocolate-dipped cones and excellent fried chicken. They also make a really great cheeseburger.
There's also a Zesto in West Columbia– you won't miss their iconic chocolate-dipped ice cream cone that sits on the roof of the building!
Scoopy Doo is a local gelato shop in Five Points. It's just next to Drip, which is one of the best coffee shops in Columbia and also happens to share an owner with Scoopy Doo.
They serve handmade gelato and sorbetto, as well as gourmet hot dogs!
You'll find the aptly named Rolled Ice Cream shop on Taylor Street in downtown Columbia. Choose from a variety of flavors and toppings and watch the magic while they mix it and roll it for you.
If you aren't familiar, rolled ice cream is prepared in front of customers using a cold metal disc and a liquid base. The liquid is poured on the metal and it begins to freeze up. Toppings can be mixed in during this process and then the sheets of now-frozen ice cream are rolled up and placed in a bowl.
Kremo is a unique ice cream shop in Five Points. They not only offer rolled ice cream but also bubble tea. It's a pretty interesting setup because it's two franchises in one place– Kremo and Gong cha.
You'll find multiple ice cream flavors, mix-ins, sauces and toppings at Kremo, so you can really customize your ice cream to your liking. If bubble tea is more your style, there are plenty of options for you, too! Choose from milk foam, milk tea, brown sugar beverages and more. And don't worry, they have a 'how it works' part of the menu if this sounds confusing.
While Silver Spoon isn't really an ice cream shop, they make excellent handmade ice cream and deserve to be on this list! The flavors change weekly but you can expect something unique and delicious like peach galette, sweet corn, salted caramel oreo and even cotton candy macaron.
Silver Spoon offers ice cream by the pint for a weekly pre-order. Orders open at 8PM on Wednesdays and pickup is on Fridays from 3-6 at their shop on Devine Street.
Other Frozen Treats In Columbia
Rita's Italian Ice is the perfect spot to get a frozen treat in the Vista. The Italian ice is made daily with fresh fruit and includes flavors from banana to Dr. Pepper. Flavors change daily but you can always expect something delicious.
Not only is their Italian ice great, but we also love their custard. They have excellent flavors, including pumpkin for fall!
Pelican's SnoBalls is a New Orleans shaved ice franchise with several locations around town. You will love their smooth and fluffy snowballs! Each location has over 100 flavors of the beloved New Orleans shaved ice. You can mix flavors and also add cream to your snowball. Trust us, your kids will love it!