Soda City Market is a weekly farmers market held Saturday mornings on Main Street in downtown Columbia.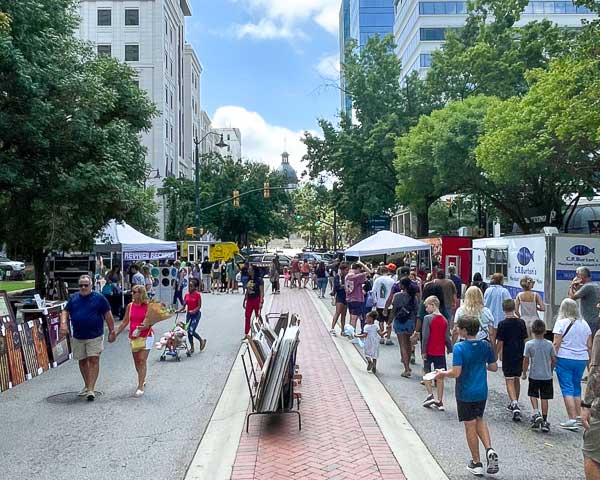 Rain or shine, Main Street is transformed into a charming, family-friendly outing complete with local artists, bakers, food trucks, coffee, music and more. You'll also find a few produce stands at Soda City, though honestly, it's more of a food fest than a farmers market!
Soda City is fun to just pop in to get a few things or to stay all morning eating, browsing and enjoying the charm of it all.
It's an especially great thing to do with kids in Columbia because there is just so much to see and do. Ours love going and trying out new treats, watching buskers and seeing familiar faces.
Soda City is our Saturday morning tradition and we have become experts at navigating the market, which vendors have the best food, where to stop for a picnic and even the best time to shop. This guide to Soda City includes all of this and more!
What You'll Find In This Article
About Soda City Market
The Soda City Market looks much different today than it did when it first opened in 2005. Back then it was called the All Locals Farmers Market and consisted of 6 vendors set up at Gervais & Vine.
Today, the market takes over the 1300-1600 blocks of Main Street. The market estimates over 5,000 weekly visitors with 7,000 visitors on special event weekends. And there's an average of 150 market vendors!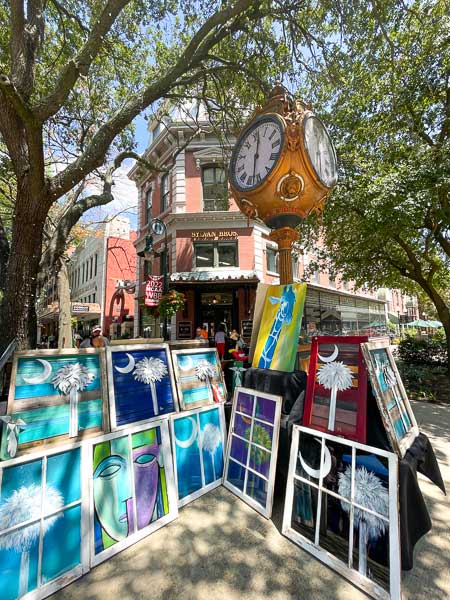 Soda City is a producer-only market, which means vendors need to either make or grow their own products. The market thrives on its unique, hand-crafted products
What's so interesting about Soda City is that they have never accepted public funding (not even hospitality tax!) And yet they have had such a significant impact on the city.
There are so many new businesses that formed just to vend at the market. Since its inception, at least 15 vendors have gained enough of a following from the market to open a brick-and-mortar shop.
Soda City operates from 9am to 1pm every Saturday, rain or shine.
Vendors at Soda City Market
There are so many different types of vendors at the market. You'll find everything from food trucks to artists, jewelry makers, coffee shops, local bakers and even buskers.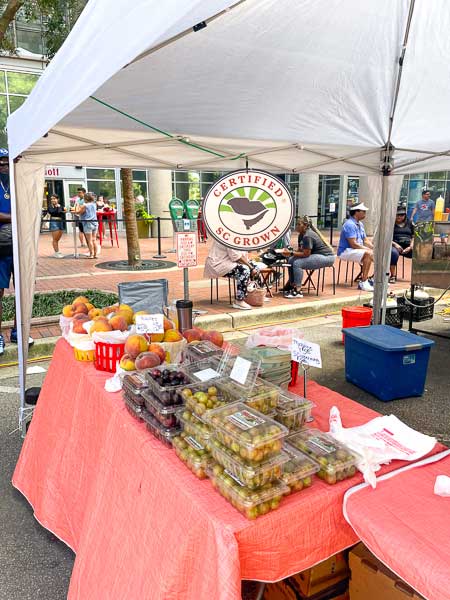 The various types of vendors are truly what makes the market so great. It's fun to see the same faces week after week and also to try out newcomers to the market. The vendors have their own form of currency between each other by trading their goods with one another. It's actually pretty cool to see!
Our favorite Soda City vendors
Now, all of the vendors are exceptional but we have a few favorites that are weekly visits for us. First and foremost: we love to start our mornings with coffee! Our favorite coffee vendors at the market are Curiosity Coffee and Indah Coffee. They are both local coffee shops in Columbia that help keep the market-goers caffeinated.
Curiosity can typically be found on the 1400 block in front of the Marriott and just across from the Belgian Waffle Truck's setup. It's an excellent pair!
Another dynamic duo is Indah Coffee across from Rambo's Fat Cat Biscuits. Fat Cat is actually a Soda City success story. They opened their own brick & mortar breakfast spot in Columbia after years of building a brand at the market. You'll find excellent breakfast biscuits here!
For lunch, we love Mary's Arepas, Paella South and Lobster Dogs. We also never leave without a bag of kettle corn from Carolina Popcorn Company. And if From Scratch Bakery is attending we absolutely love her sourdough bread and sourdough cinnamon rolls!
And for vendors that aren't food related, we love Seminole Candle Company, anyone with fresh flowers, Vintage Valley Thrift and too many local artists to name. That's what is so great about the market– there are so many different types of vendors with amazing, unique finds.
How to become a vendor
It's pretty easy to apply to be a Soda City Market vendor. To apply, just fill out an application on their site. Of course, you'll want to make sure your business falls within the accepted categories before doing so.
It's a producer-only market, so you'll need to either make, grow, refurbish or up-cycle your products. They also have some space available for eligible non-profits.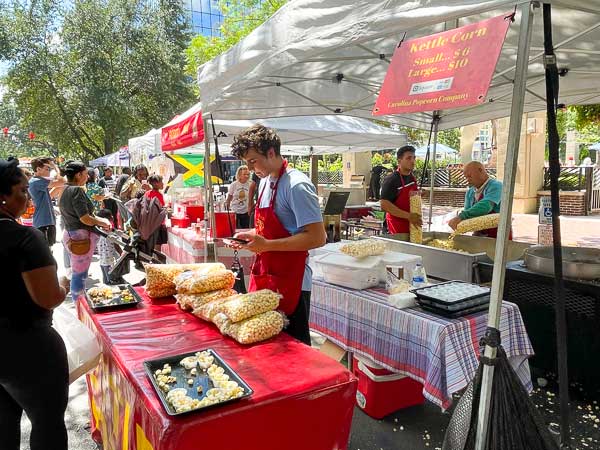 The application fee is $40, so definitely take it seriously and put your best foot forward. You should hear back within two weeks of applying.
The market does not accept multi-level marketing businesses, service businesses, and religious or political organizations.
Where to park for the Soda City Market
As you can probably imagine, parking can fill up at the market, especially later in the morning. One cool thing, though, is that parking is free on Saturday mornings! You can't park on Main Street where the market is held, but adjacent streets all have parking. Check Assembly Street, which is just a block over from Main.
There are also several parking garages in the area. We personally prefer the Cannon Garage on Taylor Street because it puts you out right at the top of the market. And then we make a beeline to Curiosity Coffee! We like to arrive early and have never had an issue getting a spot here.
Soda City Market Tips
As Soda City Market enthusiasts, we can offer a few market tips to make the most of your morning.
Tip #1: If you want to beat the crowd, come early! When the weather is nice the market can get super packed. It can be tough to move around and lines at popular vendors can get long, especially closer to lunchtime.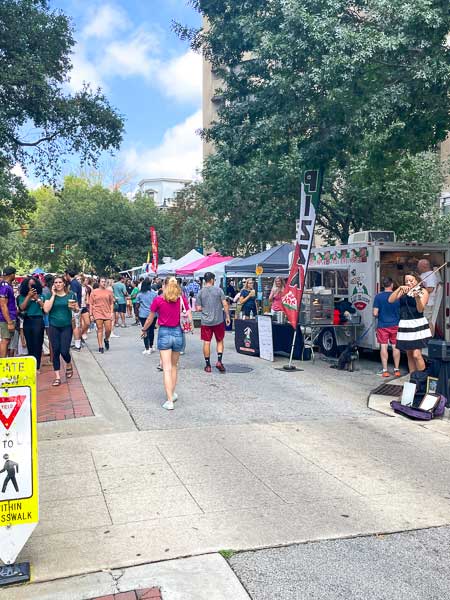 Tip #2: Soda City officially opens at 9, but vendors set up early and are typically ready to start serving immediately. Especially coffee and baked goods!! The lunch food trucks usually don't get going until closer to lunch, though.
Tip #3: vendor location at the market can move from week to week. You can keep up with which vendors will be attending and where they'll be with a weekly vendor map posted on Soda City's Facebook.
Tip $4: If you are looking for a place to sit and enjoy food, check out Boyd Plaza in front of the Columbia Museum of Art. There's a grassy area for kids to run around and a few tables for dining and walls to sit on.
Soda City FAQs
Are dogs allowed at Soda City Market?
Yes, leashed dogs are allowed at Soda City. Just make sure they are well-behaved and that you clean up after them. Also, keep in mind that the sidewalks get hot in the summer and may not be the best place for your four-legged friends.
How long does the Soda City Market last?
Soda City operates from 9am to 1pm every Saturday, rain or shine.
When did Soda City Market start?
Soda City Market opened in 2005 under the name "All Locals Farmers Market."
---
Going to Soda City is truly one of our favorite things to do in Columbia. There's just such a local, magical happy feeling each week at the market. We hope this guide helps you experience and enjoy the charm of it all on your next visit!