The perfect itinerary for your weekend in Columbia
Visiting Columbia, SC for the weekend and you don't know where to start? We can help!
You'll find all of our go-to recommendations for visitors to Columbia so that you can make the most of your trip. These are the things that we love to do as locals and we hope you will be inspired by our itinerary.
Read on for a detailed guide on how to spend the perfect weekend in Columbia!
Friday (day 1 of your weekend in Columbia)
Friday afternoon: Hang out in Five Points
I can't think of a better way to start a Columbia weekend than spending time in Five Points. There you'll find local shops, restaurants and bars. A few of my favorite shops include Revente for consignment, A Little Happy to pick up a few fun gifts and The Gourmet Shop for kitchen goods.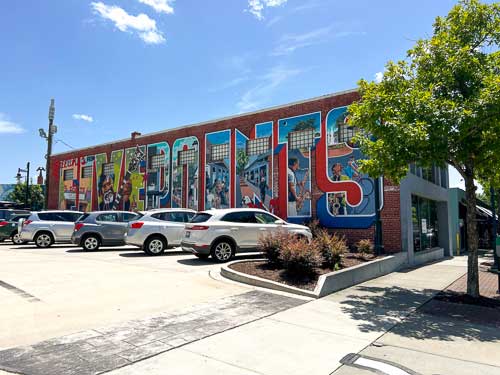 If you are looking to just kick back and relax, I personally love Drip Coffee on Saluda Ave. They are open until 8pm on Fridays. Another great spot to have a latte (or mimosa!) and a pastry is Gourmet Shop just across from Drip. They are open until 6pm.
And, of course, there are several bars in the area. Five Points is known for that! Oh, and if you are into arcades, Bang Back Pinball Lounge is also in Five Points.
Friday evening: Dinner at Mr. Friendly's
As far as I'm concerned, a weekend in Columbia isn't complete without a visit to Mr. Friendly's New Southern Cafe. It's in Five Points, so you can walk over once you wrap up your shopping and exploring.
You'll find a few tables out front but majority of the seating is inside. It can get busy with the dinner rush, so go ahead and make a reservation to avoid a wait!
Saturday (day 2 of your weekend in Columbia)
Saturday Morning: Shop and Eat at the Soda City Market (9am-11am)
The first full day of your weekend in Columbia, SC should definitely begin with a visit to the Soda City Market! The Soda City Market ("Soda City") takes place on Main Street every Saturday, just a few blocks in front of the State House. Main Street is barricaded off and an average of 150 vendors set up each week.
You'll find a lot of food at Soda City Market! Honestly, it feels more food fest than farmers market, though there are a few local produce vendors.
A few standout vendors include Rambo's Fat Cat Biscuits for a perfect chicken biscuit, the Donut Guy for a gourmet donut, Curiosity Coffee for your morning caffeine and From Scratch Bakery for the best sourdough cinnamon rolls. Note: The Donut Guy and Fat Cat both have brick-and-mortar shops as a result of their Soda City success!
You'll also find artisan bread, handmade soaps, local art, clothing, jewelry, jams & jellies and even buskers at Soda City Market! It's such a fun way to spend a few hours and fuel up for your day in Columbia.
As far as parking for Soda City Market goes, you'll find metered spots on Assembly street just a block over. Parking is free on Saturdays, by the way! There's also a garage on Taylor Street that we typically use. There are several hotels within walking distance of Soda City if you are visiting for the weekend and want to be nearby.
Soda City gets more crowded as the day goes on, so we recommend going just as they open for easy parking and exploring. With a host of things to eat and see, you are sure to enjoy feeling like a local in Columbia!
Saturday Early Afternoon: Go Explore! (11am-2pm)
This is going to be a 'choose your adventure' part of the day. We'll give you a few ideas of where to spend a few hours in Columbia and you choose your fancy!
Explore at the South Carolina State Museum: the state's premier educational museum focusing on natural history, science & technology, local art and cultural history. It's just a quick drive from Main Street right past the main Vista area.
Spend time at the Columbia Museum of Art: The city's art museum is a great place to spend time while enjoying work from a variety or artists. The museum puts an emphasis on diversity and inclusion, so you'll find several exhibits by women, Black artists, Indigenous artists, artists of color, and/or LGBTQ+ artists.

You'll spot the art museum on Main Street behind Soda City vendor tents between Taylor and Hampton streets. Boyd Plaza is just out front and is actually a great place to rest your feet while enjoying your Soda City fare.

Get close to wildlife at Riverbanks Zoo: Did you know that Columbia is home to a world-renowned zoo? Riverbanks Zoo is a great experience for all ages. It feels a bit out of town, but it's actually less than a ten-minute drive from Soda City.
Take a self-guided tour of the State House: This is a great idea if you want to learn more about the history and architecture of the State House. The SC State House is open until 4 on Saturdays. It's just down Main Street from Soda City, so you can easily walk between the two.
Stroll along the river: If walking along a river sounds nice, definitely check out Columbia's Canal and Riverfront Park. It's a flat and easy walking trail that is paved. Read more here on SC Trails. There's also a riverwalk just across the way in West Columbia.
Check out UofSC's campus: This is a great way to spend time if you haven't had a chance to stroll along the Horseshoe on Carolina's campus.
Go antiquing in West Columbia: just across the river from the Vista/downtown Columbia you'll find Meeting Street in West Columbia. There are several antique stores in the area (Three Rivers Antiques, 763 Meeting Street Antiques, Meeting Street Interiors, Attic Fanatic…) as well as the wildly large Old Mill Antique Mall on State Street.

Since you'll be nearby, go grab a chocolate-dipped ice cream cone at Zesto! There's also a giant ice cream cone on top of the building that is worth checking out. And if you want a real snack, try their fried chicken!
Saturday Late Afternoon: Stroll along Devine Street (2pm-5pm)
Our next recommendation for your weekend in Columbia is to pop in local shops and boutiques on Devine Street. You'll also find two coffee shops on Devine Street (Azalea and Blum) mixed amongst the shops, as well as a beer store with a bar area and a wine bar.
You'll probably want to plan on 2-3 hours on Devine Street, plus additional time if you decide to hang out at the wine bar or beer store before dinner.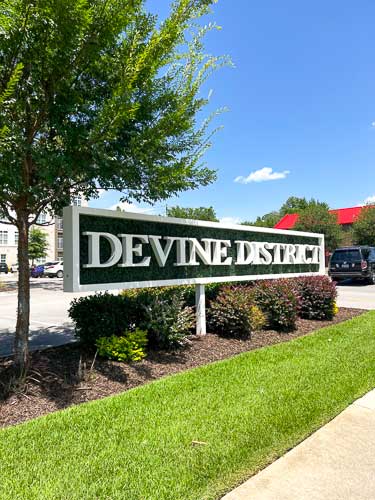 Devine Street is the place to go to shop local in Columbia, SC.
Devine Street is a bit of a busy street, but you'll find a ton of shops that are easily walkable on one side of it. Below is a sampling of a few stores that we love, and you can find additional details on our guide to Devine Street.
Duck Duck Goose: a great shop if you are looking for Southern-style children's clothes, like Jon Jons and smocked or monogrammed pieces. Brands sold include Proper Peony, Bella Bliss and Bailey Boys. It's one of the nicest shops in Columbia by far! Duck Duck Goose also has toys and books.
Marigold Modern: another baby shop just a few blocks down. Marigold is a bit trendier with their offering, with brands ranging from Pink Chicken, Stella McCartney and STATE. You'll find a ton of little 'surcies' for kids and tweens.
Just The Thing: the perfect place to pick up a new bag or piece of jewelry. They actually have two different storefronts in the same area. And around the corner from Just The Thing is Columbia's Lilly Pulitzer store:
Pink Sorbet: Columbia's very own Lilly Pulitzer store
SLATE: A high-end women's boutique toward the end of Devine's shopping area. It's next to Azalea Coffee Bar, which is a great place to grab a delicious latte.
Another fun spot to spend time on Devine Street is the wine bar Moltó Vino. It's tucked between several shops and has a great wine menu, as well as beer and sparkling water. Oh, and there are self-pouring wine machines! They host bingo on Wednesday nights.
Traveling with kids? There are several playgrounds near Devine Street! We personally love Sims Park and Heathwood Park.
Saturday Evening: Dinner on Devine Street
And now– time for dinner! We had a tough time narrowing down where we'd recommend for your Saturday dinner. There are multiple restaurants on Devine Street that we love so we thought we'd give you a few ideas instead.
Have a date night at Il Giorgione
Relax with a margarita and queso at Cantina 76
Cantina 76 is a regular go-to for us and a great spot if you are looking to unwind over chips and salsa. They have a comprehensive margarita menu, queso, bean dip, tacos and awesome entrees. I typically opt for their tres hombres sampler (salsa, queso, guacamole), a quesadilla and the jalapeño margarita. Cantina 76 also has a location on Main Street.
Enjoy authentic Lebanese at Arabesque
Another great spot on Devine Street! Arabesque's gyro plate is amazing, as is their hummus. And their grilled kafta! If you want to try a little bit of everything, get their mixed grill platter with Shish tawouk, kafta, beef tenderloin and shrimp. Arabesque has a few vegan options on the menu as well.
Sunday (day 3 of your weekend in Columbia)
Sunday Morning: Brunch at Motor Supply Company
Only the best for the best! We love Motor Supply Company in The Vista and highly recommend them for brunch (available 10am-2pm.) Enjoy Columbia's best Bloody Mary and try their shrimp and local Adluh grits. Definitely plan to make reservations in advance. Check out our complete guide to brunch in Columbia for more ideas.
Sunday Afternoon: Stroll around The Vista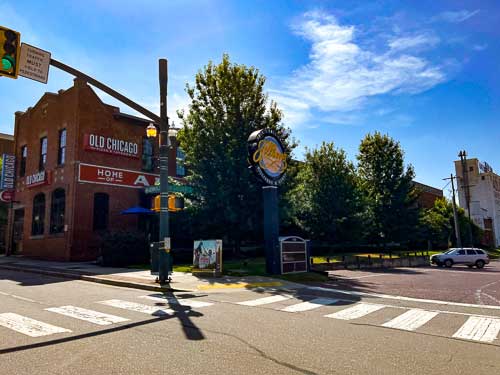 Before you head out, take a walk down Gervais Street in The Vista. And we recommend grabbing an espresso drink and pastry from SmallSUGAR! It's one of our favorite restaurants in Columbia.
Where to stay for a weekend in Columbia, SC
For this weekend in Columbia itinerary, we recommend staying in the downtown area near Main Street. The thought of walking out of your hotel to the Soda City Market on Saturday morning is just too perfect.
You won't need to worry about finding a parking spot that morning and there's a ton close by if you decide to stay and explore the area.
Hotels on Main Street and the surrounding area
Below are a few hotel properties that would be great for your weekend in Columbia.