Everything to know about Riverbanks Zoo
The Riverbanks Zoo in Columbia, SC is a world-class zoo attracting visitors from all over the region. There's a reason it holds the top spot on our guide of things to do in Columbia, SC: it's delightful!
The wide array of animals, activities, learning opportunities and beautifully maintained grounds make it one of Columbia's most popular attractions.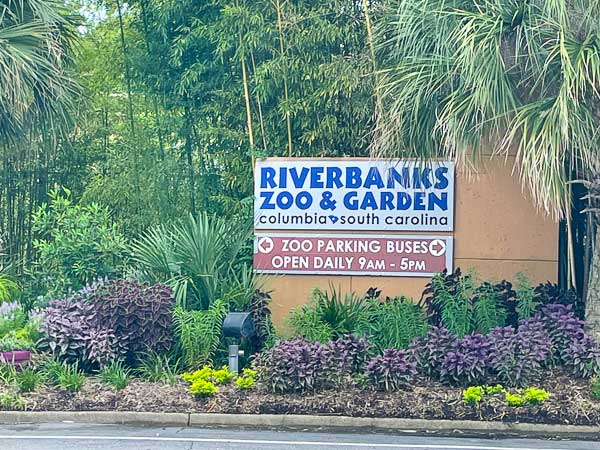 The zoo is by far our number one recommendation for things to do in Columbia with kids, though it's great for people of all ages. Not only will you find amazing animals and impressive habitats, but there's also a carousel, mini train, Botanical Gardens and even a splash pad and kid play area at the zoo. It's full of fun for the whole family.
This article shares all that you need to know to get the most out of your next Riverbanks Zoo visit. If you are wondering where to stay when visiting from out of town, check out our guide to hotels near Riverbanks Zoo for our top picks.
The first thing you may be wondering about when planning your trip to the zoo is what admission is like. Do you need to buy tickets in advance? What's the best plan for a family? We'll answer all of that for you below!
There are a few options for admission to Riverbanks Zoo depending on how often you plan on visiting. They have general admission pricing for infrequent visitors and year-round memberships if you plan on being a regular visitor.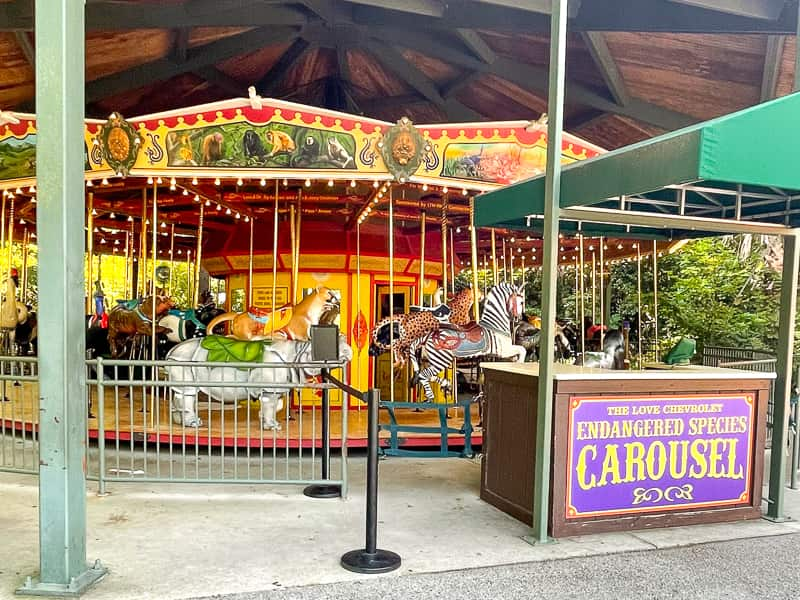 If you think you'll go more than once in a calendar year, the membership may be worth it! Check out the details below.
General Admission
General admission tickets to Riverbanks Zoo can be purchased in advance on the Riverbanks Zoo website. We recommend purchasing tickets online to receive free parking. If you purchase tickets at the gate you will have to pay the $5 parking fee. Plus, you'll have to wait in a separate line to buy tickets before you can enter the gates.
General admission ticket pricing as of August 2023 is as follows (please check the Riverbanks Zoo website for the latest pricing):
Adults: $24.99 plus tax
Children (ages 2 – 12): $21.99 plus tax
Children (under 2): Free Admission
Military: $22.99 plus tax
Senior Citizens: (Ages 62 and up) $22.99 plus tax
Year-Round Membership
As you can see, the general admission tickets can add up quickly for families or if you are planning to visit multiple times per year. If this sounds like you, the annual membership is a great option!
There are several membership packages to choose from starting at $59 for an individual, $129 for a family or $229 for a package that includes unlimited rides. You can find all the details about the memberships here.
Free and Reduced Admission Opportunities
Free Fridays in January and February for residents of Richland and Lexington County in South Carolina.
Toucan Tuesdays during summer for two for the price of one admission with a donation of two cans of nonperishable food.
Riverbanks Zoo Map + Getting Around
This section details zoo entrances, where to park and getting around once inside.
Your visit to Riverbanks Zoo will definitely be easier if you have a general idea of where things are located. So, our first bit of advice is to make sure you check out the map of the grounds before your visit. This will help you get acquainted with the zoo and hopefully provide a roadmap for your next adventure.
The Layout of Riverbanks Zoo
The Riverbanks complex is broken into two areas: the main zoo (the east campus) and the Botanical Garden + Waterfall Junction (the west campus.) The Saluda River divides the two sections.
Accordingly, there are two entrances to Riverbanks Zoo: one on each side of the campus. This makes the zoo easy to get to no matter which direction you are coming from. It's also good to know in advance so that you can plan the best trip for you and your needs.
But you don't need to worry too much about which entrance you use because you can easily get across the park when needed. You can either walk between the two sides of the zoo or take the complimentary tram that runs between the main zoo and the Botanical Garden.
The Main Zoo Entrance (Off 126)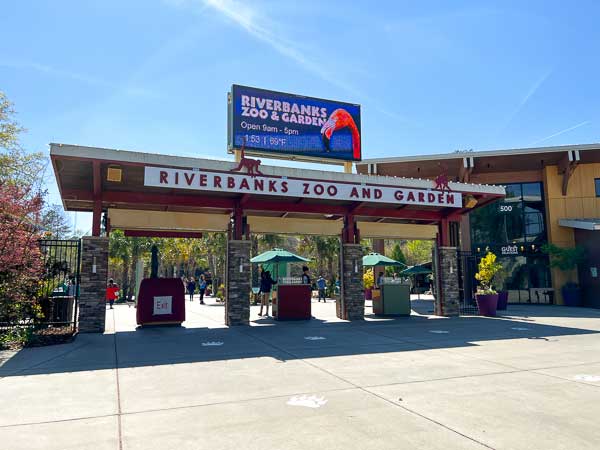 The main entrance to Riverbanks Zoo is located off 126 near the I-26 junction. It's at the Greystone Blvd exit and there are plenty of signs to point you in the right direction.
This is the most popular way to enter the zoo and it allows for the quickest access to the animals. Parking can fill up as the day goes on but they open overflow lots as needed.
If you use the main entrance and want to pop over to the Botanical Gardens and Waterfall Junction area of the zoo, you can either walk across the bridge in the middle of the park or take the tram.
The Botanical Garden Entrance (West Columbia)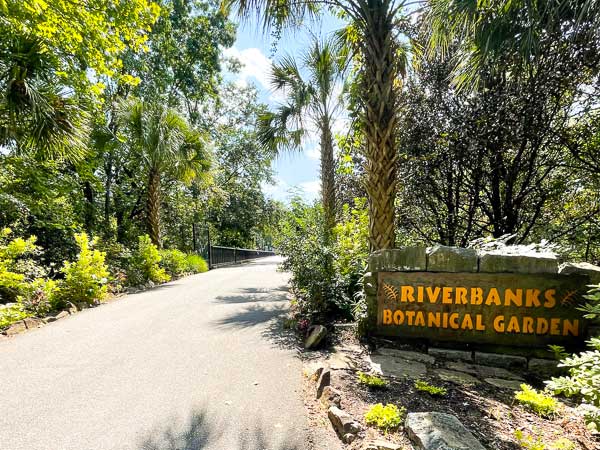 We recommend the entrance in West Columbia if you are specifically looking to visit the Botanical Gardens or Waterfall Junction. This is especially for zoo members who are frequent Waterfall Junction visitors during the summer.
Of course, the best entrance for you will also depend on which side of town you are coming from! Just know that you can easily get between the two sides by foot or tram.
Stroller Rental At Riverbanks
Did you know that you can rent strollers at the zoo? Single and double strollers are available to rent by the main entrance. Prices range from $10.00 to $13.00 with a $5.00 deposit.
Renting a stroller is a great option if you are traveling and don't have room in your car for a stroller. Or maybe your kids are a bit older and don't use a daily stroller. But trust us, it's great to have when your kids' legs suddenly stop working…
Parking At Riverbanks Zoo
We wanted to call out parking at the zoo because this is always a concern for first-time visitors. The main entrance has a large primary lot and an overflow lot. The lots have been known to fill up during especially popular times, like spring break!
Parking attendants are typically present during peak hours and weeks. They will direct you to the primary or overflow lot depending on how full they are. Be warned that we have seen days where they close off the parking lot after 11am due to it filling up.
Our recommendation is to arrive early in the morning. Not only will this prevent a long walk or wasted time circling the lot, but early mornings are when the animals are most active! They tend to get a bit sleepy and lay low in the afternoons, especially when it's hot.
Animals At Riverbanks Zoo
You may be wondering what kind of animals you can expect to see at Riverbanks Zoo. We are happy to share that you'll find everything from silly otters to hornbills, koalas and a whole gorilla family.
Riverbanks Zoo has over 3,000 animals that represent over 400 species around the world. While we won't name them all, we'll give you an idea of the types of animals you can expect to see at the zoo.
The larger animals include lions, a tiger, sea lions, grizzly bears, kangaroos, giraffes, zebra, gorillas and rhinos. There are also koalas, a sloth, otters, emus and several varieties of monkeys around the campus.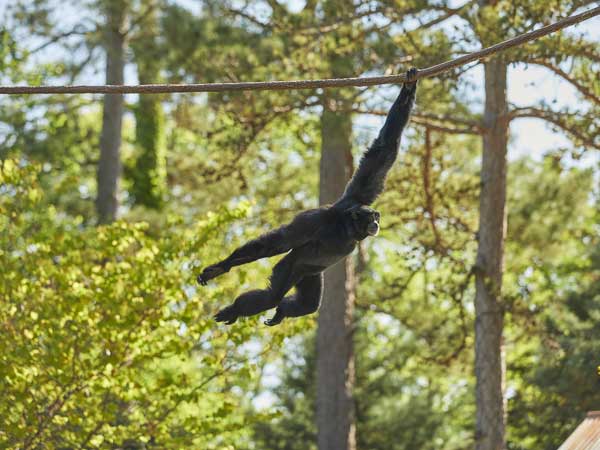 As far as birds at Riverbanks go, there are flamingos, penguins, a toucan, hornbills, kookaburras, lorikeet and even a king vulture. You can even opt to feed the lorikeets with Explorer Credits.
The zoo completed updates to the Aquarium + Reptile Center in 2023. Here you'll find a coral conservation lab, snakes, a leopard shark, lionfish and moon jellies.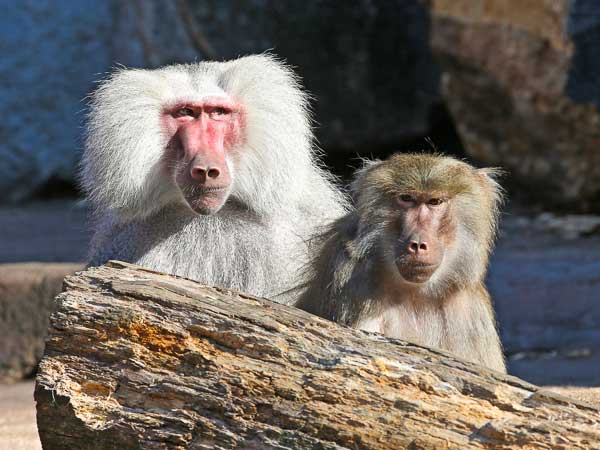 Reptiles at the zoo include alligators, a Komodo dragon, a snapping turtle, king cobra and galapagos tortoises. The reptiles are scattered around the zoo in various habitats and are also located at the Reptile Center.
Other Riverbanks Zoo Attractions
In addition to the animals, the zoo has several other attractions worth checking out. Most of the interactive attractions at Riverbanks involve Explore More credits.
Explore More credits can be purchased in various places around the zoo. You'll be given a reloadable card when you purchase credits that can be used around the zoo. Another option is to get an Explorer membership that comes with unlimited ride credits.
Rides at Riverbanks Zoo
Spots & Stripes Railroad: This fun passenger train ride is great for young kids and is located in a wooded area near the Riverbanks Farm. Even if you don't ride, it's fun for kiddos to watch it drive around!
Endangered Species Carousel: The carousel has been a fixture at the Riverbanks zoo since its early days and is still a blast for kids to enjoy.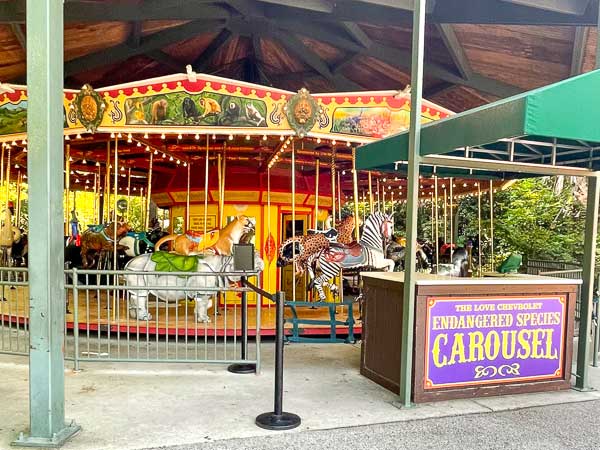 Sky-High Safari: If you are into heights and ropes courses, this attraction near the giraffes is for you! Here you will find a structure stretching several stories into the air that gives you an adventure and a birds-eye view of the zoo.
Wild Adventures Rock Wall: This rock wall located near the koala house and Carousel Plaza is a great spot to test out your rock climbing skills.
There's a playground located near the rock wall. Unlike the other exhibits above, it doesn't require Explore More credits to enjoy.
Engage with the Animals at Riverbanks Zoo
Experience the Farmyard: At the farmyard, visitors can enter the farm area where they can get up close and personal with the animals in a traditional petting zoo-style enclosure.
Feed the Giraffes: This attraction is a favorite at the zoo. You have the chance to feed giraffes by hand. It's quite amazing how long their tongues are!
Feed the Lorikeets: The lorikeets are so colorful, fun and friendly. It's always a blast to enter their space to feed them. Sometimes they even land on your arms and shoulders!
Mingle with Marsupials: The kangaroo and wallaby exhibit is unique in that you can walk right through the enclosure and get close to the animals. Even better, the Mingle with Marsupials experience is free with admission!
Botanical Garden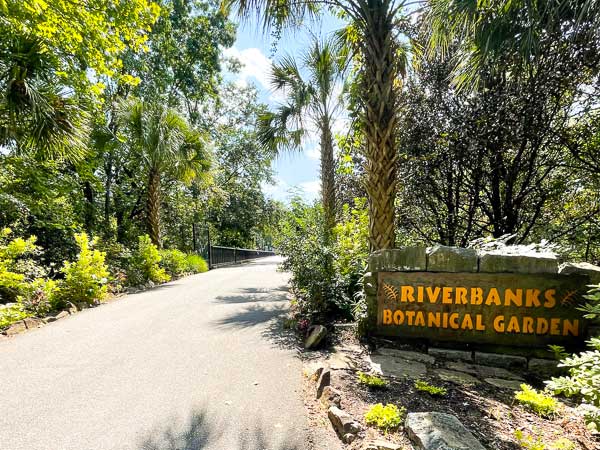 Admission to the zoo will not only give you access to the world-class Riverbanks Zoo but it also gets you into the beautiful Riverbanks Botanical Garden. The Botanical Garden is an attraction that stands on its own two feet even without the zoo. It spans over 70 acres and with manicured gardens and nature trails.
Waterfall Junction
You'll find Waterfall Junction located in the Botanical Garden area of the zoo. It's a 3-acre children's garden with a 25-foot cascading waterfall, splash pad, dinosaur digging area and a giant treehouse.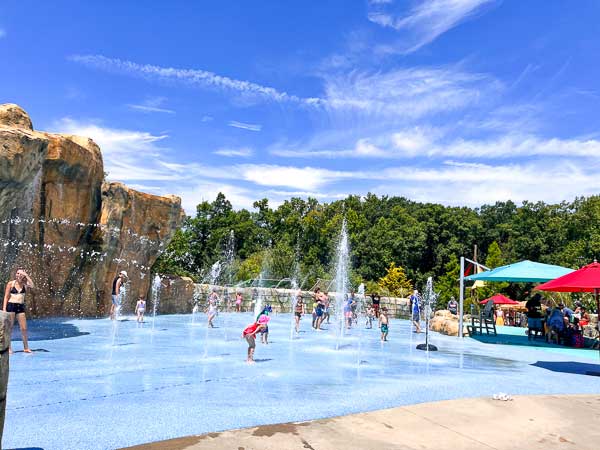 Waterfall Junction is a totally unexpected experience and truly rivals some of the fun you'll have on the other side of the park with the animals. Due to it's size and popularity, we have a whole guide to Waterfall Junction to help make your visit exceptional.
Where To Eat At Riverbanks
There are several dining options available around the zoo's campus. Note that hours vary and all of the restaurants may not be open when you are visiting.
Tuksers is the largest zoo restaurant and it's located near the zebras and giraffes. There's actually an alligator located at the bottom of it! And if you visited the zoo a long time ago, you may remember it as where Burger King once was.
There are also various snack bars and kiosks around the zoo serving ice cream, soft pretzels, popcorn and other snacks. Full disclosure– the food is park pricing. Like, $4 ice cream cones. Outside food is not permitted but this doesn't seem to be enforced either.
We hope this guide helps you enjoy your next trip to Riverbanks Zoo! It's such a magical place and we are so lucky to have something so amazing in our hometown!