Welcome to our Columbia, SC city guide!
Whether you are a Cola local looking for a new adventure, a newcomer trying to figure out where to start or a visitor planning the perfect trip, we hope that you find it useful!
Columbia, SC City Guide Table of Contents
Our visitor's guide to Columbia, SC is full of information about the beloved capital city. Check out our table of contents below and feel free to jump around as needed!
Located in the heart of South Carolina, Columbia is the state's capital city and home to the University of South Carolina and Fort Jackson. The other thing Columbia is known for: HEAT!! It's the 'famously hot' city after all.
Columbia is the second-largest city in South Carolina, Charleston being the first. As the capital, Columbia proudly serves as the site for the South Carolina State House. It's located right downtown near the Vista and is beautiful! Read more about the SC State House here.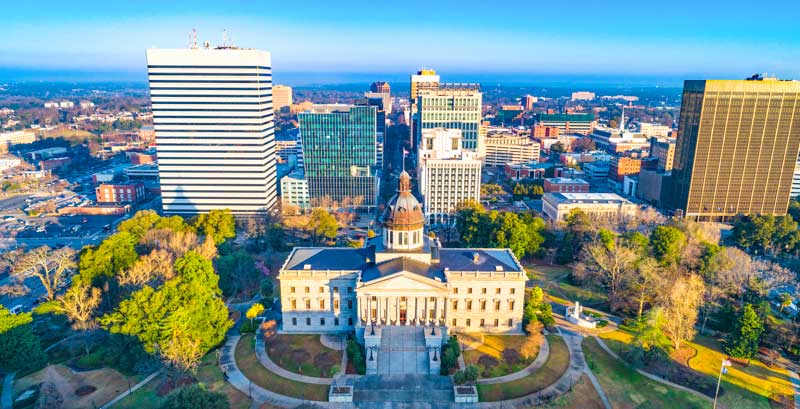 As far as geography goes, two rivers flow into Columbia (the Saluda and the Broad.) The rivers converge in Columbia and form to make the Congaree River.
There aren't a ton of spots where you can access the rivers, but there is a riverwalk along the Congaree, Riverfront Park on the other side and kayaking opportunities nearby. Further south along the Congaree you'll find the Congaree National Park. It's about 30 minutes from downtown Columbia.
Speaking of the river, you'll find Riverbanks Zoo on the Saluda River coming into Columbia. It's one of the best zoos in America and a top travel attraction in the Southeast. It's a great thing to do with kids (maybe the thing to do with kids in Columbia.)
Another excellent activity for kids in the capital city is a visit to the children's museum EdVenture. It is absolutely amazing and a family favorite of ours. In the same parking lot you'll find the South Carolina Museum, another attraction that our whole family loves. Read our article about visiting the SC State Museum here.
Neighborhoods in Columbia
Like any city, Columbia is broken into several neighborhoods, each with their own unique vibe. We thought it would be good to give some details about the more popular ones and those we frequent regularly.
There are several more residential areas that aren't covered but our list below should give you an idea of the bigger neighborhoods.
Downtown Columbia, Five Points and The Vista
These three districts are all close together and are on our list of the best places in Columbia to shop, eat and people-watch. In downtown Columbia you'll find tall buildings, the State House, the University of South Carolina's Campus and Main Street with shops and restaurants.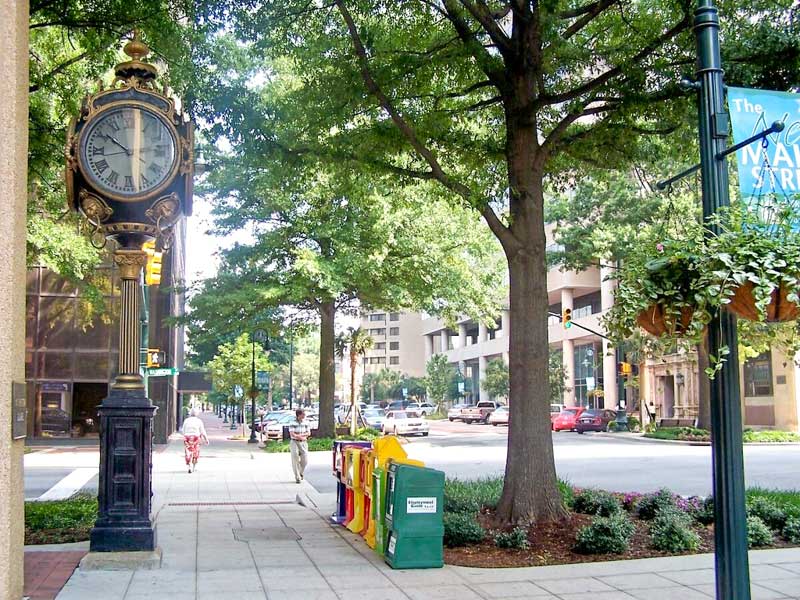 Close by is Five Points, which sits on the other side of UofSC's campus and is home to tons of local shops, restaurants and bars. It's typically overflowing with students in the evenings when Carolina is in session. Check out our guide to Columbia's Five Points for information on shopping, restaurants, coffee shops and more.
On the other side of downtown is The Vista, with restaurants and bars, the Colonial Life Arena and the Convention Center. For details on the area check out our full guide to Columbia's The Vista.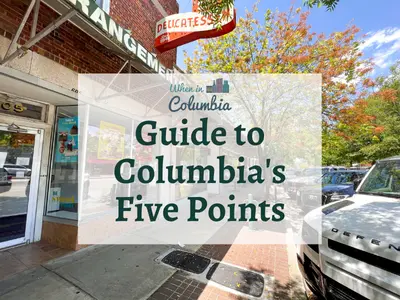 Devine Street
Devine Street is a perfect little street with great restaurants, coffee shops, fitness studios and tons of local shops.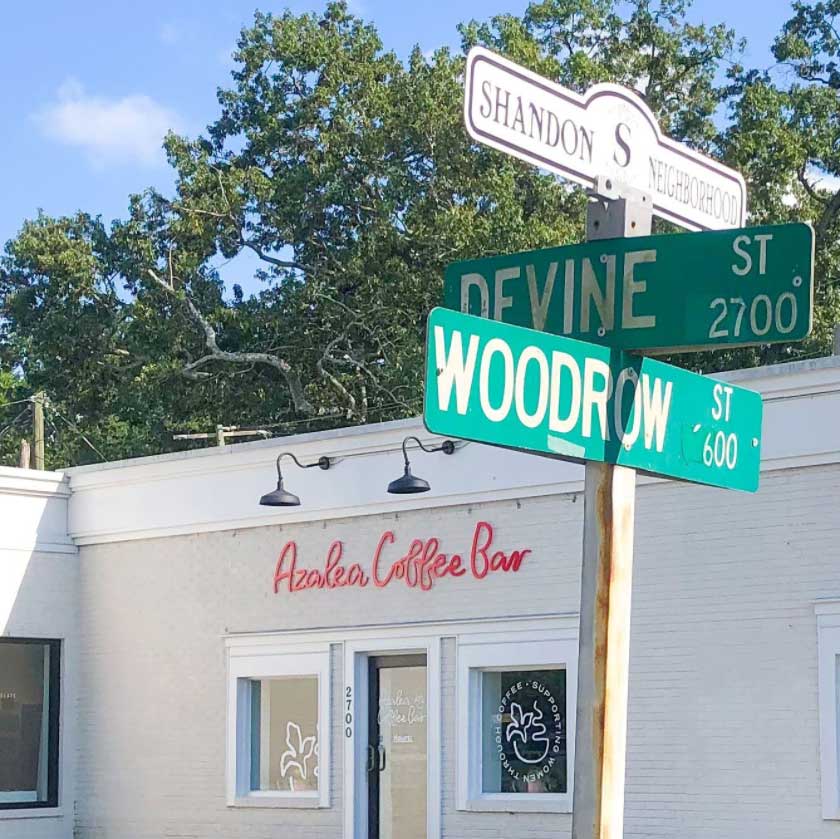 A few of our favorites are Cantina 76, Devine Cinnamon Roll Deli, Azalea Coffee and Mediterranean Tea Room. Great shops include Hand Picked and Just The Thing for jewelry and accessories, Blossom Shoes, Slate boutique (Agolde, Dolce Vita, Michael Stars, Farm Rio, Citizens of Humanity…), LaRoque, Monkee's of Columbia and Non(e)such for home accessories, gifts and jewelry.
Read our full guide to the Devine Street District for details on shops, restaurants and more.
Shandon, Rosewood, Melrose Heights and Heathwood
As far as residential neighborhoods go, there are several located close to downtown Columbia that offer city-living. Shandon is just south of Devine Street, where you can find a ton of local shops and restaurants. Shandon is full of old bungalows, a few playgrounds and sidewalks galore. The price per square foot is pretty high in Shandon compared to other places, but in return, you get a great location in the city with perfect neighborhood charm.
Just south of there is the popular Rosewood neighborhood. There are also a ton of cute bungalows in Rosewood but there are fewer sidewalks than in Shandon and not as many restaurants to walk to. North of Devine Street is Melrose Heights and Heathwood. Melrose Heights has a similar feel to the Shandon + Rosewood homes, while Heathwood is full of beautiful, estate-like homes.
Forest Acres
On the east side of town is Forest Acres, which is it's own city despite it being 'in Columbia'. It just feels like another area of Columbia and not a totally separate city. Forest Acres is a great place to live and has more affordable neighborhoods all the way up to the Lake Katherine area. Trenholm Plaza is a fixture in Forest Acres, anchored by Publix and The Fresh Market. You'll find shops like Anthropologie, The Loft, J. Crew and Lululemon. There's also an Urban Nirvana day spa tucked in the shopping center behind Starbucks.
North Main (Cottontown, Elmwood, Earlewood)
North of downtown is always a fun place to visit. There you'll find neighborhoods like Cottontown, Elmwood and Earlewood. They aren't known for being in the best school district, but the neighborhoods sure are cute! The North Main area has seen a lot of change over the years. Il Focolare pizza is located in Cottontown as well as Indah Coffee Shop. Nearby you'll find Curiosity Coffee and Fat Cat Biscuit Co.
What are some nicknames for Columbia, SC?
Columbia has a few nicknames, one of which is Cola (and Cola Town!) We typically call it Cola! Born from Cola Town is the cute 'Soda City' nickname that is now associated with the Saturday morning Soda City Market on Main Street. It's a must-visit for visitors and residents! It's more like a food fair than a traditional farmers market. Looking for other things to do in the capital city? Check out our list of things to do in Columbia, SC!
Another name you may hear sometimes is Columbia-Yeah! Shoutout to the local Columbia Reddit group with that same name!
We like to call Columbia a convenient city because it feels like you can get anywhere in about 2 hours! Seriously! Any direction you go you'll find a great city to explore! If you head southeast for 2 hours, you'll be in Charleston. Stroll along downtown, check out the beaches and enjoy the southern charm of the beautiful city. One a half hours north of Columbia you'll find Charlotte, home to the Carolina Panthers, an international airport and big city living.
Greenville, SC is another easy day trip from Columbia. It's only one and half hours west of Columbia down 26. They have a really cute downtown area and often have great live music shows come through. Less than an hour past Greenville (about 40 minutes from downtown GVL) you'll find yourself in Clemson (no comment.)
Looking for a mountain vacation? Asheville, NC is only 2.5 hours away from Columbia's city center! Here you can hike in the Blue Ridge Mountains, view waterfalls, eat at great restaurants and enjoy fresh mountain air. It's a great place to escape during the heat of summer because the mountains are typically at least 10 degrees cooler than Columbia.
So, yes! Columbia is convenient!! You can get to the mountains, the beach or even a professional football game in about two hours from Columbia. Awesome!
What is the weather like in Columbia, SC?
Weather-wise, Columbia experiences all four seasons. Though summers and early-fall can be downright hot, overall it's a pretty mild place to live. Especially during the winter! Prepare for high temperatures in the summer (between 90-100 most days) and mild winter weather.
When is the best time to visit Columbia, SC?
As you can see in our weather guide, we can tell you something charming about every season! But, unless you have Lake Murray plans, we wouldn't necessarily recommend that you visit in the peak summer months. It's just not as pleasant as it is at other times of the year.
HOWEVER, if you are here in the summer, definitely check out Soda City Market right when it opens at 9am. There's a cool breeze on those hot July mornings and it's actually kind of amazing!
Spring and fall are really great times to visit Columbia! October and November are perfect because there are Gamecock football games, the state fair, farmer's markets and perfectly fall-colored trees. Spring is also wonderful, with flowers and trees blooming in March.
Winter isn't too long in this part of the world, and it may be a nice reprieve if you live somewhere cooler. There can be a lot of pollen in the spring, though, so watch out for that if you have allergies!
Columbia Metropolitan Airport
Columbia's airport (code: CAE) flies nonstop to 8 airports with American Airlines, Delta and United. You can find the current list of nonstop destinations from CAE below, but be sure to check their site for the most up-to-date information. There are also three seasonal nonstop destinations from CAE: Miami (American), Orlando and Tampa (both SIlver Airways.)
Year-Round Nonstop Destinations from CAE:
Charlotte (American)
Dallas/Ft. Worth (American)
New York – Laguadia (American and Delta)
Philadelphia (American)
Washington, DC – Reagan (American)
Atlanta (Delta)
Chicago (United)
Washington DC – Dulles (United)
Because it's such a small airport, it's typically a breeze to get through security. There is one terminal that has a cafe and a coffee shop. You'll also find Paradies shops on both sides of security. Behind security you can relax in a rocking chair!
If you are new to Columbia and wondering what airport(s) to use, we recommend checking Charlotte (CLT) when booking flights. It's about 1.5 hours from downtown Columbia and flies everywhere!
Atlanta is only 3 hours away and is also a good place to check, especially if you are flying internationally. You may save a lot of money (and time!) if you drive to Atlanta (ATL) and fly from there. You can occasionally find good flights out of Charleston (CHS) and Greenville Spartanburg (GSP.) Speaking of, Southwest flies through Greenville.
Transportation in Columbia, SC
The easiest way to get around Columbia is by car. The city is pretty easy to navigate and there is street parking and garages downtown. Columbia has a grid layout, so it's pretty easy to hop to another street if you run into traffic. Columbia also has several ride-sharing apps like Uber and Lyft. These are especially useful after a Carolina football game, night out in the Vista or after visiting one of the many breweries!
Food and Drinks in Columbia
Restaurants in Columbia, SC
Columbia is the perfect destination for some comforting Southern food! One of our favorite restaurants to recommend for visitors is Mr. Friendly's. It's such a charming restaurant in Five Points with an excellent menu of proper Southern fare. Think: fried green tomatoes, grit cakes made with Columbia's local Adluh flour, catfish, etc. Definitely get the meatloaf special if it's on the menu!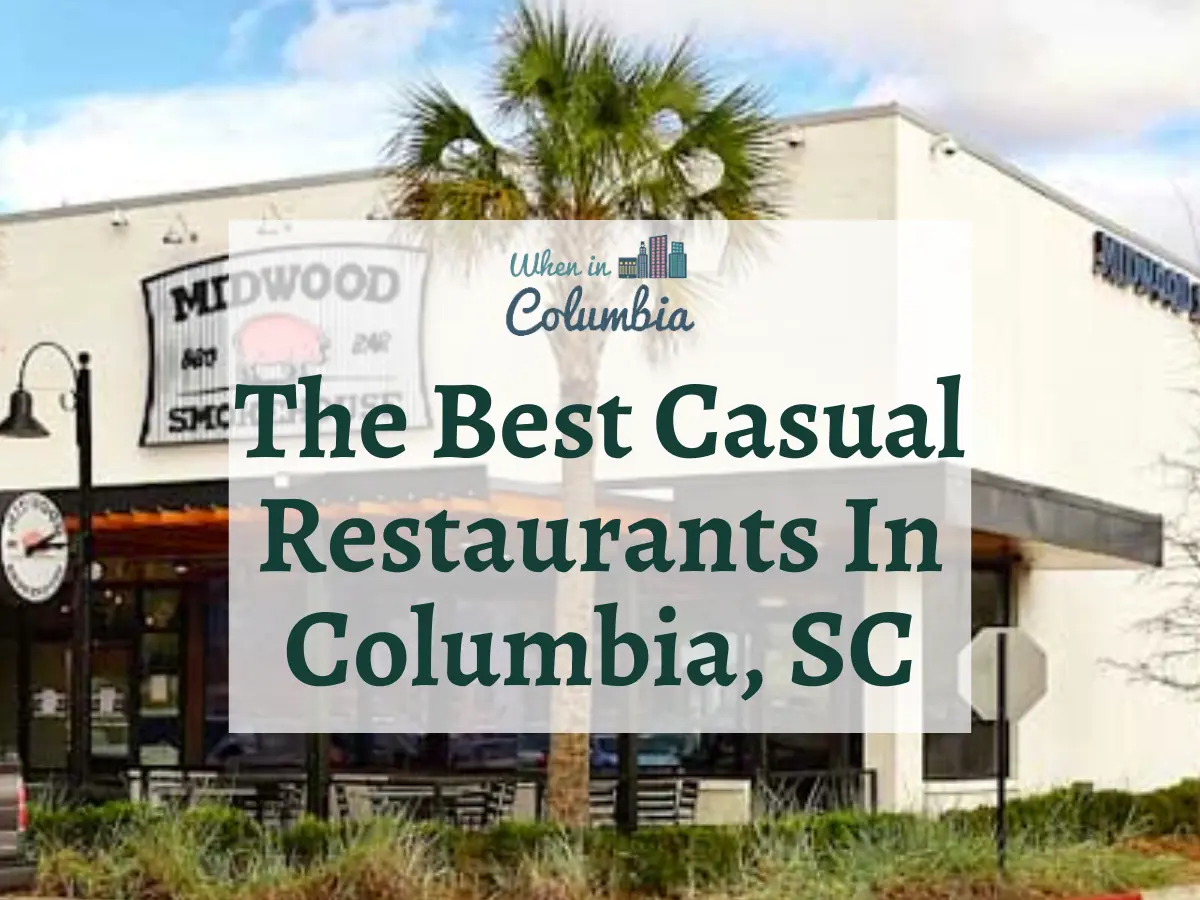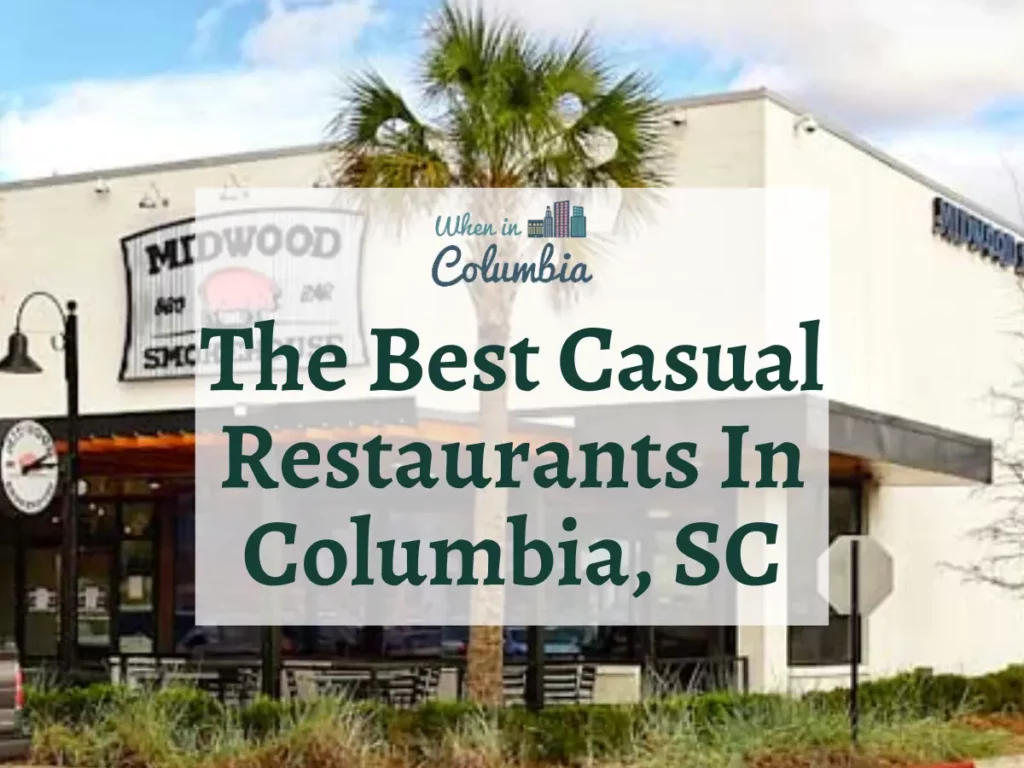 You'll also find great Mexican food (Cantina 76 for a fun date night, Casa Linda for the classics), Cola's and Hall's Chop House downtown for a fancy night out, Village Idiot for some local pizza and HomeTeam BBQ for amazing mac & cheese and pulled pork (and nachos!!) Village Idiot is on our list of the best pizza joints in Columbia, SC, by the way. If you are looking for the best lunch or deli sandwiches, check out our post on our favorite delis in Columbia!
Breweries in Columbia, SC
Columbia's craft beer scene has exploded over the past few years, making it a great city for beer enthusiasts and beginner beer drinkers alike.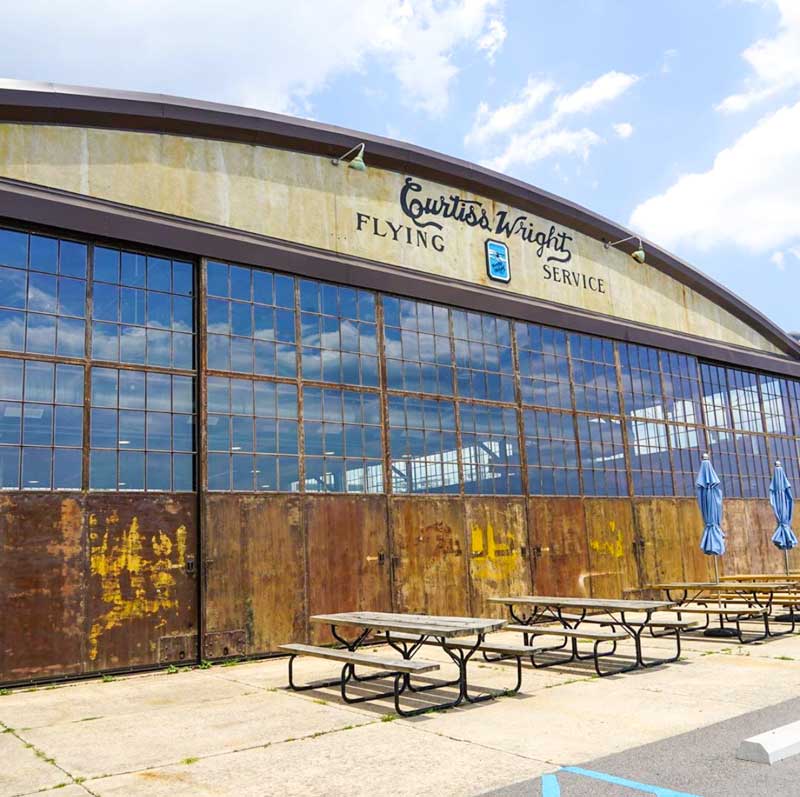 One of our favorite breweries in Columbia is the Hunter-Gatherer Hanger at the quiet Owens Field Municipal Airport. Great beer and food in an awesome setting! We also really love Steel Hands Brewing. It's located across the river in Cayce, but is such a perfect place to hang with friends and family while enjoying great beer!
Our guide to Columbia's breweries provides helpful information on the various breweries around town, including their seating, whether they are kid-friendly and what the food offerings are like.
Coffee Shops in Columbia, SC
Like the beer scene, the number of coffee shops in Columbia has grown tremendously over the past few years. There are cute coffee shops scattered all through town and it seems like new ones are always on the way.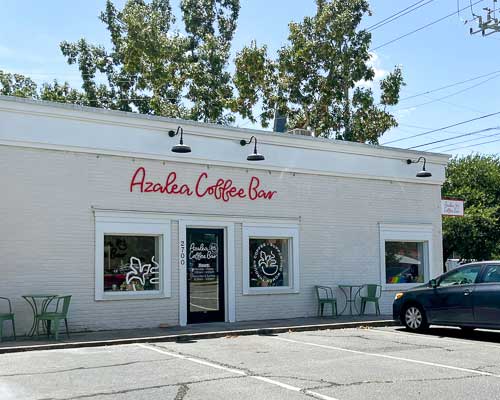 One of our favorite coffee shops in Columbia is Drip in Five Points. They make an awesome pour-over, have an excellent food menu and some killer sweets. Specifically, I am thinking of Drip's chocolate chip cookie!!! Everything there is exceptional.
Another great coffee shop that is new to the scene is Azalea Coffee Bar on Devine Street. Their mission is to support women by serving coffee from female producers and partnering with women and minority-owned businesses in the community.
Check our guide to the best coffee shops in Columbia for details on our favorite spots.
Things to do in Columbia, SC
There are so many fun things to do in Columbia, SC, from attending the weekly Soda City Market, a Carolina game, to touring the State House, to scouting out some super funky street art. We also have the SC State Museum near downtown which is fun for all ages as well as a children's museum just across the parking lot.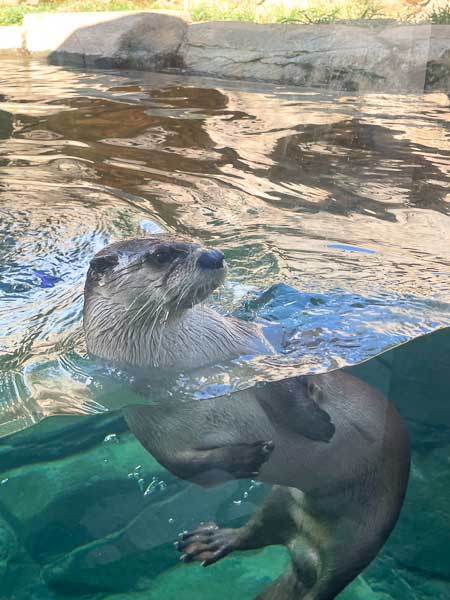 Perhaps Columbia's biggest claim to fame, though, is Riverbanks Zoo. It's absolutely amazing and home to over 2000 animals! The zoo has had a few updates over the years and is very impressive.
Animals who call Riverbanks home include gorillas, kangaroos, white rhinos, zebras, giraffes, sea lions, fish, birds, ostriches, lions and a tiger. In addition to the many animals, you'll find restaurants, ice cream (FYI the food can be expensive!), a climbing structure for big kids, a carousel for the littles, a butterfly garden, a mini-train and a bridge over the Saluda. Check out our full guide to Riverbanks Zoo here!
For more ideas, check out our list on the top things to do in Columbia, SC!
Outdoor activities in Columbia, SC
The rivers in Columbia offer a great place to kayak. You'll find mostly flat water, with a few shoals in certain areas. There's also a riverwalk there and a riverfront park. Another fun way to get outside, stay active and meet local residents is through a running club. You'll find a few around town (some even involve local breweries!) if that sounds fun to you.
There are also a few golf courses as well as disc golf courses in the area. There's actually a disc golf course across from Owens Field near the Hunter-Gatherer Brewery. Now that's a great combo!! For a full list of disc golf courses in Columbia, SC, check the official site!
And if you need a place for your kiddos to burn off some energy, make sure to check out our best playgrounds in Columbia list.
It doesn't matter where we go in the world– everyone we meet somehow has ties to Columbia. Either they attended USC (…or UofSC…), had a relative complete basic training at Fort Jackson, visited the much-beloved Riverbanks Zoo, attended a conference here… whatever it is, people have ties to our hometown and with them, great memories!
We hope your time in Columbia also leaves you with great memories.
Whether you are looking to move to the capital city, a recent transplant hoping to figure out what's going on, or a long-time resident searching for new adventures, we hope you find our site useful!