We are so excited to share a list of Columbia's best Italian restaurants. They are all charming in their own way, from excellent views of downtown Columbia to fresh pasta, white tablecloths and even an Italian deli we couldn't leave out!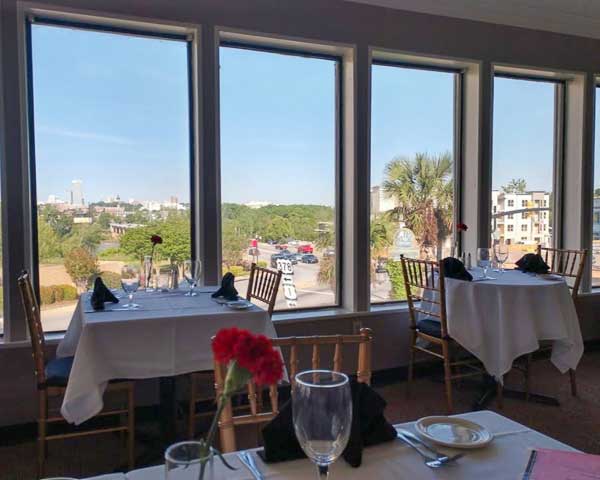 This guide to Columbia's best Italian restaurants shares all of the best spots in town, why we love them and what we love to order at each.
There are so many great eateries in the area worth trying, so be sure to check out our list of over 20 awesome restaurants in Columbia. But if you're specifically looking for Italian food in Columbia, read on!
What You'll Find In This Article
We have organized the list into categories to help you easily navigate. See below for an outline and feel free to jump around as needed.
Map of where to get Italian food in Columbia
---
Italian Restaurants for Fancy Date Nights in Columbia
Most of the restaurants with Italian food in Columbia are inherently worthy of a date night. The ones in this first section are the nicest of the bunch, with white tablecloths, gorgeous decor and in one case a perfect view.
Di Vino Rosso is the best high-end restaurant in Columbia for Italian. It's the perfect place for a fancy night out. You'll find a beautiful setting, a delicious menu, white tablecloths and amazing service.
They were voted the Best Italian Restaurant in the Best of Columbia 2022 awards. They were also an honorable mention for Best Restaurant, Best Restaurant in the Vista and Best Charcuterie Board. No surprise here! Di Vino excels in everything.
Their menu is great and includes everything you'd expect at an Italian restaurant. Their signature dishes, though, are the rack of lamb and the pappardelle. You can't go wrong with either!
Note: Di Vino Rosso was formerly Ristorante Divino. It closed in 2020 and reopened next door under a new name.
Al's Upstairs is an intimate fine dining restaurant in West Columbia with a magnificent view of downtown Columbia. It's an unexpected spot with exceptional Italian food and desserts.
As for what to order, their lobster bisque is heavenly! It's the perfect way to start off an evening out. For entrees, we love their Chicken Parmigiana, Chicken Charleston and Veal Piccata. And their desserts are incredible! We especially love their cheesecake. You can view the full Al's Upstairs menu here.
Al's Upstairs is at the corner of Sunset Blvd and Meeting St in West Columbia. It's just over the Gervais Street bridge. There is parking all around the building and there shouldn't be any issues getting a spot since it's a small restaurant. If for some reason the lot is full, you can park behind Al's at the Egg Roll Station.
If handmade pasta, excellent service and an intimate setting sound good to you, add Alodia's Cucina Italiana to your list.
While all of their dishes are great, we especially love their homemade lasagna! It's a huge portion, so plan to take some home so that you can save room for dessert. Which you definitely should! As far as appetizers go, their fried mozzarella is delicious. It's like a grownup version of the delicious mozzarella cheese sticks you know and love. It's now gourmet and infinitely better.
Alodia's has a kids menu with buttered pasta, spaghetti & meatballs and fettuccine alfredo. They also take online orders and you can schedule a few days in advance if needed.
One interesting menu item when ordering online is their family dinner for four. You can choose from fettuccine with chicken, bowtie gratinata, spaghetti or a penne dish. Each meal comes with your choice of Caesar or house salad and a loaf of their fresh-baked garlic bread. This is a great option for a family or if you are entertaining and want to keep it easy! Each family meal is $40.
---
Casual Italian Restaurants in Columbia
Next on our guide to Italian food in Columbia is a list of spots that are great for dinner but with a bit more casual vibe. All of these are still date night-worthy but are not considered fine dining.
Il Giorgione is a cute neighborhood Italian restaurant and the perfect spot to enjoy a date night out. They have delicious pasta and pizzas and a huge wine selection to pair them with.
What's so interesting about Il Girogione is that it has been around since 2012 but it's still somehow a hidden gem! They have a loyal following and it is an 'if you know, you know' type of place. Well, now you know!
We love their rigatoni al dorato, spaghetti alla carbonara, their Caprese salad with house-made mozzarella and all of their desserts! We like to get their pizza for takeout. You can see their full menu here. What you'll notice is that compared to other Italian restaurants around town their prices are pretty reasonable. Pizza is $12 and their pasta is in the $16 range.
Il Giorgione has a great patio area that makes for the perfect lunch spot on days when the weather is nice.
As far as parking goes, there is some in the back and you can also park along Devine Street. It's right next to Backstreet Grill so you may need to walk a bit depending on the time of day.
Villa Tronco is a classic homestyle Italian restaurant located in the heart of downtown Columbia. Villa Tronco's claim to fame is not just that they are the oldest restaurant in the state of South Carolina, but also that they have been serving fine Italian cuisine for just as long.
On the menu, you will find classic Italian seafood, pasta and chicken entrees. They also have handmade pizza cut into squares!
Villa Tronco is located on Blanding Street just off Main street. Truly the heart of the city! The restaurant's iconic picturesque storefront draws you in with the promise of authentic Italian food. It is such a great spot for a date night in Columbia or a special dinner out.
DeLucca's Italian Grill is a great Italian restaurant located less than 10 minutes from downtown Columbia in West Columbia. It's a pretty casual setting but the dishes are elevated and delicious.
Their menu includes everything from hand-tossed NY-style pizza to chicken parm, grilled salmon, and roasted chicken alfredo. They also have bread baked in-house daily and they mix their pizza dough up each morning. You have to try their bread and compound butters!!
We have always enjoyed our meals there, but especially their chicken parmesan, homemade lasagna and their caesar salad. Their pizzas are also great, or you can get a calzone or stromboli if you prefer.
DeLucca's Italian Grill is pretty small and has somewhat of a cafe vibe. There are nice paintings and family photos scattered about. You'll find a parking lot all around the building. It's a shared lot with Jersey Mike's but we have never had an issue with parking at DeLucca's.
As far as takeout goes, you can't order online but you can call in a takeout order.
---
Italian Pizzerias in Columbia
Though we have a dedicated article on the best pizza in Columbia, we wanted to shout out a few of our favorite spots here, too.
If you are looking for top-quality handmade pizzas, Il Focolare needs to be on your must-try list. They have been serving up pizzas baked in their wood-fired pizza oven since 2019.
Their pizzas are all 13″ and come with standard toppings in addition to some unique ones. Think brussels sprouts & chevre goat cheese pizza or potato & rosemary pizza.
Il Focolare is located on the Cottontown side of the North Main Street district on Sumter street. As a restaurant brought to you by James Beard semifinalist City Grit Hospitality Group and award-winning chef Sarah Simmons, the quality of the food does not disappoint. Accordingly, it is a very popular spot and there may be a bit of a wait for your pizza at peak times.
Za's is one of our favorite spots to enjoy a delicious brick oven pizza. It is a full-service restaurant and bar with an upscale casual dining atmosphere.
Located in the quiet neighborhood commercial corridor of Devine Street, their outdoor seating on the patio is worth checking out when the weather is nice.
Za's has a great community feel and is a favorite spot for friends and families to meet. It's a great place to relax and have a glass of wine with delicious pizza and other Italian appetizers and entrees. And if you're looking for takeout pizza, you can order ahead online! Make sure to check them out for their brunch offering on Saturdays and Sundays.
---
Italian Delis in Columbia
We couldn't leave Enzo's off this list of great Italian spots. Though it's not where you'd go for a fancy night out in Columbia, it's the perfect place to pick up an Italian sub and shop at an Italian market.
For a traditional Italian deli sandwich in Columbia, you have to check out Enzo's Delicatessen. This New York style deli is located in Five Points near the USC campus.
Enzo's huge subs are a Columbia lunch favorite with hot and cold options. They also make their own Italian desserts (try the cannoli!) from scratch and have a small Italian market for grab-and-go items.
They don't have indoor seating but have a few outdoor tables for days when the weather is nice. Be sure to check out their sister restaurant, Enzo's Spuntino, located in Olympia Mill.
---
We hope you enjoyed this list of our favorite Italian restaurants in town. Make sure to check out our other articles on where to eat in Columbia for more inspiration.