Waterfall Junction is a 3-acre water play area and splash pad located at Riverbanks Zoo in Columbia. It's a fun and refreshing place for kids of all ages to cool off on a famously hot Columbia day. You'll find everything from a 25-foot waterfall to a spot to dig for dinosaurs in the sand.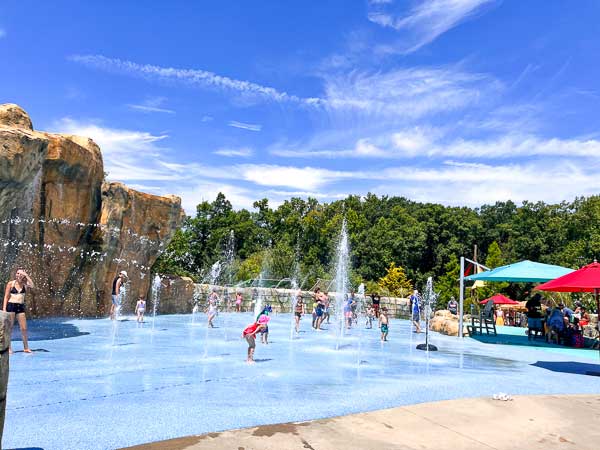 This guide to Riverbanks Zoo's water park shares everything you need to know before your next visit. Below we share details on admission, how to get there once you are in the zoo, the many fun attractions at Waterfall Junction and even a few tips we have learned along the way.
What You'll Find In This Article
Admission to Riverbanks Zoo Waterfall Junction
The cost to visit Waterfall Junction is included with zoo admission and it's free for all zoo members. You can read more about various membership options and our ticketing recommendations in our guide to Riverbanks Zoo.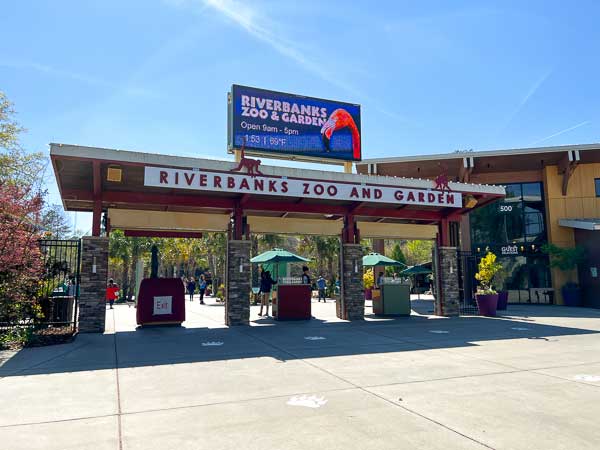 Waterfall Junction is open year-round, but the Splash Zone is only open seasonally. The splash area opens in spring and closes for the year after Labor Day.
How To Get To Waterfall Junction
There are two ways to access Waterfall Junction at Riverbanks Zoo. The first is through the main zoo entrance, just off 126 near downtown Columbia. The second is in West Columbia where the zoo's Botanical Gardens are. See below for details on each so that you can decide which is best for you!
The Main Zoo Entrance (Off 126)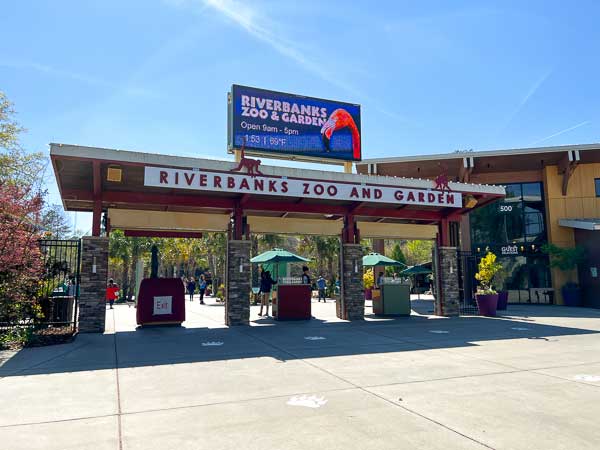 Accessing Waterfall Junction through the main zoo entrance is a great way to visit a few animals before settling in at the waterpark and play area.
We recommend seeing the animals first if you plan to 'do it all' at Riverbanks. Not only are the animals typically more active in the mornings, but you will definitely want to cool off after exploring the zoo!
Once you are ready for some water fun, just head over the bridge to the Botanical Gardens and Waterfall Junction area of the zoo. You can also take the free tram from the main zoo area.
The Botanical Garden Entrance (West Columbia)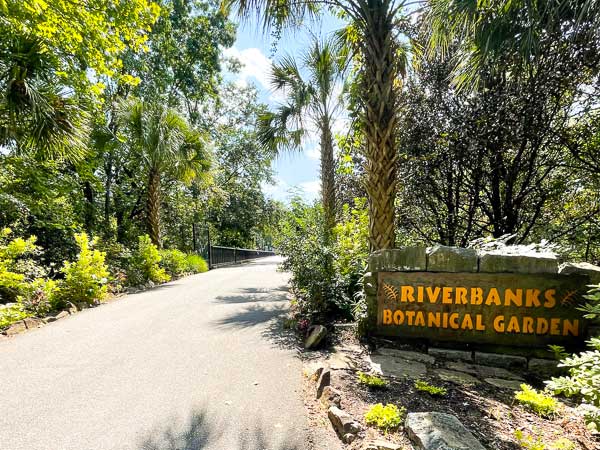 If you are interested in visiting only Waterfall Junction, we recommend the West Columbia entrance. This is especially true for zoo members who may not want to visit the animals and explore other parts of the zoo.
It's a bit easier to pop in and out of Waterfall Junction if you use the West Columbia entrance. Of course, it also depends on which side of town you are coming from!
Attractions at Waterfall Junction
You'll find multiple splash pads at Waterfall Junction, as well as rock climbing features, sandboxes for digging, and more. The highlight of Waterfall Junction, though, is the 25-foot waterfall. Kids can climb up the rocks and slide down the waterfall, or just splash around in the pool at the bottom.
There are also several other water features, including geysers, fountains, and spray jets. Your kids will love pressing the buttons to activate the water features.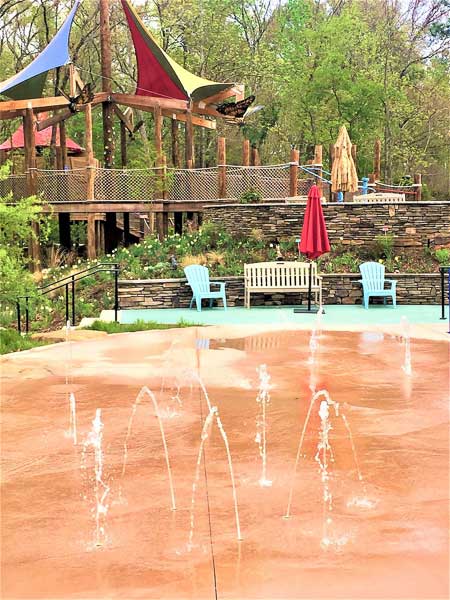 What's really great about Waterfall Junction is that there are areas for both younger toddlers and bigger kids. The spouts aren't as intense in the toddler-friendly area of the splash pad.
In addition to the water features, Waterfall Junction also has a dinosaur fossil dig. Kids can use the shovels and brushes provided to uncover dinosaur bones hidden in the sand.
There is also a tiered treehouse, a playhouse, and a grassy meadow for kids to explore. You'll find giant Lego blocks in the meadow, as well as giant Lincoln Logs and other blocks. There are also bouncy dinosaurs and smaller slides at Waterfall Junction that are very toddler-friendly.
Not only is Waterfall Junction worth visiting if you want to cool off during the hotter months in Columbia, but it's also a fun spot for kids any time of year.
Tips To Make the Most of Your Visit
We wanted to pass on a few tips we have learned along the way while visiting Waterfall Junction with our kids. First and foremost, bring a change of clothes during the summer months! You were probably already planning on this but it's worth mentioning just in case.
There are changing rooms and restrooms at Waterfall Junction. You'll also find umbrellas and chairs that you can call home base. There is actually a lot of shade in the area.
As far as planning your trip goes, keep in mind that the water features are turned off 15 minutes before the zoo closes.
A few more things that may be helpful…
If you are visiting with a stroller, make sure to keep an eye out for the paved ramps! We see too many people trying to get their strollers down the stairs.
If you are wondering about swim diapers, they are required in the water areas for kids under 4 who are not fully potty trained.
Some of the areas can get a bit slippery when wet, so water shoes are recommended
If you are in the main zoo area where the animals are and want to get to Waterfall Junction, hop on the tram to keep things easy! It's free and is the perfect way to keep your kids entertained while you sit back for a few minutes.
There are picnic tables and shaded areas where families can relax.
---