Guide to the best playgrounds in and around Columbia, SC
Are you looking for fun places in Columbia, SC for your kids to burn off some energy? Look no further! We have compiled a list of all of our favorite playgrounds no matter where you are in or around Columbia. This list ranges from state parks to neighborhood playgrounds and everything in between.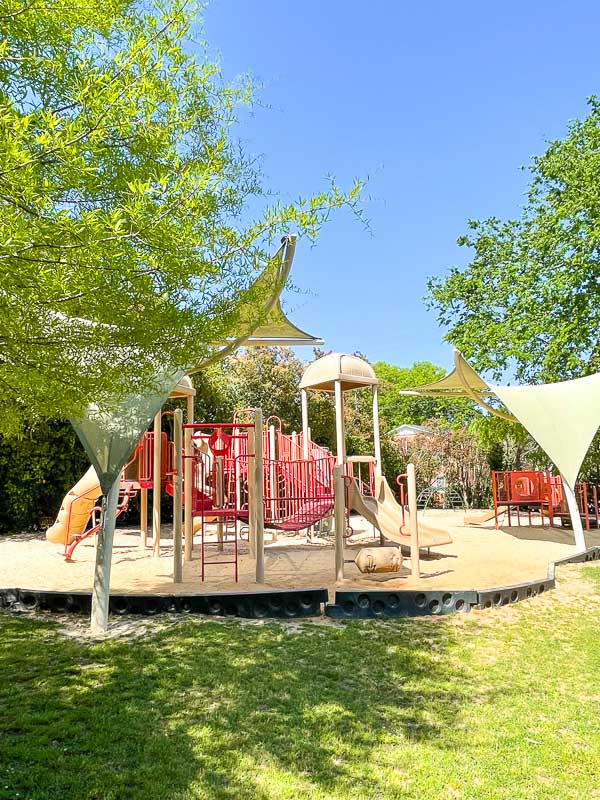 With two young boys in the house, we are always on the hunt for new parks and playgrounds. To help you find the right one we have listed what the playgrounds have to offer, details on facilities, parking and even given each park an award! Hopefully this playground guide will help you plan your next adventure in Columbia with kids!
Map of Playgrounds in Columbia, SC
No matter where you are in or around Columbia, SC, this map will show you the nearest playground that we recommend visiting!
List of the Best Playgrounds in and around Columbia, SC
Without further ado, we present our list of favorite playgrounds in Columbia to take our kids! One last thing before we start: these parks and playgrounds are not ranked in any particular order- they each have so much fun to offer! There were so many parks that we broke this page into three sections:
The best playgrounds in Columbia, SC
1. Citadel Park (Forest Acres)
Tucked away in a quiet Forest Acres neighborhood, Citadel Park is an excellent escape from the busy life that surrounds it. With play structures for all ages, Citadel Park's playground is great for both younger and older kids. The park even has rubber mats to help with trips and falls. There are a ton of benches for parents to sit back and watch and even a Little Library at the playground.
Citadel Park is near Trenholm Plaza, Creighton Middle School and Trader Joe's. You'll find Forest Drive just north of it and Trenholm Rd a block to the east, but the park feels itself is quiet and serene. You can read about our latest picnic at Citadel Park complete with Groucho's Deli takeout here!
2. Heathwood Park (Columbia // Heathwood)
One of our favorites! Heathwood Park is just off Devine Street in the heart of the historic Heathwood neighborhood. You'll find a wonderful playground, a covered picnic area, a splash pad, a basketball court and tennis courts. It's a very family-friendly park and has equipment for all ages. You'll often see families hosting birthday parties in the covered picnic area.
3. Sims Park (Columbia // Shandon)
Sims Park is another great park close to the Devine Street area. This shady park is tucked away in the historic Shandon neighborhood but attracts park-goers from all over. The playground has slides, swings, bouncy animals, a splash pad and a covered picnic area. We especially like taking our children here because it's a great park for younger kids. We sometimes call it 'bear park' because there is a large brown bear tunnel that the kids love climbing through.
Like the previous two parks, Sims Park is a destination for locals to host birthday parties under the covered picnic area.
4. Rosewood Park (Columbia // Rosewood)
Located in the quaint Rosewood neighborhood, you'll find the namesake Rosewood Park. It's a nice neighborhood park with a playground, walking path, small basketball course, baseball diamond and covered picnic tables. The park is a great place to walk a dog and get some fresh air! Though Rosewood Park is not the most maintained park in Columbia, it's a great park nonetheless.
Rosewood Park is located just across the street from Memorial Stadium, where several local high schools play football games in the fall on Friday nights. Not too far away is the Owens Field Municipal Airport, as well as Hunter Gatherer's Hangar (check out our brewery post here!), Owens Field Skate Park and Owens Field Soccer Fields. You'll also find the Owens Field disc golf course there.
5. Hollywood Park (Columbia // Hollywood-Rose Hill )
Hollywood Park is a perfectly small park and playground located in the Hollywood-Rose Hill neighborhood of Columbia. It is shady, well maintained and would be a great destination to walk to if you lived or were staying in the area. There isn't a dedicated parking area, so it's not a highly frequented park. However, we have always enjoyed our visits there because the entrance feels so magical with beautiful landscaping!
6. Earlewood Park (Columbia // Earlwood)
Earlewood Park is such a wonderful park hidden away north of downtown Columbia in the Earlewood neighborhood. You'll find a great playground area, dog park, basketball courts, tennis courts, a disc golf course, baseball field and even an amphitheater!
One thing to note about Earlewood Park is that there isn't any shade at the playground! It's not the best destination for a famously hot Columbia afternoon but it's great for mornings and cooler days. Bring a hat! 🙂
7. Elmwood Roy Lynch Park (Columbia // Elmwood Park)
Elmwood Roy Lynch Park is a beautiful and updated city park north of downtown Columbia in the Elmwood neighborhood. It has a playground, splash pad, basketball court and grassy area to run free. The park is surrounded by gorgeous, historic homes and everything there feels nice and new.
8. Sesquicentennial State Park (Northeast Columbia)
Much more than just a playground, Sesquicentennial State Park (referred to by locals as Sesqui) has fun for the whole family. At just over 1400 acres, Sesqui has plenty of hiking and biking trails to explore and even a 30-acre lake to enjoy. Nestled near the lake is a fabulous wooded playground for kids of all ages to enjoy. The shaded area has plenty of picnic tables and benches around for parents to enjoy and a nice big grassy area nearby to roll a ball or have a picnic. The park is located in Northeast Columbia and is about a 20-minute drive from Downtown Columbia. Note that there is an admission fee to enter the park.
The best playgrounds in Irmo, SC
1. Community Park of Irmo
The Community Park of Irmo feels like another universe. It's amazing! It is spacious and has everything from a playground to a creek to splash in and even a great walking trail.
The playground has so many different areas and is great for kids of all ages (especially older ones because there are some pretty crazy climbing structures!) The park itself is home to the annual Okra Strut festival and is a great place to gather with large groups.
The small road to the park off Lake Murray Blvd won't feel like you are getting close to a major park, but don't worry you are going the right way! You'll round a corner and then it will unfold in front of you.
We like to pair a trip to Irmo Community Park with a visit to Loveland Coffee Co. They are only 2 minutes away from each other!
2. Saluda Shoals Park (Irmo)
Saluda Shoals Park has not one but two awesome playgrounds within the park. The main playground and splash pad is located near the West Entrance and Leo's Landing Inclusive Playground is located near the East Entrance. In addition to the fun playground, there is plenty of exploring to do with trails, river access and outdoor recreation. We also love going to the Saluda Shoals Holiday Lights on the River in December!
3. Seven Oaks Community Park
Seven Oaks Park is a nice community park and sports complex. Tucked in between several baseball fields you will find a small playground surrounded by mature shade trees. It's a great spot to let the little one run off some steam. Around the park you will find a full-service community center with a gym, walking trails and even a disc golf course.
The best playgrounds in West Columbia & Cayce, SC
1. Guignard Park
Guignard Park is a peaceful neighborhood park immersed in nature. Although it is located just off Knox Abbot Drive in Cayce, it feels like you are in the middle of the woods. There is a cute small playground great for younger kids but the main attraction for kids is the babbling creek that runs through the park that is just begging to be explored. The park also boasts nice paved walking trails and there is a picnic shelter with picnic tables. Speaking of tables, there is even a ping-pong table— just be sure to bring your own paddles and balls!
2. Carraway Park at the Riverwalk
The Carraway Park playground was built in 2019 abd is located directly across the street from West Columbia Riverwalk Park parking lot. It is a great all-inclusive playground with ADA access to equipment. The playground has a seated zip line that is a blast for kids. We love the cushioned rubberized floor because it gives kids a soft landing without the mess of mulch, sand or dirt that you find at most playgrounds.
The playground does not offer any shade over the equipment so beware of that on hot summer days! We especially love this park in the mornings before the heat sets in. You can read about our morning out at Carraway Park (including breakfast at Cafe Strudel) here.