EdVenture Children's Museum is a must-visit for families in Columbia. They have an amazing amount of interactive and hands-on exhibits for kids of all ages. From the giant fire truck at Dalmation Station to the My Backyard Toddler area, your kids will have a blast exploring the museum. With just one visit you'll see why it's one of the top things to do in Columbia with kids.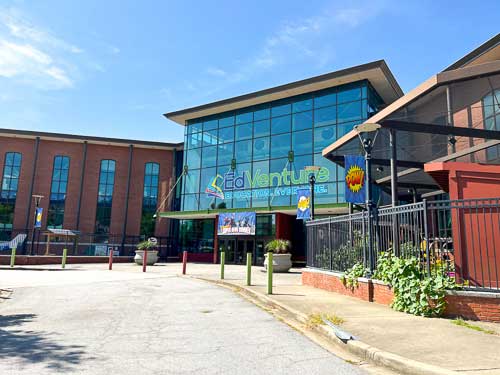 This article shares all that you need to know to get the most out of your next visit to EdVenture. We cover everything from details on admission to where to park, the variety of exhibits you can expect and even answers to a few frequently asked questions.
What You'll Find In This Article
The first thing you may want to know when planning a trip to EdVenture is how much it will cost. This section details pricing for day passes as well as annual memberships.
Individual Day Pass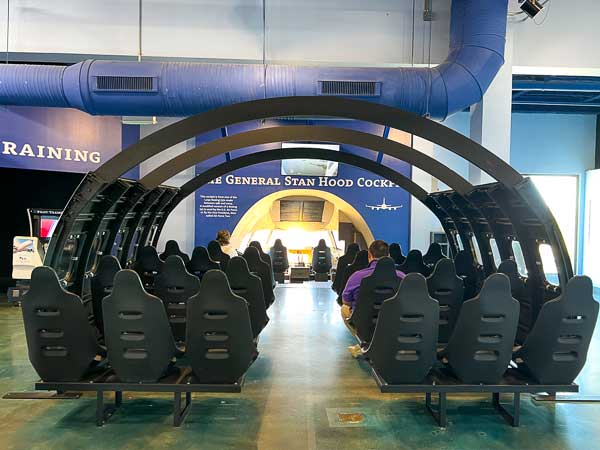 The cost to enter EdVenture for the day is $13 for those 2 and over and FREE for kids under 2. Teachers with a valid ID can also enter free of charge.
You can purchase tickets online in advance or in person on the day of your visit. It's a good idea to book in advance when possible to ensure they don't reach capacity before you arrive.
Annual Membership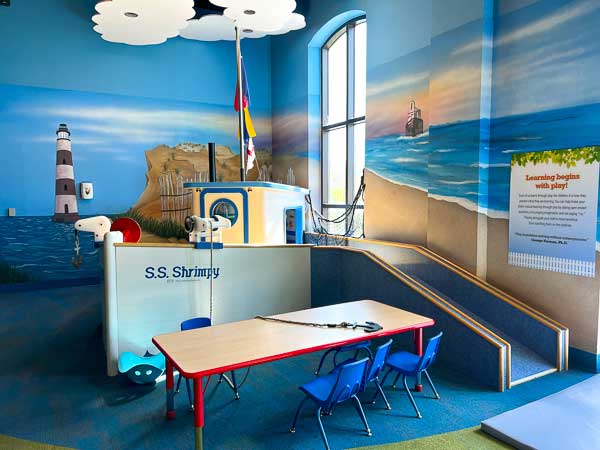 Starting at $149 per year, your family can visit EdVenture daily and also get access to members-only events. If you are local to Columbia or plan to visit EdVenture more than a few times per year, we highly recommend an annual membership.
You can choose from a few membership levels, including the premier level which comes with 6 guest passes.
Where TO Park At EdVenture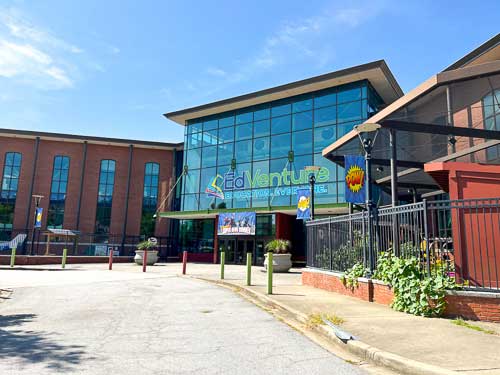 There's a large, free parking lot in front of EdVenture. The lot flows into the SC State Museum parking area, so there are plenty of spots. There's also a dropoff area at the entrance to EdVenture if needed.
You can easily visit the SC State Museum and EdVenture on the same day if you want to do it all, though it would probably be pretty exhausting! The close proximity of the two museums is great if you are visiting with a group of all ages and interests– you can park in one spot and everyone can go to their museum of choice.
Both you and your kids will be so impressed with EdVenture's exhibits! This section details what to expect when walking around, from where to check in to which direction to go for your first exhibits.
The ticketing desk is located just inside the front entrance and this is where you will either buy tickets, check in with your online tickets or get your membership card scanned. There are restrooms located here as well as elevators just across from it.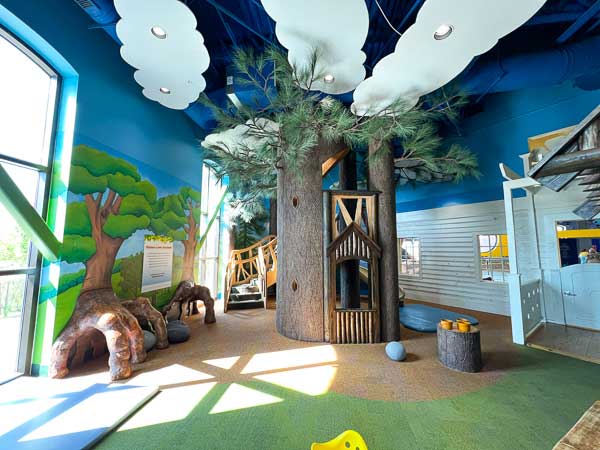 Not only are the exhibits wonderful, but the building itself is also remarkable. One of the most striking things about EdVenture is the natural sunlight in pretty much every single room. The building is spacious and even though it can get really crowded, there are several open areas where you can escape the craziness if needed.
Below are details on several of EdVenture's exhibits. Please note that exhibits can change, be temporarily closed for updates, etc. If there is a particular one you are interested in, make sure to contact the museum to get any related information before visiting.
Eddie (the world's biggest kid!)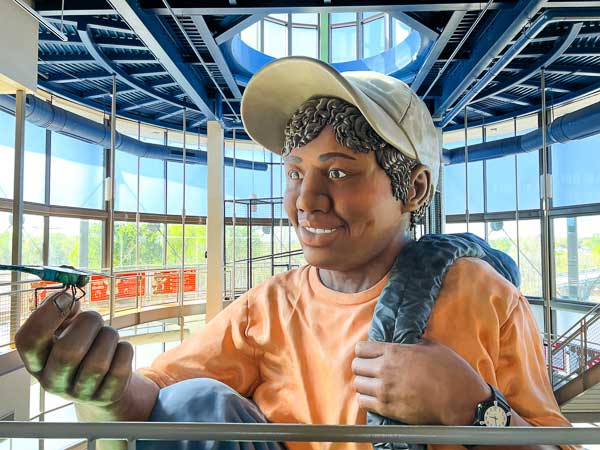 You'll get a peek at Eddie, the "world's biggest kid," as soon as you walk in the door. He lives in the center of the building and spans two floors. The stairs to the second floor wind around him, but your kids may love climbing up him instead.
There are a few access points where kids can climb around inside of him and get a first-hand glance at the inner workings of the human body. From the stairs, you can hear his heart beating!
Not only can you explore Eddie's body by climbing inside it, but you can also get a close-up glimpse of it upstairs at a newer, smaller exhibit for Eddie. This new spot allows you to view his heart, brain, lungs, and stomach in a more accessible and inclusive way.
The extension to Eddie is located just outside the Toddler Backyard area. It can be reached by the stairs around Eddie or the elevator by the check-in desk.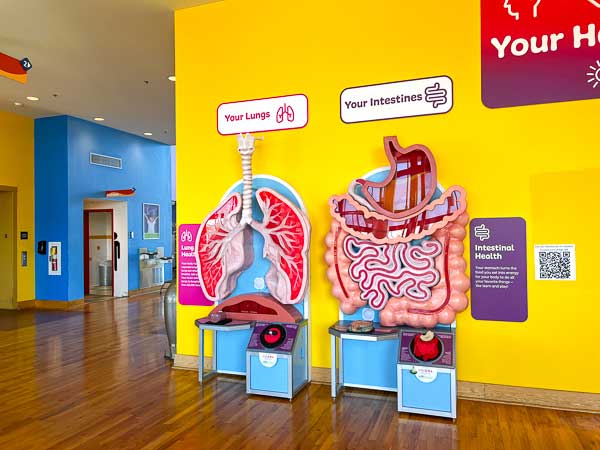 Dalmation Station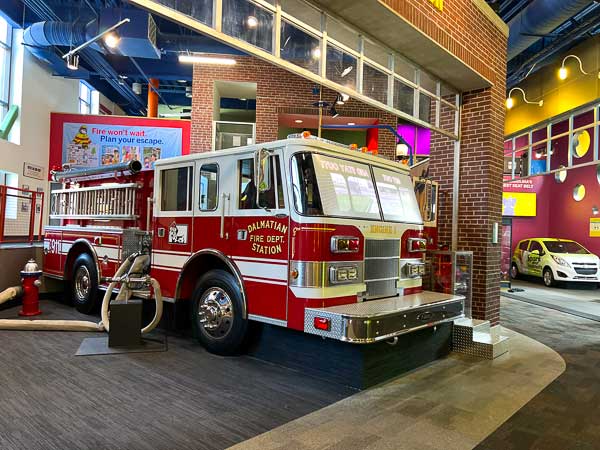 If a life-size fire truck is your kid's love language, your first destination at EdVenture should be Dalmation Station! It's just to the left of the check-in area. You'll know you are there when you see flashing fire truck lights and hear siren sounds!
There are a few fireman jackets and hats for kids to wear and they can sit in the driver's seat and watch a fun fire simulation. There's also a fire poll that drops to a soft mat and a tunnel for crawling around.
World of Work
Your kids will easily and happily get sucked into the many parts of the 'World of Work' exhibit. It's just across from the fire truck and includes a small cafe, a mini grocery store, and a farm complete with a tractor.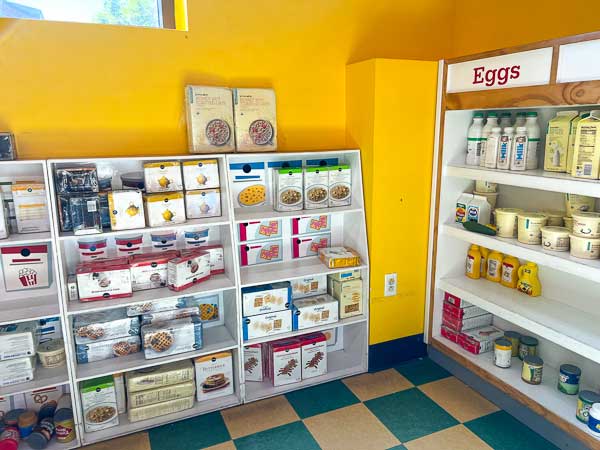 The Neighborhood Market grocery store is sponsored by Publix and features mini grocery carts and a few checkout stations. Kids of all ages love filling their carts with a variety of food and going through the checkout process.
The farm exhibit sponsored by local WP Rawl farms is another fun one. Here your kids can sit on a tractor, milk a cow (spoiler alert: it's water!) and learn about farming in our state.
My Backyard Toddler Area
EdVenture's My Backyard Toddler Area is a special place for children ages 3 and under. It is divided into several smaller areas, each with its own unique features. My Backyard is a particularly great place to be on a weekday morning because it's generally quiet, the lights are off and the sun is shining in.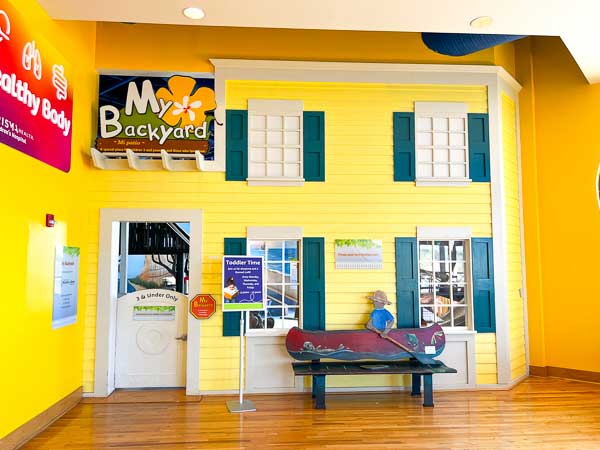 Climbing Tree: This area features a large tree that children can climb up and slide down. There's also an area underneath to hide.
The Little S.S. Shrimpy Boat: This boat is perfect for imaginative play. Children can pretend to be pirates sailing the seas. The boat also has an anchor that children can throw out and reel in.
Pollywog Pond: This area is filled with soft blocks and mats that children can climb on and explore. The blocks are also great for building towers and other structures.
My Backyard also includes a few tables with puzzles and games that are perfect for toddlers.
There is a family restroom in the toddler area and a dedicated spot for nursing inside the toddler area.
Flight and Space
You'll find the flight and space exhibits at EdVenture upstairs just across from the toddler room. Your airplane-loving kids will go crazy over the real Boeing cockpit that sticks out off the side of the building. They'll feel like they are really about to land as they pull back the throttle. There's also a ton of seating behind the cockpit where your kids can pretend they are on their way to their next great adventure.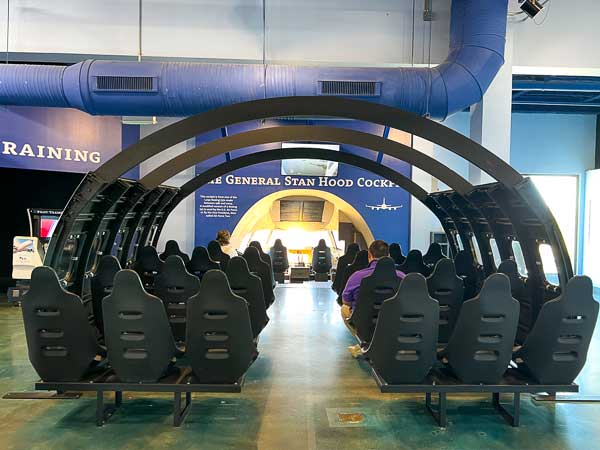 Just down from there is the Spaceflight room that includes a rocket ship climbing structure with a slide and a fun vacuum wall with handkerchiefs that come flying out. Kids can learn more about the solar system and flight in this area of EdVenture.
EdVenture's Maker Works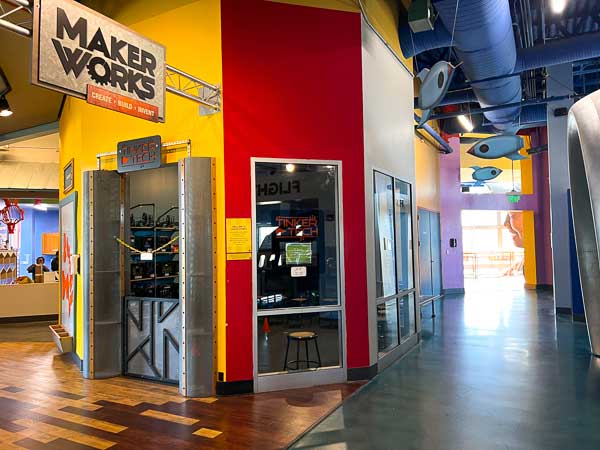 EdVenture's maker space workshop is the perfect place for STEM-friendly activities. It's an especially great stop for older kids.
The workstations are open-ended and give plenty of supplies for your kids to flex their creative muscles. Whether it's using recycled materials to build a new contraption, stacking giant blocks or experimenting with magnets, your kids will enjoy being creative at Maker Works.
Richland Library Exhibit
Don't miss EdVenture's library exhibit, especially if you are looking for a cozy, calm moment. Not only are there a ton of great books for children of all ages, but there's also a puppet stage and theater area. There are cozy areas to settle in for a book or two. The library exhibit is located near Eddie on the first floor.
The Great Outdoors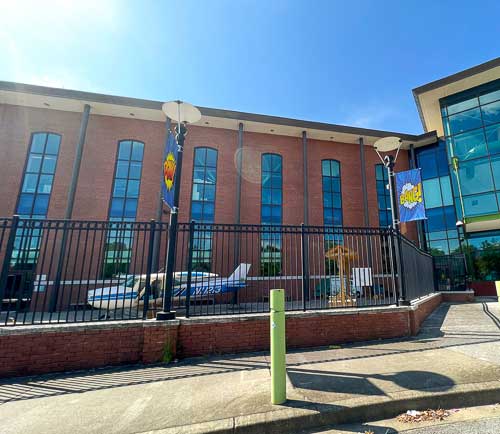 Once you've had your fill with indoor fun, head to EdVenture's outdoor space. It's an especially good place in the summer when it's hot out because there's a giant water table. You may want to bring a spare change of clothes, by the way!
There's also a slide and even a giant prop plane that your kids can climb aboard.
Frequently Asked Questions about EdVenture
Is EdVenture stroller-friendly?
Yes, EdVenture is stroller-friendly. It's multiple levels but there's an elevator just by the check-in area.
Is EdVenture good for toddlers?
Yes, EdVenture is an exceptional place to visit with toddlers. There's even a toddler play area specifically designed with little ones in mind with soft blocks, a small climbing structure and a mini tugboat.
How much does it cost to go to EdVenture in Columbia, SC?
EdVenture is $13 for ages 2+ and free for infants and teachers with an ID. Memberships start at $149 per year.
How long should I plan to spend at EdVenture?
We recommend a full morning to experience the many exhibits. Plan at least three hours, though you could easily spend a whole day checking it out.
And that wraps up our guide to Columbia's EdVenture! It's an absolutely wonderful place to let your kids' imaginations soar. For another kid-friendly adventure, make sure to check our guide on everything to know about Riverbanks Zoo.