Columbia is home to several great Carolina BBQ restaurants, date-night-worthy Italian restaurants, over 20 delicious burgers, and, as you'll see in this guide, some awesome Greek and Mediterranean restaurants.
We love Greek food because it's always just so fresh and colorful. Plus, you can't beat pita bread with a big dollop of Tzatziki sauce. Or dolmas! Or spanakopita! And you can find it all in Columbia at several great Greek restaurants.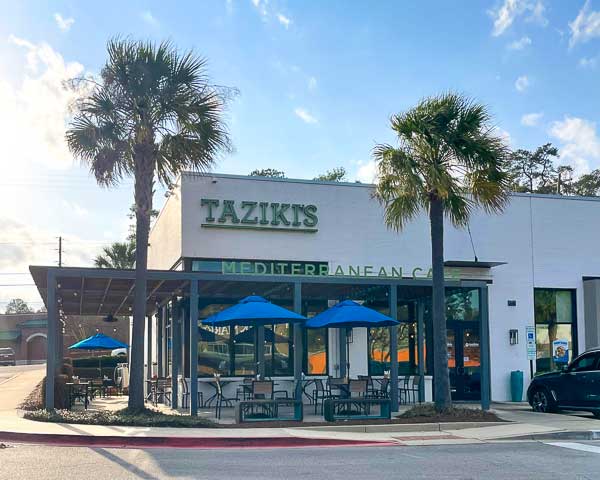 This list includes everything from a fast-casual Mediterranean restaurant to a Lebanese restaurant where you'll want to linger all night.
Though there are a few chains included in this guide, most of the ones listed are authentic, family-owned restaurants. And you can tell in the quality and service. We love a good family-run establishment!
There are so many great eateries in the area worth trying, so be sure to check out our list of over 20 awesome restaurants in Columbia. But if you're specifically looking for Greek restaurants in Columbia, read on!
This article shares our top Greek food go-to's around Columbia, along with details on what we like to order, parking and whether you can place an order online. But first, a map!
Where to Find Columbia, SC's Best Greek Food
Our Favorite Places for Greek Food in Columbia, SC
And now onto our list! It's not in any particular order, though we did include the table-service restaurants toward the top followed by counter-service ones.
---
Columbia's Greek Festival
We can't write a list of the best Greek food in Columbia without leaving off Holy Trinity Greek Orthodox Cathedral's Greek Festival! Columbia goes nuts over this four-day festival that typically occurs toward the end of September.
Enjoy the culture, the music and the food! Speaking of, not only can you get Greek food to eat there, but you can also get Greek food to-go.
---
And that wraps up our guide to the best Greek restaurants in Columbia, SC. It was fun writing about each place and certainly made us want to go back to each immediately. As did writing all of our other guides to Columbia's food scene!