If you are planning a trip to Columbia and don't know where to start, welcome!
Whether you are visiting Columbia for a UofSC event (like a campus tour, graduation or football game!), a ceremony at Fort Jackson, government business or maybe you can't get enough of the capital city, we hope you find this guide useful!
We put this resource guide together for you to help point you in the right direction with everything from which neighborhoods to visit, where to stay and what to eat.
In it we share our must-do recommendations for visitors, our favorite restaurants and how to live like a local in Columbia. It covers a typical Friday to Sunday visit, but you can do most of the ideas mentioned any day of the week. Except Soda City– that's a Saturday only thing.
We also made it more of a choose your adventure style itinerary so that you can do the type of things that you really love.
It should be a great jumping off point for planning a trip to Columbia.
But we also know that our perfect weekend may not be yours!
So, to help plan your perfect trip, we have a ton of resources to guide you in the right direction.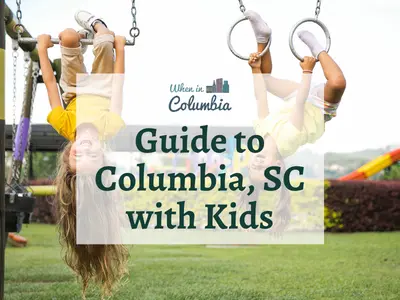 Pick the best time to visit.
We hope you found our guide to plan a trip to Columbia useful!