Your guide to delicious BBQ in Columbia, SC
Whether you are looking for a BBQ buffet, southern sides or simply awesome Carolina-style BBQ, this guide to the best BBQ in Columbia has you covered! We have detailed so many great restaurants that are definitely worth checking out.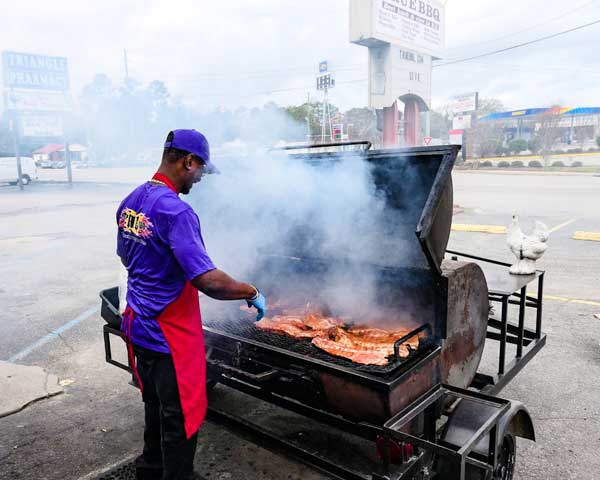 Not only do we share awesome barbecue places in Columbia, but we also highlight a few in Columbia and more off-the-beaten-path BBQ joints in the area.
And if you are new to Carolina BBQ, you'll find a quick overview of the various types at the end of this article. Yes, there are several types of 'Carolina' BBQ!
There are so many great eateries in the area worth trying, so be sure to check out our list of over 20 awesome restaurants in Columbia. But if you're specifically looking for BBQ in Columbia, read on!
What You'll Find In This Article
Map of Columbia, SC BBQ Restaurants
BBQ in Columbia, SC
When it comes to BBQ, the Columbia food scene has no shortage of delicious Carolina-style BBQ restaurants to satisfy your needs. Check out the list of our favorite spots below!
West Columbia BBQ
You'll find a few more local Carolina BBQ joints in West Columbia, just across the bridge from downtown Columbia.
Off the beaten path in West Columbia, you'll find the unassuming Hite's BBQ. And when you find it you will not be disappointed! Hite's BBQ has been serving oak and hickory wood-smoked Carolina BBQ for generations since 1957.
You can order a BBQ sandwich or a pork, rib, or chicken plate served with hash, rice, slaw and rolls (or you can upgrade to green beans or baked beans.) Hite's BBQ is served with classic mustard-based South Carolina BBQ sauce.
They also sell all their meat by the pound, from chopped pork to ham, to skins. Hite's offers takeout service only, but they do have some picnic tables on the property near a pond.
Open only on Fridays and Saturdays, make sure you beat the crowds!
Another hidden gem BBQ joint located in West Columbia, True BBQ is the real deal. They have perfected the art of wood-smoked BBQ and make some of the best chopped pork BBQ in Columbia. Their menu includes chopped BBQ, baby back ribs and spare ribs.
They have house-made tomato, mustard and vinegar-based sauces. Make sure you try their hash and rice! You can also order in bulk, so it's a great option to feed the family.
They're only open Fridays and Saturdays from 11 am until 8 pm so make sure you plan accordingly!
About Carolina BBQ
Carolina barbecue is amazing, no matter the style or the sauce, though some barbecue enthusiasts can be very opinionated about which Carolina has the best barbecue. Each region in the two states has its own flair and each local BBQ restaurant has its own unique recipe.
See below for details on the differences between states!
South Carolina Barbecue
South Carolina barbecue is smoked pork served either pulled (most common), shredded, chopped or sliced. Depending on the restaurant and its location in the state, you'll find mustard, tomato (vinegar + ketchup mix), heavy-tomato and/or vinegar sauces.
Mustard-based sauces are known as the state's unofficial sauce because they aren't common anywhere else.
The two types of North Carolina Barbecue
Just like its southern neighbor, North Carolina also smokes its BBQ pork in pits, but there are two main types:
Eastern-style barbecue uses the whole hog with a lemon/vinegar pepper-based sauce and no tomatoes. Eastern style is served chopped.
Lexington-style barbecue, found in the Piedmont and western areas of NC, uses just the pork shoulder with a light tomato sauce (vinegar, ketchup and spices.) Western NC BBQ can typically be found on a sandwich.