Columbia is located right in the heart of South Carolina and is brimming with fun things to do and places to go.
As the state's capital city, Columbia is home to the University of South Carolina, walkable business districts, cute neighborhoods, great food, a vibrant art scene and the most fun Saturday farmers market around.
We hope this list of our favorite things to do in Columbia will inspire you to get out and explore!
1. Visit Riverbanks Zoo
Columbia's award-winning Riverbanks Zoo is regularly ranked one of the best zoos in the US. With over 2,000 animals calling Riverbanks Zoo home, there is no shortage of interesting creatures to see.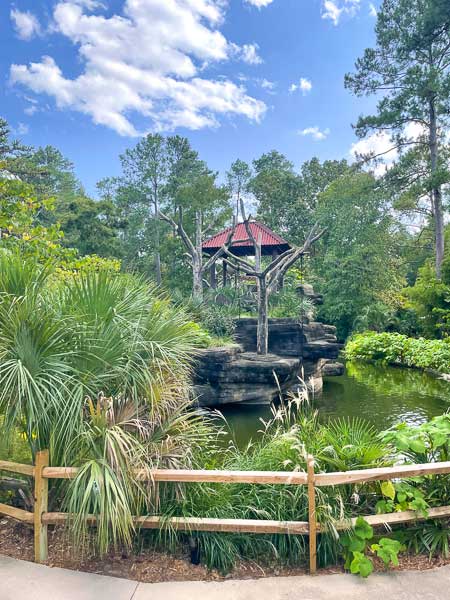 Some of our favorites are the big cats including lions and a tiger, giraffes and gorillas. While we are sad that the elephants have moved, we love the new exhibit with white rhinos!
The aquarium and reptile house is home to so many exotic fish and reptiles that it is a must-see. The birdhouse is also amazing especially watching the penguins dive into the water. Visiting the Riverbanks Zoo ranks right at the top of our family's favorite things to do in Columbia.
In addition to seeing so many diverse animals, we also love the activities available within the zoo, including the farmyard petting zoo, feeding the giraffes, completing the sky-high safari, climbing the rock wall and riding the small train. And the carousel!! It's the best.
In addition to gaining access to the zoo, your admission includes entry to the botanical garden (an attraction worthy of visiting on its own!) Spending a few hours at Riverbanks Zoo is definitely one of our favorite things to do in Columbia.
2. Eat and Shop at Soda City Market (Saturdays only!)
Columbia, aka "Soda City", is home to one of the southeast's most popular weekly farmer's markets: Soda City Market.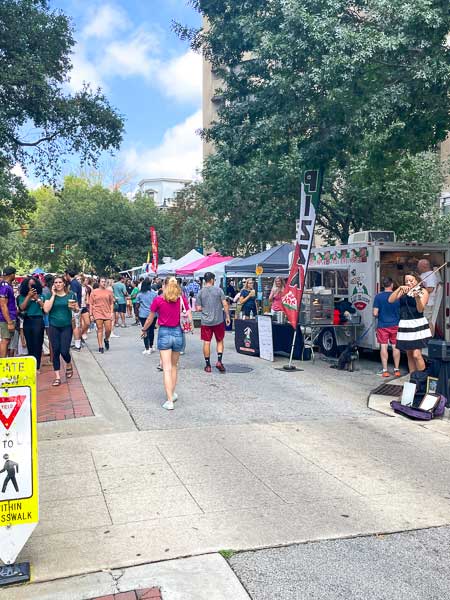 We like to say that the vibe at Soda City Market is more like a food fest than a farmers market. The Soda City market boasts about 150 weekly vendors ranging from food trucks to artists to produce stands.
Soda City Market is open year-round, rain or shine, every Saturday from 9am to 1pm. The market attracts up to 5,000 patrons on a regular weekend.
3. Catch a Game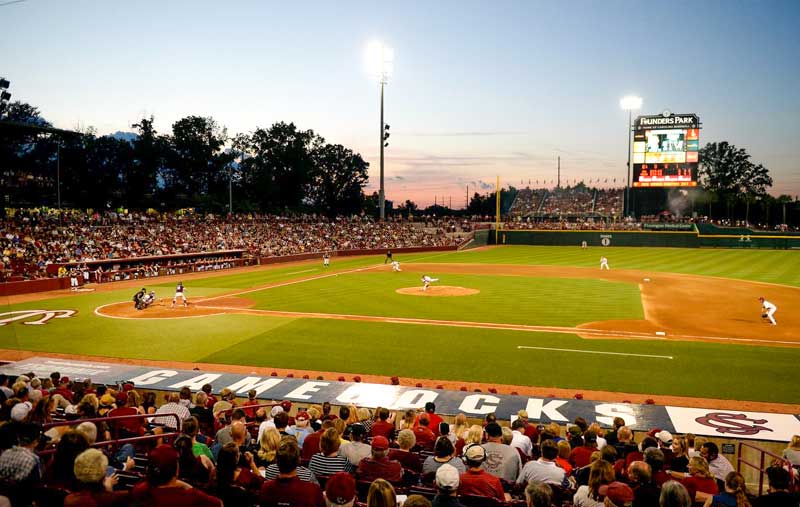 Columbia is home to several popular sports teams that you can find something in season almost any time of year. Of course, Carolina Gamecocks football is a favorite pastime during fall. Even if you can't snag a ticket to the coveted home games, head down to Williams-Brice Stadium to tailgate- it's always a party!
Columbia is also home to its very own Minor League Baseball Team: the Columbia Fireflies. They play in Segra Park in Columbia's Bull Street District.
Gamecocks baseball games are also a blast and fun to watch at UofSC's state-of-the-art Founders Park. And for basketball fans, you can catch a college hoops game at the Colonial Life Arena.
4. Explore the South Carolina State Museum
The South Carolina State Museum has been an institution in Columbia since 1988. Located on the west end of The Vista on the banks of the Congaree River, the SC State Museum is housed in the historic Columbia Mills Building. The Museum is comprised of four stories of exhibits including natural history, science and technology, cultural history and South Carolina art.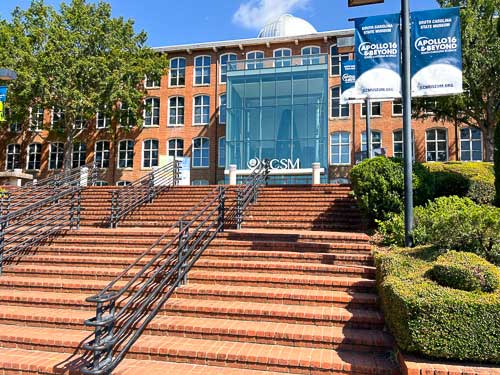 As you walk into the exhibition halls, you are greeted by a giant model of a prehistoric megalodon shark hanging overhead. It stops our son in his tracks every time! The exhibits throughout the museum have plenty to offer to the curious both young and old. One of our favorite areas for kids is the hands-on science area that allows one to learn scientific principles firsthand. The South Carolina State Museum is a great spot to get lost for a few hours (especially on a Famously Hot or rainy day!)
5. Play at EdVenture Children's Museum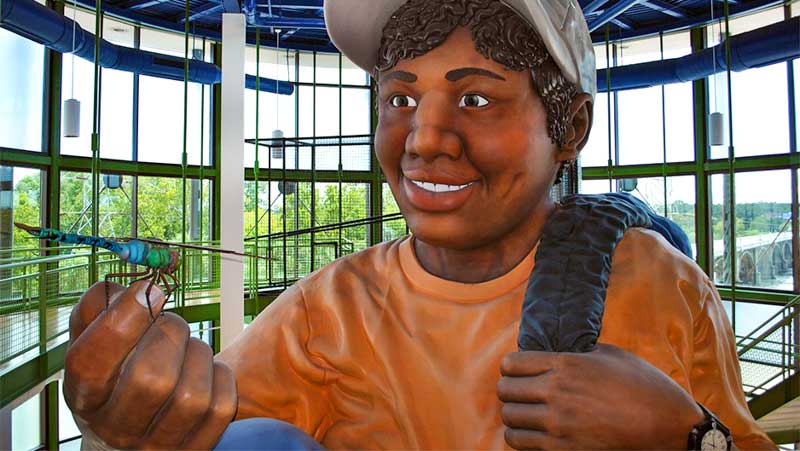 Located across the parking lot from the SC State Museum, EdVenture Children's Museum is another kid-friendly favorite thing to do in Columbia. Edventure is a 92,000-square-foot children's museum and it has a plethora of interactive learning exhibits sure to pique your child's interest.
When you walk into the museum you will be greeted by Eddie (pictured!) At 40 feet tall, he's "the biggest kid in the world." Kids love to explore him inside and out before moving on to explore the range of other exhibits including a grocery store, airplane cockpit, firetruck, and so many more.
The planning and design of EdVenture Children's Museum make the fun and learning work together so seamlessly. Every time we visit the kids get so lost in all of the fun that it is hard to convince them that it's time to leave!
6. Hike in Congaree National Park
After just a 30-minute drive from Columbia, you can escape civilization and immerse yourself in nature at Congaree National Park. With over 20 miles of designated hiking trails, there is plenty of wilderness to enjoy. There are 10 named trails in addition to the popular boardwalk loop that begins and culminates at the Harry Hampton Visitor Center.
The Congaree National Park is a 27,000-acre park with the Congaree River flowing through. Most of the park is a floodplain for the Congaree River and it's home to the largest remaining tract of old-growth bottomland hardwood. The cypress trees emerging from the swamp tower over you and form one of the tallest deciduous forest canopies remaining in the world. Every time we visit the park brings something new for us and we love to spot all of the wildlife (just keep an eye out for snakes!!)
7. Visit Columbia Museum of Art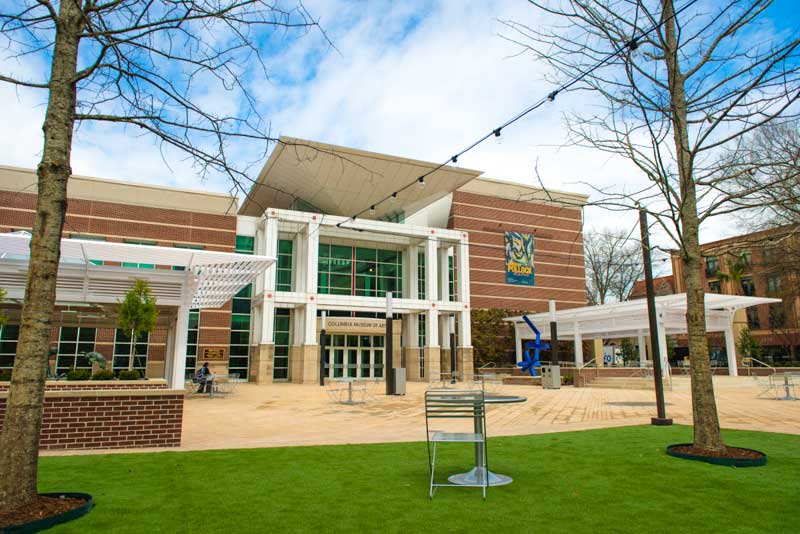 Located in the heart of Columbia's Main Street District, the Columbia Museum of Art is home to a beautiful award-winning collection of art from around the world.
The collection boasts pieces in various mediums and styles, giving visitors the opportunity to learn while enjoying their beautiful works. You'll find paintings from the renaissance masters, modern art, and regional cultural art from around the world at the Museum.
There are always traveling exhibitions on display at the Columbia Museum of art, so check out their website to see what is in town. And if you feel inspired to create your own masterpiece, they even offer art classes for all ages!
8. Grab a Beer at one of Columbia's Craft Breweries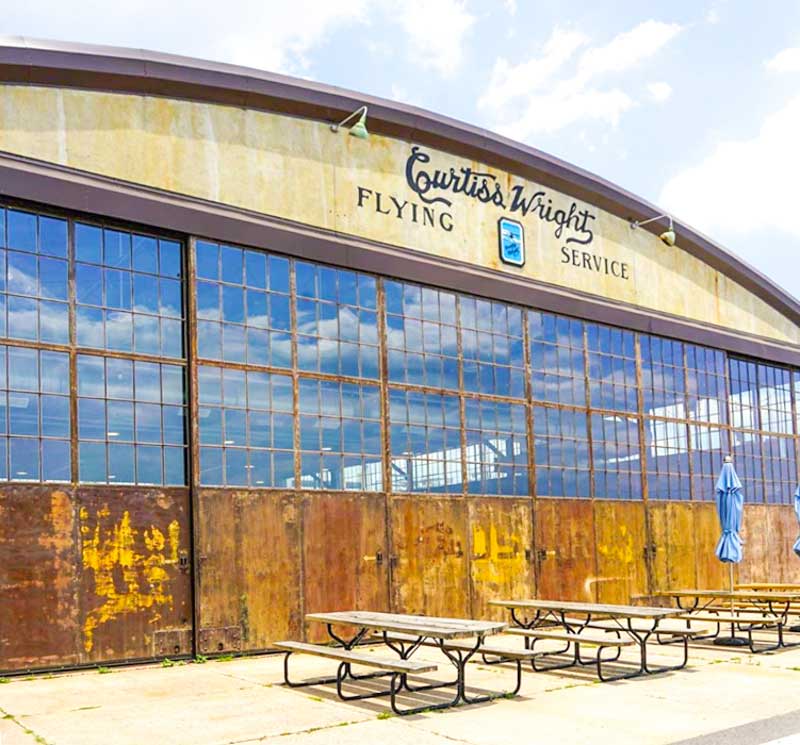 Our favorite brewery is the Hunter-Gatherer Brewery Hanger housed in an old airplane hangar at Owens Field (Columbia's municipal airport.) The space is very cool and you can hang out on the observation deck and watch private planes take off and land.
Some of our other favorites include Steel Hands Brewery and Columbia Craft Brewing Company.
Check out our full list of the best breweries in Columbia, SC here!
9. Tour the South Carolina State House
We may be biased, but in our opinion, the South Carolina State House is one of the most beautiful statehouse complexes in the country.
The State House offers daily tours throughout the year which allow visitors to see the architecture, history and spaces where legislation is put into place.
The SC State House is surrounded by beautifully manicured grounds that are a perfect spot to take a stroll.
10. Visit the University of South Carolina's Horseshoe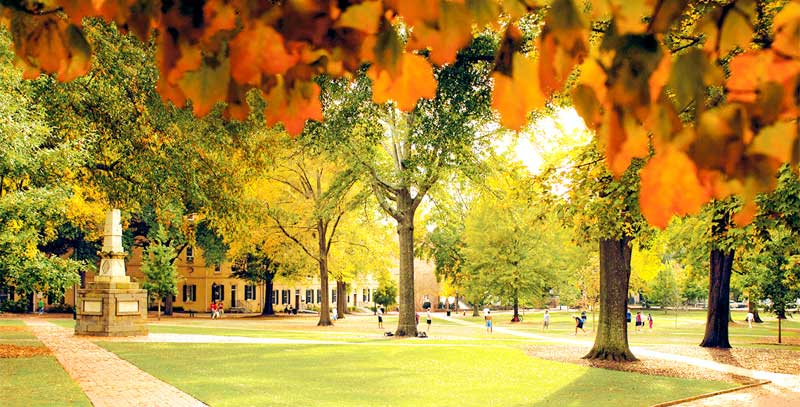 At the center of the University of South Carolina's campus, you'll find the picturesque historic horseshoe. The horseshoe is home to twelve historic buildings dating back to the early 1800s surrounding a green space that is the core of the university's original campus. The green space is filled with old oak trees, brick walking paths, green manicured lawns and several monuments.
The Horseshoe is a great space to go for a stroll, have a picnic, or just sit and reflect. Within the buildings around the Horseshoe you will find a few gems including the McKissick Museum (free and open to the public) and the McCutchen House (a restaurant management and food service teaching facility open to the public.)
11. Stroll through one of Columbia's Commercial Districts
We love spending time in the downtown Columbia area, where you can find several commercial districts scattered about. Five Points is one of the most well-known areas in Columbia and one of our top recommendations for visitors and new residents! It's right by Carolina's campus and is always full of students, visitors and locals.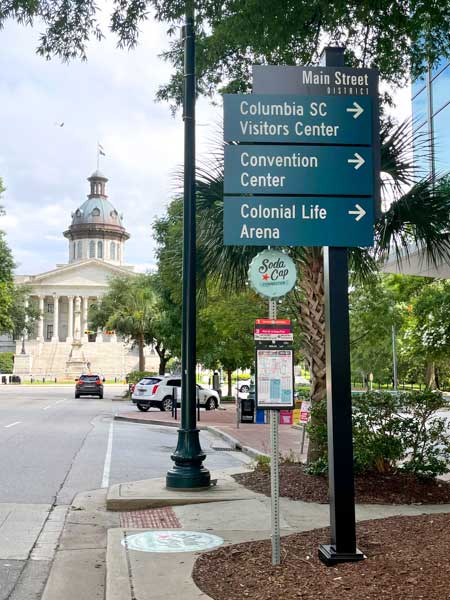 We love slow mornings in Five Points that start with lattes from Drip, casual window shopping on Saluda and a perfectly cute sidewalk lunch at The Gourmet Shop. Their chicken salad is the best!!
Close by you'll find Devine Street, which is home to amazing clothing stores, baby stores and restaurants. It has been a shopping district in Columbia for years but over the last couple of years has really exploded with new boutiques, eateries, gyms, upscale apartments and coffee shops. Most of the shops are local, which definitely adds to the charm of Devine Street.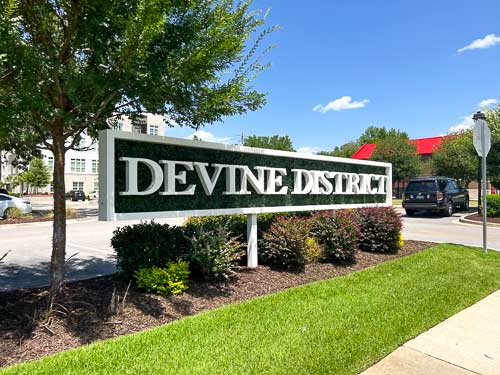 You'll find two other districts that we love on the other side of Five Points: Main Street and The Vista. Main Street is home to Columbia's Soda City Market on Saturday mornings and it's a ca n't-miss event for locals and visitors alike! Expect great food, people-watching for days and even a few vendors with fruits and veggies (it's mostly a food fest!!)
The Vista is just a hop, skip, and jump over from Main Street and the State House. You'll find tons of restaurants and shopping there as well as a few spas.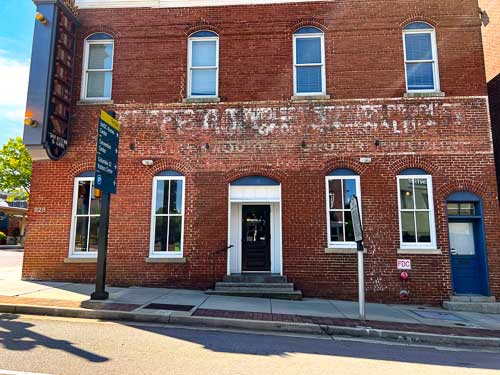 There are several other commercial districts around town, but these are the ones we like to casually stroll around on nice days. To learn more about them, check out our post on our favorite commercial districts in Columbia to shop, eat and people-watch!