Everything to know about the best pizza in Columbia, SC
If you are looking for delicious pizza places in Columbia, SC, we've got you covered! The restaurants on our best pizza in Columbia list are some of our favorite places to enjoy a slice. Some are fancy, some are grab-and-go, and others are perfect for a night out with friends.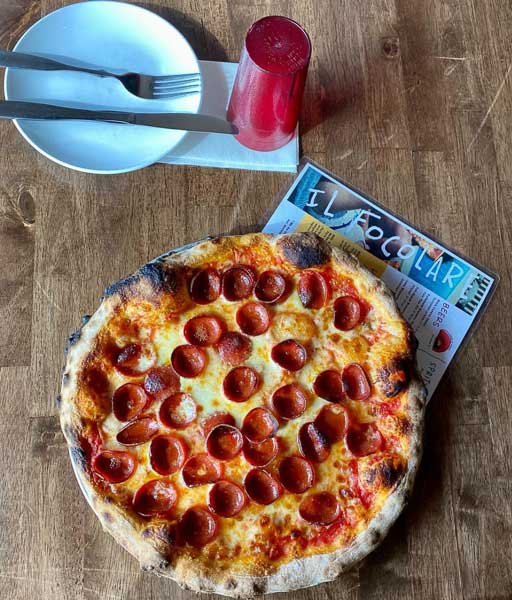 Maybe you prefer NY Style pizza. Maybe you are looking for the closest thing to Chicago pizza. Or maybe you are just wondering who makes the best thin-crust pizza in Columbia, SC.
Whatever you are looking for, our Columbia pizza guide will point you in the right direction!
And one last note before we dive in: these are NOT RANKED! Columbia's pizza places are all so good and unique that it would be too hard to pick favorites.
Where To Get Pizza In Columbia
Below is a map of all of the pizza places highlighted in our guide. We love the map view because it helps you quickly see nearby restaurants.
A Guide to the Best Pizza in Columbia
This pizza guide includes both Italian and non-Italian restaurants. If you are looking specifically for Italian eateries, check out our guide to Italian restaurants in Columbia.
If you are looking for top-quality handmade pizzas, Il Focolare needs to be on your list to try. They have been serving up pizzas baked in their wood-fired pizza oven since 2019. Their pizzas are all 13″ and come with the standard toppings in addition to some unique ones. Think: brussels sprouts & chevre goat cheese or their Potato & Rosemary pizzas for a little something different.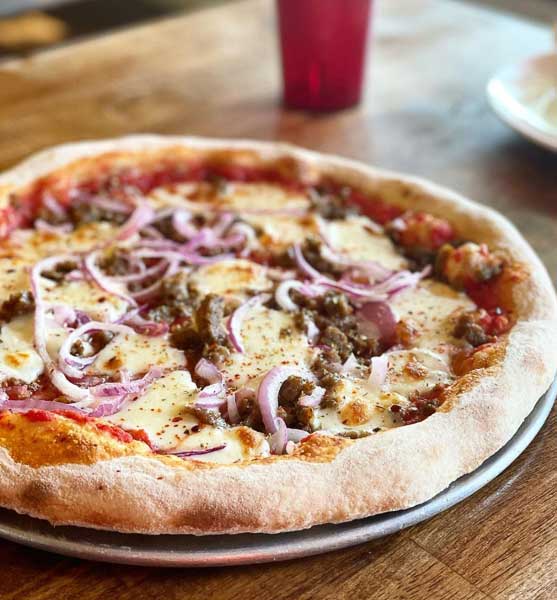 Il Focolare is located on the Cottontown side of the North Main Street district on Sumter street. As a restaurant brought to you by James Beard semifinalist City Grit Hospitality Group and award-winning chef Sarah Simmons, the quality of the food does not disappoint. Accordingly, it is a very popular spot and there may be a bit of a wait for your pizza at peak times.
If you are looking for takeout pizza, they make ordering easy with online ordering!
Za's is another of our favorite spots to enjoy a delicious brick oven pizza. They are a full-service restaurant and bar with an upscale casual dining atmosphere. Located in the quiet neighborhood commercial corridor of Devine Street, their outdoor seating on the patio is worth checking out when the weather is nice.
Za's has a great community feel and is a favorite spot for friends and families to meet. It's a great place to relax and have a glass of wine with delicious pizza and other Italian appetizers and entrees. And if you're looking for takeout pizza, you can order ahead online! Make sure to check them out for their brunch offering on Saturdays and Sundays.
Il Giorgione is the quintessential neighborhood Italian restaurant. They are a local favorite located just on the edge of Shandon on Devine Street.
You can just feel the love and care that the folks at Il Giorgione pour into their food and atmosphere. They have a range of classic pizzas that really capture the flavors of Italy. They also have a wine bar with a great selection of Italian wines.
The restaurant is not a huge space and with its popularity, it is wise to make reservations in advance. We love to sit outside in their quaint patio area tucked between Il Giorgione and Backstreets Grill.
Il Bucato is one of the newest additions to Columbia, SC's pizza scene. It's a takeout-only pizzeria offering pizzas, sandwiches and salads. It's in a pretty convenient spot near AC Flora at the intersection of Beltline and Trenholm.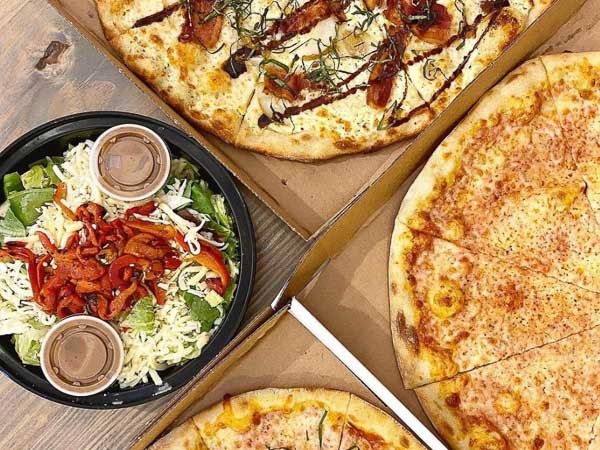 Il Bucato has a large selection of 16″ NY-style pizzas with something for everyone. The Prosciutto Bianco is definitely worth a try!
Their convenient location and easy online ordering make them one of the best restaurants in Columbia for takeout.
The Hunter-Gatherer Hangar location is not only a great Columbia brewery, but they also have excellent pizzas to go along with the beer they brew on-site. Their pizzas really are phenomenal and there is definitely something for everyone on the menu.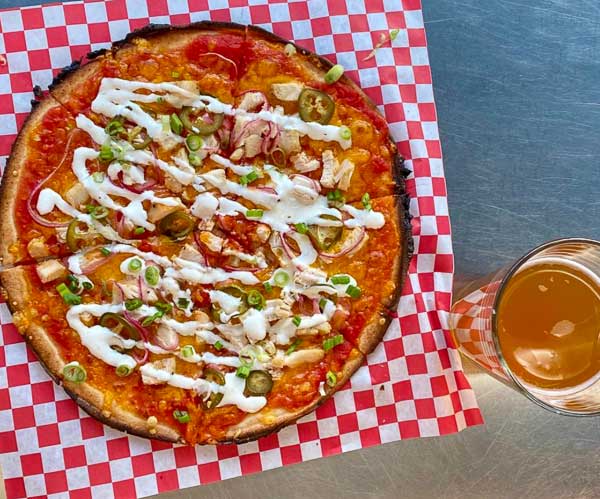 The Hunter-Gatherer Hangar is located on the edge of Rosewood neighborhood at Owen's Field municipal airport. It's called the 'Hangar' because it's in the airport's repurposed Curtiss Wright hangar. We always say that it is one of the coolest buildings you can hang out in anywhere in Columbia.
You can't beat the atmosphere whether you eat inside in the massive hangar-turned-brewery, outside next to the airfield or on their rooftop observation deck looking over the runway.
Located in the heart of Five Points, Village Idiot Pizza is tucked away in a laid-back upstairs space above Pho Viet Vietnamese restaurant. Serving their patrons in Five Points since 1990, this New York Style pizza joint is a local favorite for USC students and Gamecock fans alike.
Village Idiot is not just a pizza joint but also a lively pub, serving a large variety of beer, wine and cocktails. It's such a fun place to eat pizza. Be sure to check out their website for happy hour deals and daily deal specials. And PS if you are a trivia night fan, they have trivia every Wednesday at 8 pm. Village Idiot is all around a great spot to enjoy a slice of pizza and a beer.
For you takeout pizza lovers, you can also order online!
Village Idiot has two additional locations: one in Forest Acres on Forest Drive and the other in Olympia at The Mills.
Mellow Mushroom is a regional pizza chain based in Atlanta, but it feels very local on Gervais Street! It's just across from the State House and is an excellent dining option if you are in The Vista.
We love the Kosmic Karma and the Wild in Havana pizzas. And their Greek Salad is amazing! Pro tip: request an extra side of Esperanza dressing to dip your pizza in! If you're opting for takeout pizza you can always order Mellow Mushroom online.
Dano's Pizza is one of our favorite authentic pizza places in Columbia. They are located on Rosewood Drive within walking distance from Shandon and Rosewood neighborhoods. Dano's serves up delicious large slices of NY-style pizza.
They don't do anything too crazy with their pizzas but do offer the traditional range of toppings. You'll find veggie pizzas, meat lovers pizzas and white pizza, as well as barbeque chicken pizza. Dano's also has great salads to go with the pizzas- the antipasti salad is one of our favorites. In addition to pizza, Dano's has a full menu of other Italian entrees. They also have some epic appetizers like fried mushrooms and fried green beans.
The vibe inside Dano's is always lively with a large bar (great local beers on draft) and lots of TVs (perfect place to watch a game.) They also have a covered patio with outdoor seating when the weather is nice. If you are opting for takeout, Dano's makes it easy with pickup options and delivery. They also have online ordering (we love that!) It's one of the easiest places to order pizza for delivery in Columbia.
Another of the newest additions to Columbia, SC's pizza scene! Blue Pizza serves up authentic New Jersey-style pizza. Don't worry, we had to Google that too. Apparently, New Jersey pizza has the sauce on TOP OF the cheese and toppings. Most of Blue Pizza's pies aren't like that, but the New Jersey Grandma Pie has mozzarella on the bottom!
Located in Five Points, Blue Pizza is a popular spot for Carolina students as well as residents from the surrounding neighborhoods. The lively and fun college-town atmosphere makes it a great place to hang out. Blue Pizza has a great covered patio area for dining outdoors too. Of course, you can always order for pickup or delivery!
Thirsty Fellow makes some of the best pizza in Columbia, SC. They have a build-your-own pizza model for their stone-fired pizzas, so the sky is the limit on what kind of pizza you want.
Located on Gadsden Street near the UofSC campus, it is a popular spot for Gamecock students. Their covered deck is a great spot to enjoy a slice of pizza and a beer (and your dog is welcome too!)
Schiano's Old Time Pizza Restaurant is a fast-casual pizza parlor serving authentic NY-style pizza along with a wide variety of other Italian entrees. Located on Forest Drive across the street from Trenholm Plaza, they have been a mainstay for pizza in Forest Acres for decades. Schiano's has a classic pizza joint vibe that reminds me of being a kid and going out for pizza.
There is a second Schiano's location on Two Notch Road in Northeast Columbia. Be sure to check out their website to order online (it's different from the Forest Drive location.)
While Villa Tronco only has two pizzas on the menu, we would be remiss if we did not mention the establishment that introduced pizza to Columbia, SC!
Villa Tronco's claim to fame is not just that they are the oldest restaurant in the state of South Carolina, but also that they have been serving fine Italian cuisine for just as long. Included on the menu are their Tomato Sauce and Cheese Pizza and their Combination Pizza.
Villa Tronco is located in the heart of the city on Blanding Street just off Main Street. The restaurant's iconic picturesque storefront draws you in with the promise of authentic Italian food. It is such a great spot for a date night or a special dinner out.
La Brascas Pizza near the Whole Foods shopping center is an iconic Columbia pizza place. They are known for their cheese salad and their 'all the way' pizza. You can also customize your own pizza with a choice of over 15 toppings. La Brasca's has chicken wings, a few subs and several Italian desserts to choose from.
Now, La Brascas hasn't changed much over the years. But that's what makes it so special. It's full of nostalgia for locals and we are certain that absolutely no one can get enough of the cheese salad.
---