Columbia, SC has several great restaurants with delicious Thai Food. You'll find everything from Thai restaurants fit for a date night out, laidback casual places for Thai food and several with awesome takeout options.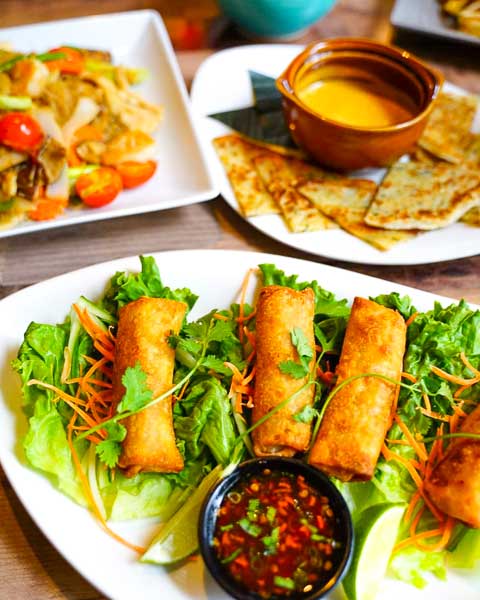 This guide to Columbia's best Thai restaurants shares all of the best spots in town and what we love to order at each.
There are so many great eateries in the area worth trying, so be sure to check out our list of over 20 awesome restaurants in Columbia. But if you're specifically looking for Thai food in Columbia, read on!
What You'll Find In This Article
We have organized the list into categories to help you easily navigate. See below for an outline and feel free to jump around as needed.
Map Of The Best Thai Restaurants In Columbia
---
Casual Spots for Thai Food in Columbia
Below are several great restaurants for Thai food that are a bit more casual.
Awesome Thai food in a casual environment in Cayce.
Just over the river in Cayce is the hidden gem of a spot called Duke's Pad Thai. This family-run restaurant makes some of the most beautiful and delicious Thai food in the area.
Duke's is also a great spot for Thai takeout in Columbia, as evidenced by their big 'best takeout in Columbia' win by the readers of Free Times. You can also dine there– it's an order at the counter place.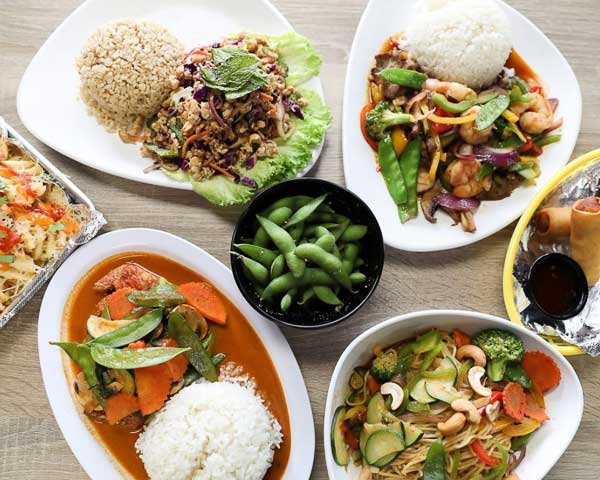 As far as what to order goes, try the Pad Thai! We love it! They also have great appetizers, especially the chicken satay and dumplings. Their menu includes papaya salad and so many different types of soup. It's a great spot for Thai food lovers!
The perfect spot if you love traditional Thai food and an authentic atmosphere.
Thailand Restaurant is located toward Irmo on St. Andrew's Road. It's a hidden gem, hole-in-the-wall place but the food and service is fantastic.
We love their Tom Yum soup, Pad Thai and the Green Curry. And their prices are very reasonable!
Thailand Restaurant doesn't have a social media or web presence at all. It looks like there's an unofficial Facebook page but as far as I know, Thailand Restaurant doesn't post! You know it's good when that's the case.
Mai Thai is a great spot for Thai food in West Columbia. Their menu includes several traditional Thai food entrees and a few specials.
We love their drunken noodles and if you haven't tried it yet, order their 'amazing' entree. All of their curries are great too, especially their green and red ones!
Apart from Thai food, you'll also find a great bakery and bubble tea at Mai Thai. It's a bit out of town in West Columbia we like to stop by and pick up to-go food when we are driving through the area.
Like many of the Thai restaurants in Columbia, Mai Thai does not have a social media presence or website that we know of. They operate by word-of-mouth and that works for them!
---
Upscale Thai Restaurants in Columbia
Below are a few options that are a bit more elevated than the previous ones. We wouldn't call any fine dining, but if you are looking for a bit of an upscale atmosphere then start with these!
Kao Thai Cuisine is the perfect date-night-worthy Thai restaurant in the Vista.
It's a cool space (in the old Columbia Firehouse Headquarters!) with awesome outdoor seating and excellent food.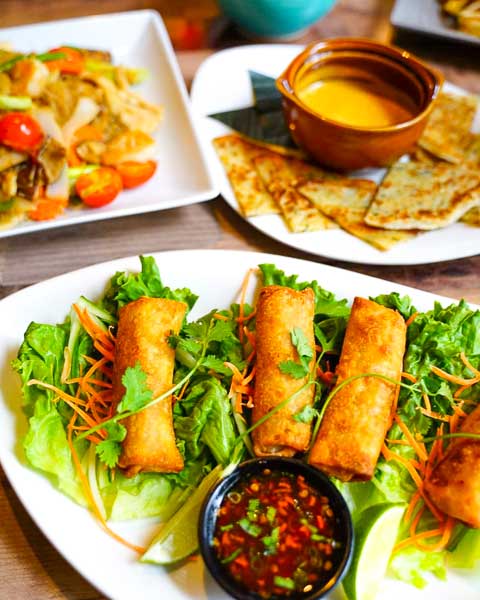 Our favorite dishes to order are the Panang Curry, Drunken Noodles, Pork Gyoza, Bangkok Shrimp and Pad Thai. Everything we have tried has been plated beautifully and always fresh.
You can make reservations in advance or order online if you prefer a night in.
A trendy Thai restaurant with traditional food and fun specials
You'll find a great Thai restaurant just a few shops down from Whole Foods in Cross Hill Market.
Basil Thai's menu is impressive, with both the regular Thai fare you'd expect (a few curries, soups, etc.) and also menu items like volcano shrimp, Asian sea bass, crispy red curry duck and even sweet and sour chicken.
The restaurant has a trendy feel but is still cozy and casual. We love their egg-peanut house dressing, beef satay skewer and their basil pho. Basil Thai also has a great dessert selection!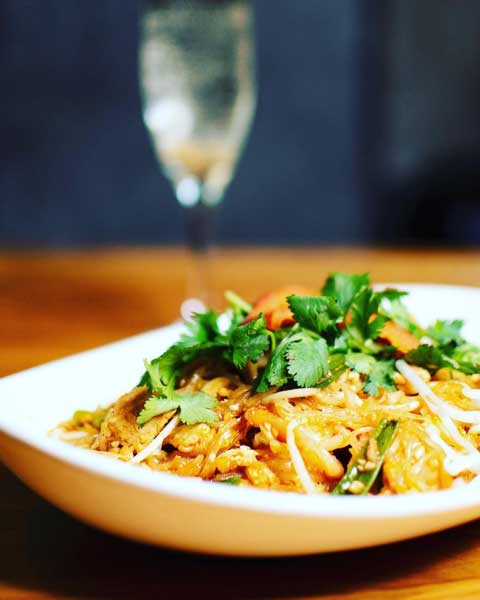 This is one of Basil Thai's 7 locations, 5 of which are in South Carolina and the other two in North Carolina.
A small Thai restaurant on Devine Street with a vegan menu that changes weekly.
The menu is small, the parking lot is small and the house it's in is small, but Baan Sawan is a gem in the Columbia dining scene.
Baan Sawan is actually just returning since closing in 2020 during the pandemic. They are only open 5pm-8pm on Fridays and Saturdays. It's pretty hard to get a table! Also, instead of a full menu, they now have an all-vegan menu that changes each week.
Unexpected white tablecloth dining in a strip mall
You may not expect white tablecloth dining in a Walmart parking lot, but here we are! Lotus Thai Dining is somewhat new to the scene and brought an unexpected level of class with it.
Not only will you find traditional Thai food on the menu, but Lotus Thai also has a dedicated sushi menu, a few hibachi options and a pretty decent wine list.
---
That wraps up our best places for Thai food in Columbia list! Check out more Columbia dining guides here.