A Guide To The Best Columbia Restaurants To Dine With Kids
While there are a ton of great restaurants in Columbia, not all offer the best kid-friendly dining experiences. Trust us, we know from experience!
Lucky for you, we have made it our mission to find the best places to eat out with kids in Columbia. Whether you are after a fun experience at a drive-in or maybe want to settle in a cozy booth, this guide shares our top picks.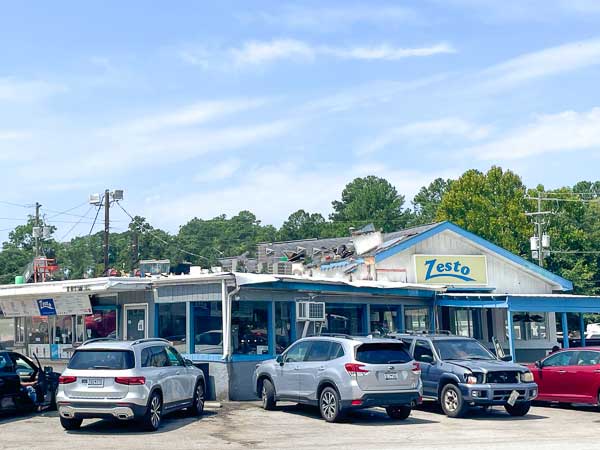 We hope this list of kid-friendly restaurants is useful whether you are visiting Columbia with kids for the weekend or are a local looking for new restaurants to dine with the family.
What You'll Find In This Article
For more restaurant guides, check out Columbia's best restaurants according to locals and our guides to pizzerias, burger spots and casual restaurants.
Where To Dine With Kids In Columbia
Below is a map featuring each of the restaurants highlighted in this guide. We hope the map view helps you find a great family-friendly restaurant close to you.
A List Of Columbia's Most Kid-Friendly Restaurants
Below you'll find a list of family-friendly restaurants in Columbia. As you'll see, it highlights both order-at-the-counter and table-service spots. We personally prefer counter service when dining with kids because it cuts out additional waiting time to order, pay at the end, etc. However, the table service restaurants on this list are ones that we don't mind bringing the kids.
Whether it's the cool atmosphere, the coloring pages provided or the fun kid's menu, we think all of these spots are great for kids!
Home Team BBQ is a Columbia favorite to take the whole family out to eat. Their casual, vibrant, noisy atmosphere makes it the perfect place to grab a meal with kids. We love ordering them their very own BBQ sandwich: the Lil'Q off the kid's menu. And also nachos for the table– just make sure to ask for the jalapenos on the side!
Slide into a booth with the entire family at Lizard's Thicket, Columbia's locally-owned comfort food chain. Whether you're out with kids for a french toast breakfast or maybe you need the perfect meat and three meal, you will find something for the entire family at Lizard's Thicket.
Hunter-Gatherer at Owens Field Airport is our favorite kid-friendly brewery in Columbia. Not only is it right across from a great playground, but you can watch planes take off and enjoy delicious pizza. There's outdoor seating and plenty of room to get some energy out.
What better way to entice kids to a delicious lunch than the promise of a side of ooey gooey mini cinnamon roll? That's just what you get The Devine Cinnamon Roll Deli. They have delicious sandwiches, grilled cheese and hot dogs on the kids menu and some of the best deli sandwiches in Columbia.
If you're looking for a neighborhood burger joint to take the entire family look no further than Henry's Bar and Grill on Devine Street. They have a great outdoor patio and casual dining room. We love getting the little ones a cheeseburger or chicken tenders off the kids menu.
Henry's has additional locations in Cayce and Northeast Columbia.
When it comes to breakfast, brunch or lunch with kids, Cafe Strudel needs to be on the list. This casual cafe serves up some of the best breakfast dishes and hamburgers in town. We love the casual vibe and the serve-your-own coffee station. And our kids love the pancakes!
Dano's is a neighborhood pizza place with delicious pizza, a casual indoor dining room, and an airy outdoor patio. It's the perfect place to take kids for a night out when you just don't feel like cooking at home. We really like their antipasto salad and the classic pepperoni pizza.
Groucho's is one of Columbia's iconic eateries. Their old-school warm dipper sandwiches are a favorite for kids. Check out the juniors section of the menu offering smaller sandwiches for smaller appetites.
You'll find several Groucho's locations around town, our personal favorites are Five Points and Forest Drive. We also love ordering Groucho's online and heading to a Columbia playground for a picnic.
Zesto is a classic drive-in burger joint in Columbia. It's the perfect spot for a burger paired with a chocolate-dipped ice cream cone. Our kids especially love adding sprinkles (and who can blame them!)
Midwood Smokehouse by Whole Foods is an excellent destination for barbecue with kids in Columbia. It's a casual spot with outdoor seating and a kids' menu with crayons. You can relax on the patio out front while your kids enjoy chicken tenders or a little barbecue sandwich.
Za's Pizza on Devine Street is a great option if you are looking for a nicer night out with kids but still approachable. You'll find great options for pizza and sandwiches on the menu as well as a dedicated kids menu. Kids can choose from spaghetti, mac & cheese or pizza. There's outdoor seating out front when the weather permits.
Rosewood Dairy Bar is the perfect destination for chicken fingers, sweet honey mustard and soft-serve ice cream. It's a casual order-at-the-counter place with a few tables outside and a separate indoor dining area.
Our kids jump at the chance to dine at Original Pancake House any time of the day. While mornings are our favorite time to dine there, you can order their delicious pancakes all day. They also have non-breakfast food available for lunch and dinner.