If you're on the hunt for a great lunch restaurant in Columbia, SC you have come to the right spot. After years of testing old and new restaurants, we have compiled a list of some of our favorites.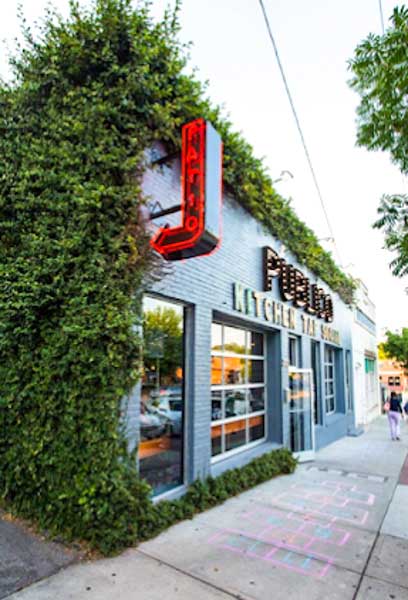 Breakfast in Columbia gets a lot of love around here and dinner too, but we thought it was time to shine some light on your midday meal. After all, this is where giant deli sandwiches are enjoyed, delicious salads are consumed and business deals are made. We have great recommendations for all of this, by the way!
There are so many great eateries in the area worth trying, so be sure to check out our list of over 20 awesome restaurants in Columbia. But if you're specifically looking for lunch in Columbia, read on!
What You'll Find In This Article
Where To Get Lunch In Columbia
Best Cafes For Lunch In Columbia, SC
When it comes to lunch, what can be better than a cafe atmosphere with delicious food? If that sounds like your kind of place you will be in good hands at any of these local Columbia cafes.
Enjoy a relaxing lunch from James Beard semifinalist Chef Jessica Shillato's restaurant Spotted Salamander. Located on a historic tree-lined street in downtown Columbia, this casual cafe is perfect for those who appreciate food that is taken up a notch (think: house bacon jam on their burgers.)
Open only for lunch on weekdays, it's a perfect spot to meet an old friend or go on a lunch date! We can highly recommend their Friday burger special and be sure to check out their desserts.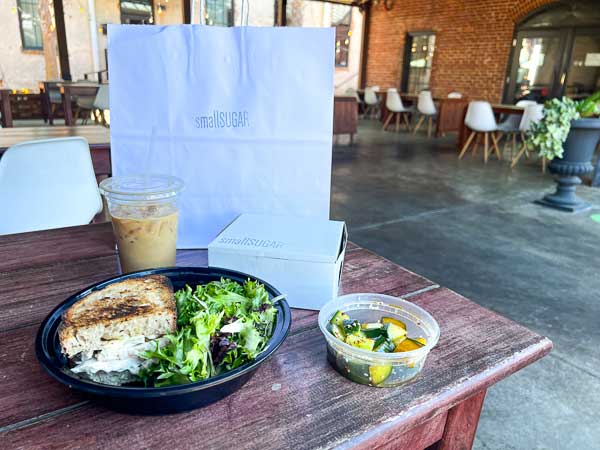 smallSUGAR is one of our absolute favorite lunch restaurants in Columbia. And it's by yet another Columbia James Beard Semifinalist! You'll find delicious lunch items on the menu including tartines, bowls and sandwiches.
They also have amazing pastries and espresso drinks. We love sitting on their covered outdoor patio. It's surprisingly breezy on a hot day!
The interior at smallSUGAR is beautifully designed. It's an order-at-the-counter place with an upscale feel. You'll love it!
If you're looking for lunch at a sidewalk cafe, look no further than The Gourmet Shop in Five Points. They have great outdoor seating on the wide sidewalk and an indoor cafe space if the weather isn't cooperating.
Tables are first come first serve. They have an awesome marketplace full of fun kitchen and pantry finds that you can browse while waiting.
Lunch is served daily and brunch is available daily from 9am until noon. You can't go wrong with their chicken salad on a croissant with their tomato basil pasta salad. Their seasonal green salad with chicken salad on top is also a great choice. It comes with an awesome dijon vinaigrette.
Located on Millwood Avenue on the edge of the Melrose Heights neighborhood you'll find Crave Cafe and Market. This cute neighborhood cafe has some of the best sandwiches in town.
They keep the menu simple with soups, salads and sandwiches but make up for it in flavor. Try their Rosewood Reuben or Carlisle Korean Pulled Pork sandwich and you'll see what we mean.
Everything is so fresh tasting and you can tell that it is made with care.
Café Strudel is our go-to spot for lunch if we are ever in West Columbia. Located on State Street, it is a local fixture in West Columbia where the casual vibe is always abuzz with laughter and excitement.
Their lunch menu is full of great options like burgers, sandwiches and their delicious seafood mac & cheese. And if you are more of a brunch person, their breakfast menu is available all day (try the hangover hash browns if so!)
Café Strudel is a table service café (but serve your own coffee!)
Located in the heart of downtown Columbia, Good Life Café is a great stop for a delicious and healthy lunch menu. They were originally a plant-based restaurant, so they have a ton of vegan lunch options on the menu. From smoothies and salad bowls to sandwiches and wraps, they have you covered.
We really like their specialty dishes, like the stuffed portobello mushrooms and their vegan buffalo cauliflower bites.
DiPrato's is a cute neighborhood café and deli located near USC's campus on Pickens Street. It is a perfect spot for lunch with casual indoor seating and a nice patio.
They offer signature sandwiches, hot panini sandwiches, salads, and build-your-own sandwiches.
You can't go wrong with any of their lunch offerings, but do yourself a favor and try their fresh fried pita chips with their pimento cheese!
Best Lunch Spots for a Sandwich in Columbia, SC
The delis below are all great for a quick lunch, and one even specializes in cinnamon rolls if you need dessert with your lunch. All of the delis mentioned below are on our best delis in Columbia list. Make sure to check it out if you also appreciate a great sandwich!
Groucho's Deli is one of our favorite lunch spots in Columbia and it's a great spot if dining with kids. Their original location in Five Points has been serving up their iconic dipper-style subs since 1941.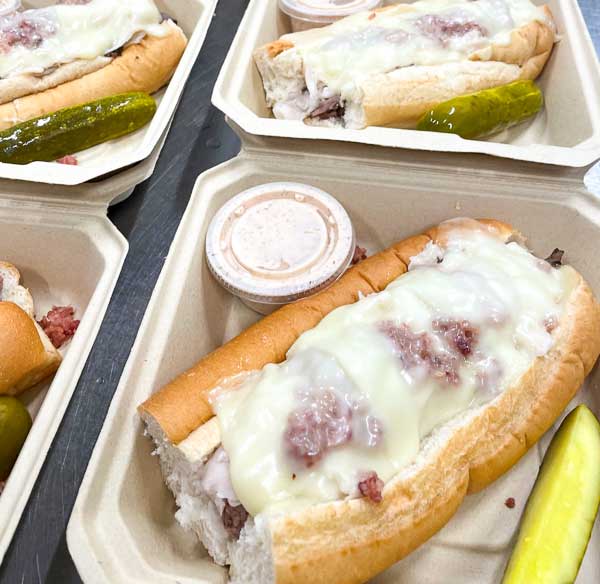 The secret sauce (no pun intended) that keeps us coming back is their Formula 45 dipping sauce. It is THE. BEST. SAUCE. served at any deli we have ever been to!
Groucho's dipper-style subs are served on hoagie sub rolls with top-quality deli meat and cheese melted on top.
We love their classic Apollo Dipper, but all are great! Their sandwiches are served in baskets with a bag of chips and a pickle on the side.
No Name Deli is an unassuming cafeteria-style deli with great sandwiches, sides and salads. It is a local favorite that gets quite busy during the lunch rush.
Located on the corner of Elmwood Avenue and Marion Streets, it's a bit off the beaten path but convenient to get to.
They have epic sandwiches made in front of you at the counter, as well as delicious chicken and pasta salad. And don't miss one of the best Greek salads in Columbia.
They're only open on weekdays so make sure you plan accordingly!
Splitting the difference between breakfast and lunch, The Devine Cinnamon Roll Deli offers up some of the best deli sandwiches Columbia has to offer.
Cinnamon Roll Deli has a menu full of specialty sandwiches and paninis as well as mouthwatering hotdogs with fun toppings.
You may not think of a coffee shop for lunch, but WOW Drip's sandwiches are awesome. You can get both their breakfast and lunch menu all day and trust us, you can't go wrong!
All of their food is just a little bit elevated to make it special. Like, the grilled cheese includes a mushroom ragu. They even have a peanut butter and jelly but on cinnamon raison bread. An elevated PB&J!
For a traditional Italian deli sandwich in Columbia, you have to check out Enzo's Delicatessen. This New York-style deli is located in Five Points near the USC campus.
Enzo's huge subs are a Columbia lunch favorite with hot and cold options. They also make their own Italian desserts and have a small Italian market for quick snacks and kitchen staples.
While they don't have indoor seating, they do have outdoor tables, so make sure you check the weather if you plan to stay and eat.
Upscale Lunch Restaurants in Columbia, SC
The restaurants in this category are great places to go for a business lunch or a lunch date. For more info about Columbia's nicer restaurants, check out our article featuring the best fine dining in Columbia, SC.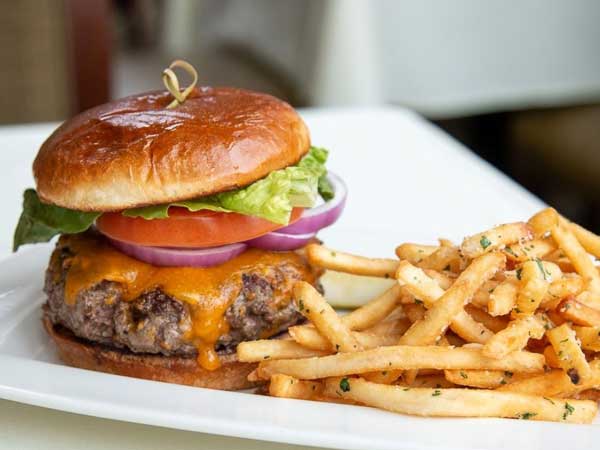 Yes! Hall's Chophouse has lunch! If you aren't familiar, Charleston's famous Hall's Chophouse opened a downtown Columbia location in 2018. It's an award-winning steakhouse and one of the most sought-after fine-dining restaurants in Columbia.
Hall's lunch menu includes locally sourced steak and seafood, as well as a perfect chophouse burger.
Hall's is located downtown on Main Street just across from the State House. It's an excellent option for a business lunch or a fancier meal out.
Another fine dining restaurant with lunch service! And it's just down Gervais St. in The Vista. Motor Supply Company Bistro is an upscale restaurant in Columbia with a farm-to-table menu.
You'll find their lunch menu Tuesday-Friday and you can also catch them for brunch on Sundays.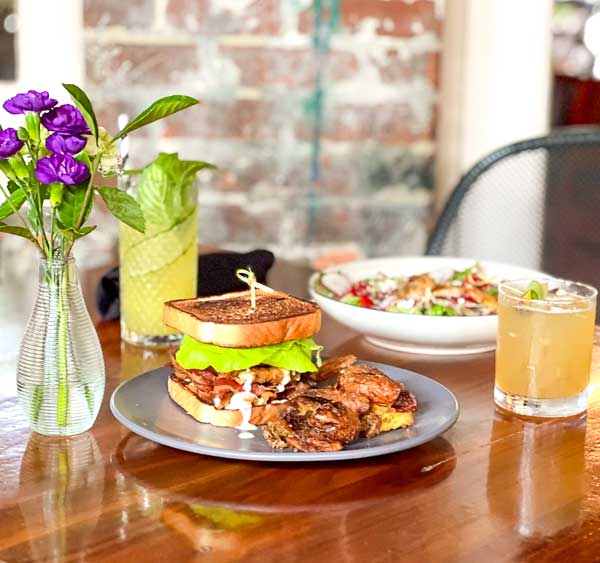 For lunch choose from a few salads, deviled eggs for the table, and around 8 or so main courses. You'll find everything from fried catfish to a butternut squash grain bowl, though probably not these exact menu items because they change often!
Mr. Friendly's is hands down one of our favorite restaurants in Columbia for lunch and dinner. You'll find southern cuisine and an easy, laid-back atmosphere. We listed them in the upscale lunch section because everything feels elevated at Mr. Friendly's.
For lunch, we recommend fried green tomatoes! We also recommend them for dinner, too. The tomatoes come with pimento cheese and it's a delightful dish.
You'll also find a shrimp po boy, their famous Friendly Burger (with gouda!), buttermilk fried chicken and several salads. Another fun one is the fried grits salad made with local Columbia Adluh flour! As good as it sounds!!
Market on Main is a lively, upbeat restaurant and market located in the heart of downtown Columbia, SC. Their lunch menu includes sandwiches, burgers and salads and they even have a grab'n-go market section if you are short on time.
We love Market on Main for lunch in downtown Columbia because they have an awesome outdoor patio, a great burger special with Russian dressing and you can even opt for a half sandwich and a side.
If you're looking for a cute neighborhood Italian restaurant for lunch, Il Giorgione is the place for you. They have delicious pizzas, sandwiches and pasta on their lunch menu.
Il Giorgione's quaint alley patio area beside the restaurant makes for the perfect lunch spot on days when the weather is nice.
Tucked away in a small space on Devine Street it is still a hidden gem to many even after being open since 2012.
Casual Lunch Restaurants in Columbia, SC
If you are looking for a sit-down lunch but don't necessarily want an upscale atmosphere, these casual restaurants that serve lunch will hit the spot.
Just across Greene Street from the Five Points fountain, Publico is a popular restaurant serving Latin-Asian-inspired food. Their salads, sandwiches, tacos and quesadillas are perfect when you're in search of a lunch packed with flavor. The atmosphere is casual and upbeat.
They have large roll-up doors in the front of the restaurant and a seriously great patio out back — what's better than enjoying some fresh air with a good meal?
And if you're going on Sunday they have an excellent brunch!
Tacos for lunch! Cantina 76 is a local Columbia Mexican-inspired restaurant known for its tacos and atmosphere.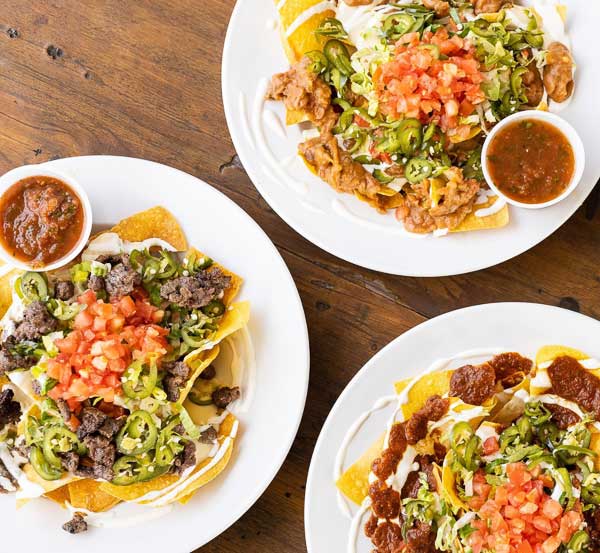 They have 14 tacos on the menu and we can especially recommend the BBQ Brisket and the Fried Chicken tacos. If tacos aren't your thing, check out the roasted chicken quesadilla or one of their salads.
Cantina 76 is a neighborhood favorite on Devine Street for a reason. Along with their tasty food, they have a great bar inside and a nice covered patio outside.
Be aware that parking can get tight in the lot. You may have to park on the street at peak times and walk over instead.
Pawleys Front Porch is a casual burger joint in Five Points that serves handmade burgers stacked high with toppings. You can choose from one of their SC beach town-themed signature burgers or build your own.
Relax on their front porch with a burger, fries and a beer for a great Five Points experience. But be careful — you may be tempted to hang out the rest of the afternoon.
A favorite local neighborhood restaurant and bar, Henry's is a go-to for burgers in Columbia. Not only do they have burgers, but also Philly cheesesteaks, fried chicken sandwiches, salads and wraps, making it a great option for lunch.
The casual atmosphere is perfect, especially for families, whether you sit inside or outside on their covered porch.
Awesome BBQ Joints for Lunch
Yep, BBQ gets its own category on our lunch list. But who doesn't like a good BBQ sandwich for lunch?
Columbia has some of the best BBQ restaurants around, and most are great for lunch. Below we have listed out some of our favorite spots for great BBQ and atmosphere.
When you walk in the door at Home Team BBQ the smell of mouthwatering BBQ lets you know you're in the right place. This Charleston BBQ fixture has a location in the heart of Columbia's Five Points.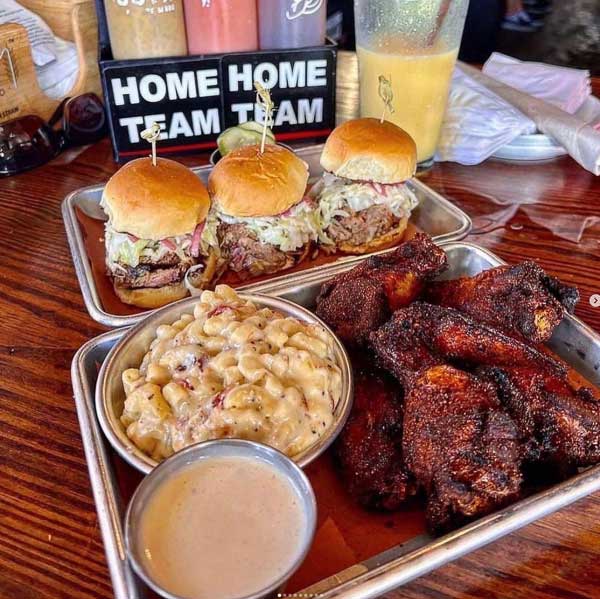 It's a great spot for lunch with a large rustic industrial dining room. They have a large bar, high-top tables and great patio seating.
Their pulled pork sandwich is on point and if you're with a group get the BBQ nachos for the table — they are stacked high and don't disappoint.
Hidden gem alert! And 'hidden' is an accurate description. You won't accidentally stumble across it– Doc's is located in Columbia's Shop Road industrial area near Williams Brice Stadium. It's worth a visit though because Doc's consistently serves up some of the best BBQ in Columbia. It's a lunch-only restaurant, by the way!
Their BBQ buffet is a crowd favorite where you can try all the meats and sides you can dream of. You can also order BBQ sandwiches or baskets.
Located near Whole Foods in the Cross Hill Market shopping center, Midwood Smokehouse is the perfect lunch spot for BBQ whether you eat in their casual dining room or on their patio.
Midwood offers regional BBQ styles including Carolina pulled pork, Texas-style brisket, and St. Louis Style ribs. And for those who aren't fans of low-and-slow BBQ, they have some of the best burgers in Columbia.