A guide to the best high-end restaurants in Columbia, SC
At last, a great list of the best fine-dining restaurants in Columbia. These are the restaurants that should be top of mind when you have something to celebrate, whether it's a UofSC graduation, a special birthday or anniversary, an important promotion or maybe you just want a fancy night out on the town.
All of the restaurants mentioned in our guide to fine dining in Columbia have excellent food, ambiance and service.
And all are very different from one another. There are so many nice restaurants in Columbia and you really can't go wrong with any on this list.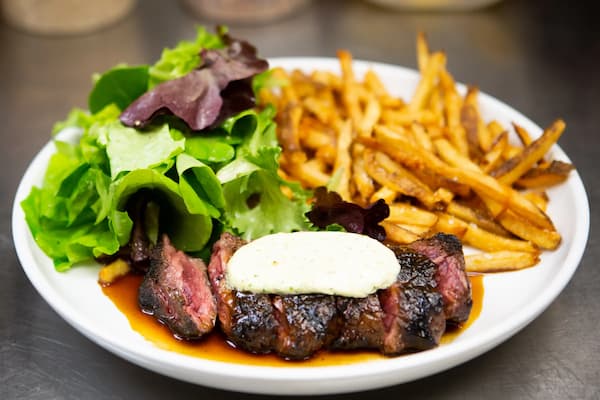 This is especially true if you are looking for the perfect restaurant for a date night out in Columbia. Whether it's a fancy restaurant to celebrate an anniversary or the perfect place for a first date in Columbia, we have you covered! All of the restaurants we detail below are great date night restaurants (trust us!)
And maybe you aren't looking for a fancy date night out– but perhaps you need a restaurant for a business dinner in Columbia. This list is full of high-end restaurants! Most are located in the downtown area of Columbia (Main Street District, The Vista and Five Points) and a few are over the bridge in West Columbia.
A note on awards mentioned
You'll see in our guide below where we have shared whether any of the places won any awards in the Free Times / Post & Courier Best of Columbia awards for 2022. These awards are taken pretty seriously here and definitely guide the crowds toward trendier places. You'll see below that Hall's Chophouse was the big winner in 2022.
Map of the Best Fine Dining Restaurants in Columbia, SC
The Best Fine Dining Restaurants in Columbia, SC
---
Fine Dining Restaurants in West Columbia, SC
Best rooftop bar dining in the Columbia area
A casual yet elegant "French-ish" restaurant overlooking the river in West Columbia. They have one of the best rooftop bars in the Columbia area. Patio and rooftop seating is on a first-come basis, but you can make a reservation for the main dining space.
Awards: Runner up for Best Place to Dine Outdoors and Best Restaurant in West Columbia/Cayce
What to order: You'll find everything from Escargots to an upscale grilled cheese with tomato bisque dipping sauce on the appetizer menu. My top pick for dinner is starting with their Onion Soup Gratinée and pairing it with their Steak Frites. If you like spicy things (and I mean SPICY!!), try their Nashville Hot Chicken Sandwich.
Location: 201 Meeting St | West Columbia
Parking: There's a lot right there at the apartments that you can use as well as a public parking deck near State Street.
Intimate fine dining with a view of downtown Columbia
Al's Upstairs is a charming Italian restaurant located in West Columbia, but with a great view of the capital city. It's a go-to spot for locals wanting to celebrate something, like a birthday, anniversary or graduation.
What to order: Their lobster bisque is heavenly! It's the perfect way to start off an evening out. For entrees, we love their Chicken Parmigiana, Chicken Charleston and Veal Piccata. And their desserts are incredible! We especially love their cheesecake.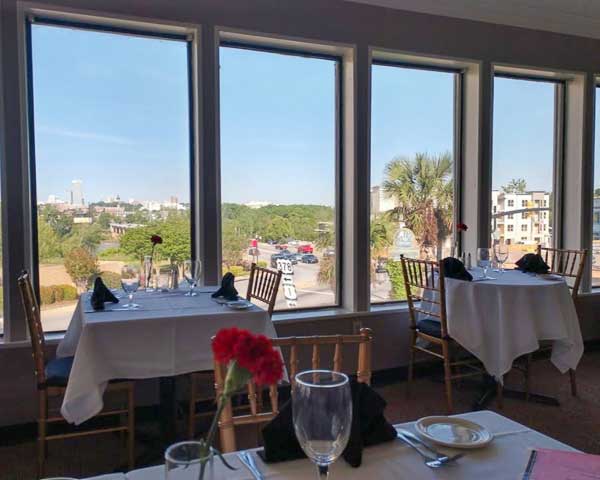 Location: 300 Meeting St | West Columbia
Parking: A parking lot is located all around the building. Additional parking is available at Egg Roll STation.
Great restaurant for a double date in Columbia
Ok, so Terra is actually over the bridge in West Columbia, but it definitely still counts as fine dining in Columbia to me! Terra is a chef-driven neighborhood bistro, and it makes such a perfect destination for a date night out.
Awards: Terra topped the list of the Best Restaurant in West Columbia. No surprise there! It also placed as the runner-up for Best Farm-to-Table Restaurant (that one went to Motor Supply) and got an honorable mention for Best Restaurant.
What to order: You can get everything from Steak Frites (and you should) to a wood-fired pizza. Don't miss their Lamb Mac appetizer if it's on the menu– it's so unexpected but wildly delicious. Terra has a pretty small menu with less than 10 small plates and 5 entrees.
Location: 100 State St | West Columbia
Parking: Valet parking is available as well as free parking nearby.
---
Casual fine-dining restaurants
Below you will find two other restaurants that we love to frequent for date nights that fall between casual and fancy.
While they aren't necessarily 'fine dining', I wanted to include them in case you were looking for a restaurant for a nice night out in Columbia. You'll find great food and a great atmosphere at both!
I like Cola's because you get a fine dining-style menu in a pretty cool, laid-back space. Brick walls, and open garage doors when it's nice out… it makes for a very fun date night out in Columbia. The building was a former RC Cola bottling company (hence the name!)
What to order: Try the whole crispy flounder with apricot sauce! It sells out and I have heard that people call ahead to reserve one. It's a much-loved dish in Columbia! If seafood isn't your scene, check out the fried pork chop with granny smith apple gravy. They also have a great cocktail menu with very reasonable prices.
A bit more casual than the others but definitely worth a mention
A great local spot serving up seasonal southern dishes in a relaxed environment. Mr. Friendly's is our go-to casual restaurant for most cases, whether it's a night out with friends, lunch in Columbia, a date night or even takeout. We truly mean it when we say we can't get enough!
Awards: Mr. Friendly's won the Best Southern Restaurant and Best Restaurant in Five Points in the Best of Columbia 2022 awards.
What to order: We can't get enough of their meatloaf special. And anything with grits is always a good bet! We have also always enjoyed their fish entrees.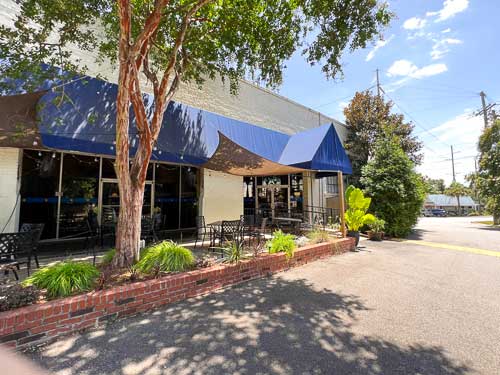 Location: 2001 Greene St | Five Points
Parking: There are some parking spots right out front, these can fill up. You can park on Greene Street and easily walk to Mr. Friendlys. Valet is also available.
---