Guide to Columbia, SC's Main Street District
The Main Street area of downtown Columbia is one of the city's most popular places to stroll, dine and sightsee. This is especially true on Saturday mornings when multiple blocks of Main Street are closed off for the year-round Soda City Market. The Main Street area is also known for a gourmet culinary scene and a vibrant nightlife.
What it's like:
Professional · Local · Big City Feel

Known for:
State House · Soda City Market · Fine Dining

Location:
In the heart of downtown – Central Business District


Check out our Columbia, SC Main Street District guide below and don't miss our full Columbia city guide!
Guide to Columbia, SC's Main Street District Table of Contents
This guide focuses on what to eat, where to stay and things to do in the Main Street District. If you are looking for information on other parts of downtown Columbia, check out our guide to downtown Columbia here.
Columbia, SC's Main Street District
Columbia's Main Street district has such a classic downtown feel. You'll find tree-lines streets, local shops and restaurants, a weekly market and even a trendy bowling alley!
The area serves as Columbia's Central Business District. It's also home to the South Carolina State House and the center of South Carolina's government and politics.
The streets of Columbia's Main Street District are tree-lined and surrounded by a mix of historic and modern architecture, giving Columbia both a small-town and big-city feel at the same time.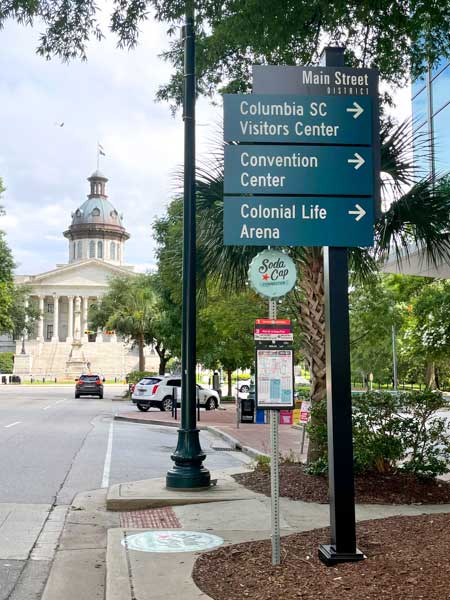 In addition to being the central business district, the Main Street area is also home to a gourmet culinary scene and vibrant night life. On Saturday mornings, Main Street is transformed into Soda City Market, a weekly farmers market that boasts 150 vendors with food trucks, artists, produce and much more.
As far as location in the city goes, this area runs along Main Street and is bounded by Gervais Street, Elmwood Avenue, Assembly Street and Marion Street. The South Carolina State House is situated at the southern end of the Main Street District.
The district is home to the taller "skyscraper" buildings that you see in Columbia's skyline. These are home to banks, law firms, other professional offices, hotels and residential buildings.
Restaurants on and near Main Street
The restaurants listed here are all located in the Main Street District of downtown Columbia. If you are looking for restaurants in the Vista, check our list here!
Date Night & Business Dinner Restaurants in the Main Street District
Halls Chophouse: Halls Chophouse is one of Columbia's most popular restaurants and they serve the finest steaks and wine in town. They are situated in a prime location on the corner of Main Street and Gervais Street across the street from the front of the SC State House. Hall's is the perfect spot if you are looking to impress or are celebrating a special occasion.
Hendrix: If you are looking for a trendy restaurant to enjoy a fun evening, look no further than Hendrix. They offer a diverse menu including small plates and gourmet entrees. Their rooftop bar is the perfect spot for happy hour or to enjoy a nice evening with cocktails!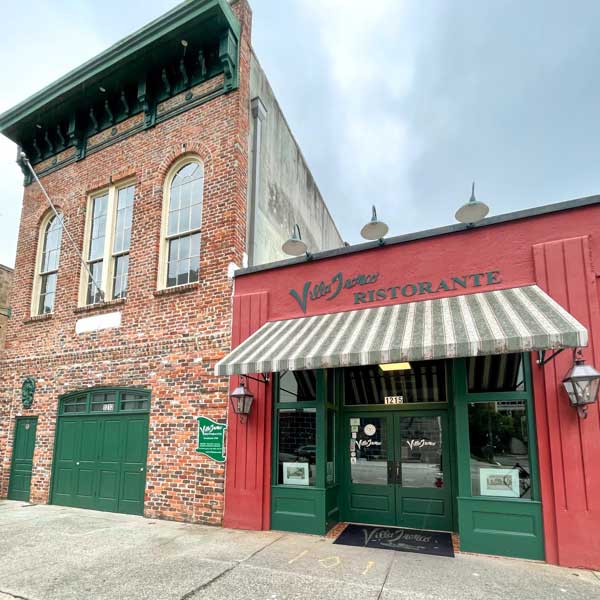 Hampton Street Vineyard: Hampton Street Vineyard is a small French-inspired restaurant and a long-time favorite in downtown Columbia. The menu includes traditional French dishes and other European fare French inspired. They also have an extensive wine list. Their sidewalk outdoor seating is charming and a great place to lunch and watch the world go by. Don't miss their weekend brunch!
Villa Tronco: Villa Tronco screams old-school family-owned Italian restaurant. It claims the title as being the oldest restaurant not only in Columbia but in the state of South Carolina. Their menu offers hearty Italian classic dishes and delicious homemade pizza. Villa Tronco is a perfect spot for an intimate date night.
Smoked: One of Main Street's newest additions, Smoked is a fine dining restaurant that does not disappoint. Their high-end menu includes oysters, entrees and small plates (including a steak flight!!) Smoked has an excellent cocktail menu and also has an in-house microbrewery. The microbrewery is the pilot project for the future Peak Drift Brewery that is planned for North Main. Be sure to check out their weekend brunch menu!
Cowboy Brazilian Steakhouse: A traditional Brazilian steakhouse (or churrascaria), Cowboy is the perfect spot for meat lovers. They offer the traditional Brazilian steakhouse experience of being served all-you-can-eat cuts of meat, hot Brazilian sides and a salad bar.
Casual Restaurants in Columbia SC's Main Street District
Cantina 76: Cantina 76 is a casual Mexican-inspired restaurant serving a fresh modern menu. The upbeat vibe makes it a fun spot to grab lunch or dinner with friends. Cantina 76's menu includes a wide range of tacos, nachos and other traditional Mexican entrees. They also have a wide-ranging margarita list. My go-to order is their quesadilla with a jalapeño margarita!
Market on Main: Market on Main is such a cool space that serves so many purposes. Ranging from grabbing quick premade bites from their market grocery to a gourmet dinner of Wagyu Flank Steak they have it covered. It's also a great spot for a weekend brunch in Columbia. Their outdoor seating is amazing with live music most Thursdays through Sundays.
Good Life Cafe: One of the best vegan restaurants in Columbia, Good Life Cafe has a menu packed with fresh and healthy options. It's good for lunch and a great spot to grab a coffee. Their outdoor sidewalk seating makes you feel like you are eating at a cafe in a big city.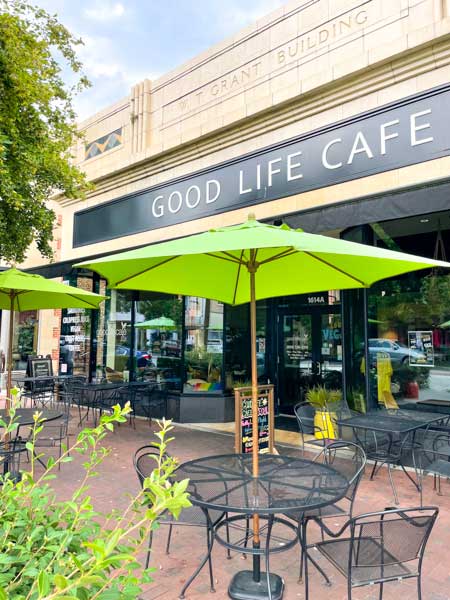 Drakes Duck-In: Drake's Duck-in is a top spot to get a fried chicken sandwich in downtown Columbia. This independently-owned fried chicken establishment has been open for over 100 years. They offer fried chicken baskets, fried chicken sandwiches, hamburgers and hot dogs. Drake's also has comfort breakfast options, including chicken and waffles, eggs, bacon, sausage and breakfast sandwiches.
East Bay Deli: With several locations around the state (and its original location in Charleston), East Bay Deli has become a mainstay in the Columbia deli scene. They have a huge menu boasting over 20 specialty deli sandwiches, soups, salads, spuds and hotdogs. And if you're hungry early, they offer breakfast sandwiches beginning at 8 am!
Sound Bites Eatery: Sound Bites Eatery is another great sandwich shop offering hot and cold sandwiches, salads and fresh breakfast items. They have a number of vegetarian and vegan options on their menu as well. It's one of our favorite restaurants for lunch in downtown Columbia. It's actually not on Main Street but is super close!
Greek Boys: Greek Boys is a long-time lunch favorite for the professional crowd working on and around Main Street. They offer a large array of fresh greek classics including combos and platters as well as sandwiches. Check to make sure they're open before you go — they are closed on weekends and typically only open 10:30 am to 3:00 pm.
Sandwich Depot: A popular lunch spot on Taylor Street, Sandwich Depot offers a large array of sandwiches, wraps and quesadillas for breakfast and lunch.
Main Street District Bars
Lula Drake Wine Parlor: If you are looking for a sophisticated bar to spend the evening, look no further than this refined upscale wine bar. Lula Drake has an extensive wine list and charcuterie boards made to pair. If you are not a wine drinker or have a non-wine drinker in your party, they also have several beers available on tap.
Bourbon: Bourbon is an upscale whiskey bar and Louisina-style restaurant. Not only do they have great cocktails and great food but they also have a great vibe — there is always a ton of energy in the building. The interior is beautifully decorated making you feel like you are in an old New Orleans bar.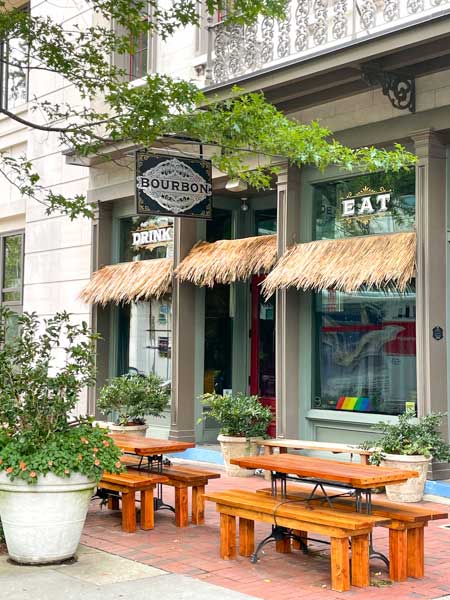 Hendrix Rooftop Bar: One of Columbia's few rooftop establishments, Hendrix Rooftop Bar is a popular spot for happy hour and evenings when the weather is nice. They have great cocktails and a daily selection of small plates available at the rooftop bar. The rooftop is also a great spot to have a drink before dining in their restaurant downstairs.
The Joint: The Joint @ 1710 Main is an upscale jazz bar in the heart of the Main Street District. They offer seasonal tapas dishes in the evening to enjoy with cocktails and live jazz music.
Be sure to check out the following bars featured below in the Attractions & Entertainment section:
The Grand on Main
Transmission Arcade
Main Course
Where to find coffee & desserts on and near Main Street in Columbia, SC
Oliver Gospel Roastery: The Roastery at Oliver Gospel is such a cool roastery and coffee shop supporting a good cause. The Oliver Gospel Mission has been serving Columbia since 1888 and opened its coffee shop in 2020. The Roastery roasts excellent coffee and makes delicious espresso drinks in a beautiful space. Proceeds from this social enterprise go toward the Oliver Gospel Mission.
Starbucks: While we typically don't point out too many Starbucks, Main Street's Starbucks space deserves a mention. Located in the basement level of the Sheraton Hotel, the historic space with exposed brick, underground lighting and great seating creates a magical coffee shop experience. Whether you are working remotely, studying or catching up with friends, it's definitely worth checking out.
The Strudel Shop: Located on Washington Street (a half block off of Main Street) near the Holiday Inn, you will find The Strudel Shop. It is a great spot to get a homemade strudel with coffee or ice cream. They also serve some sandwiches and pizza for lunch.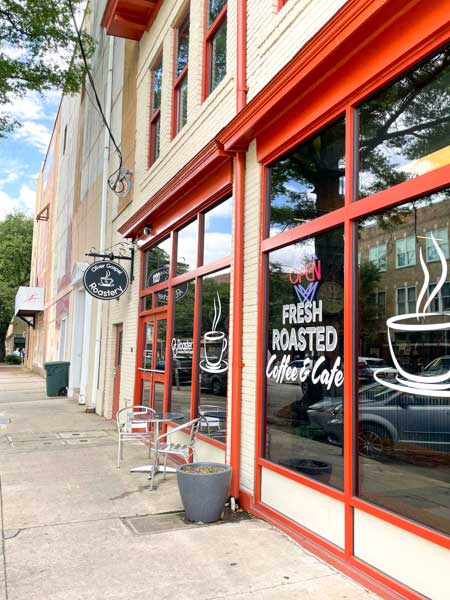 Sweet Cream Co: If you are in search of handcrafted gourmet ice cream, Sweet Cream Co. is our recommendation! With tons of flavors, everyone is sure to find what they're looking for. They also have great coffee, artisan sodas, spiced chai and homemade hot chocolate. PS: be sure to check out their monthly ice cream sandwich flavor!
Crepes & Croissants: A French-inspired cafe, Crepes and Croissants is the place to go if you're looking for crepes and french pastries in Columbia. They also have espresso drinks and drip coffee on the menu for your caffeine needs. They offer both sweet and savory crepes, various breakfast croissants, macarons and a range of croissant sandwiches.
Ally & Eloise: Located in The Arcade on Main Street, Ally & Eloise bakery is a great spot to grab a sweet treat while you're out and about. They offer baked goods ranging from pastries to cookies and cupcakes to bars. They also serve drip and espresso coffee drinks.
Attractions & Entertainment on Main Street
Soda City Market: Every Saturday, Main Street transforms into Soda City Market. The market boasts about 150 weekly vendors ranging from food trucks and farmers to artists and artisans. It's a great family friendly way to spend a Saturday morning, eating great food and supporting local vendors. Expect lots of people, buskers, food trucks, local bakers and makers, coffee vendors and dogs! Read more in our guide to Soda City market.
SC State House: The South Carolina State House is located at the southern end of Main Street. As you stroll down Main Street you will see the majestic building and its incredible facade. The SC State House is full of history and worth visiting for a tour. The State House grounds comprising 18 acres in the heart of downtown are also a beautiful place to stroll and take in some SC history.
Columbia Museum of Art: The Columbia Museum of Art is home to a collection of award-winning pieces and a great spot to soak in some art while visiting. Pieces range from renaissance masterpieces to modern art. Check their website to see which special exhibitions are currently showing.
Nickelodeon Theater: Columbia's indie movie theater, The Nickelodeon (or, as we call it, 'The Nick'), is a great place to catch an independent film. With two theaters, they typically have 3 movies showing with showtimes scheduled Thursday through Sunday. They sell soft drinks, snacks, beer and wine at concessions.
The Grand on Main: The Grand on Main is an upscale bowling alley and restaurant + bar. It is located in a restored historic Vaudeville House & Theater. The Grand is a great spot for a date night or for friends to eat, drink and play. You can book a bowling lane in advance here.
Transmission Arcade: Speaking of places to eat, drink and play, Transmission Arcade is a fun place to step back in time to play classic arcade games while having a drink and eating bar snacks. If you're a fan of wings you'll want to try them — they even offer online ordering for take-out if you want wings to go. They also offer a great Sunday brunch.
Main Course: This former Top Golf Swing Suite is now the Main Course with a range of food, drink and entertainment options.
On Main Street, you will find their restaurant with outdoor patio seating. You'll also find Soda City Beer Garden with a self-pour tap room with 75 taps.
If you follow the alleyway next to Main Course to the back you will find their bar and courtyard for a great place to unwind with a cocktail.
Upstairs they have virtual golf bays at the Player's Club. They are currently open to members only, but they are in the process of building additional golf bays for the general public.
Where to stay in Columbia's Main Street District
Below is a list of several hotels in the Main Street District of Columbia, SC. Because this area is so close to the University of South Carolina's campus, these are great places to stay if you are in town visiting the campus or attending a Gamecock football game.
Hotels on Main Street and the surrounding area
Sheraton Columbia Downtown Hotel: A Main Street hotel with a Starbucks in the basement. A block down from Cantina 76 and Market on Main. Would be a great place to stay for the Saturday Soda City Market.
Holiday Inn Columbia Downtown: Right next door to the Sheraton hotel above and within walking distance to a ton of great restaurants. Around the corner from Sound Bites Eatery.
Marriot Columbia: Just around the block from the two properties mentioned above, with easy access to Main Street. East Bay Deli is nearby and is a great place to grab breakfast or lunch.
Hotel Trundle: A local hotel and Columbia's first boutique hotel! Close to everything and the staff is so friendly.
Kasa Downtown Columbia: Across from Hotel Trundle and near The Grand on Main upscale bowling + eatery, Lula Drake Wine Parlor and Soda City Beer Garden.