Your Guide To Five Points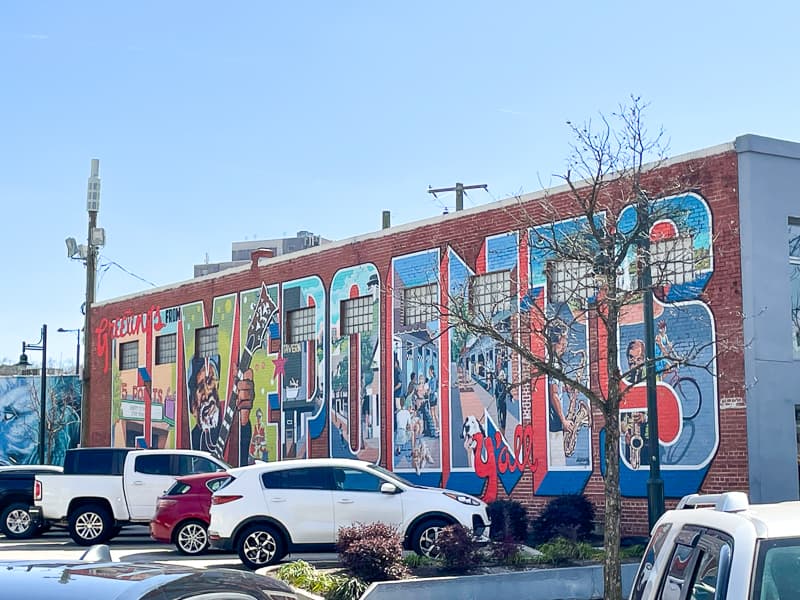 Five Points is a can't-miss in Columbia.
Known for local shops and tons of bars, the eclectic Five Points is a go-to destination for residents and visitors alike. There you'll find restaurants, coffee shops, record stores, vintage clothing and hangout spots. Pretty much all of it is local, too!
About Columbia's Five Points
What It's Like
Hip · Local · Vibrant
Known For
Restaurants · Bars · Shopping
Location
East of downtown Columbia and USC
Five Points Guide Table of Contents
Restaurants In Five Points
Some of the best restaurants in Columbia can be found in Five Points. We've highlighted a few of our favorites below (in no particular order!!)
Mr. Friendly's is one of the spots we will always point people to for a great meal in Columbia. They have an awesome menu full of elevated Southern classics.
It's called a cafe but it's actually upscale enough to be a great date night restaurant. We love their meatloaf special!
Home Team BBQ is our top recommendation for BBQ in Five Points. They are originally out of Charleston and have an absolutely amazing menu of all the barbecue classics and southern staples. We love their mac and cheese and you definitely shouldn't miss their BBQ Nachos with pulled pork.
The Gourmet Shop is a great local restaurant and market with a daily breakfast. They are known for having the best chicken salad in Columbia. You can buy it by the pound from their deli counter or enjoy it for lunch in their cafe section. We always add a side of their tomato basil feta pasta— it's outrageously good!
Apart from the cafe and deli counter, you can shop for kitchen items and packaged pantry goods in the Gourmet Shop's market.
If you are looking for an upscale restaurant in Columbia, head to Saluda's! Their menu features favorites like shrimp & grits, scallops and steak. It's a great place to celebrate an occasion, and they have an awesome balcony when the weather is nice.
Publico serves up great drinks and Latin-Asian-inspired cuisine in an Instagram-worthy spot. They have an amazing and unexpected outdoor setup. It's definitely one of the best outdoor patios in Columbia!
Publico offers a Sunday brunch with fun dishes like their Plantain Pancakes, Churro French Toast, and Chicken & Puffles.
Coffee Shops And Bakeries In FiVe Points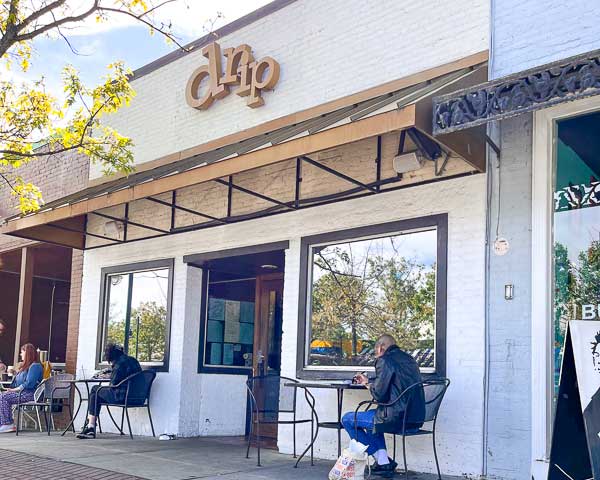 Drip: Drip tops the list of the best coffee shops in Columbia, SC. They have a great selection of single-origin whole beans and make a mean pour-over. They also have a full espresso menu, seasonal drinks and even some fun combos like a turmeric ginger latte and a honey habanero latte. It can get busy, but Drip is a great place to work or study from.
Baked Bear: Custom ice cream sandwiches! Choose an ice cream, cookies and toppings and be amazed. You can even mismatch your cookies and opt to get your sandwich warmed up if you like to live life on the edge. It's a fun place to get ice cream in Columbia.
Insomnia Cookies: Not far from Baked Bear you'll find a great bakery for cookies. We love their classic chocolate chunk cookie, though their sugar cookie is pretty unbelievable too. Insomnia Cookies also has a few vegan cookies on the menu and they offer delivery.
Local Shops In Five Points
One of the best things about Five Points is that pretty much everything is local, including the shops! Below are a few favorites to check out during your next visit to the area.
Papa Jazz Record Shop: The best place in Columbia for vinyl. You'll love the helpful staff, the awesome selection and the reasonable prices. It's just around the corner from Drip Coffee and the two make for a fun date in Columbia!
A Little Happy: A darling and happy gift shop for all ages in an equally darling and happy pink building. It's the perfect shop if you are in the market for something cute. They offer free gift wrapping.
Sid & Nancy: A great consignment shop with fun finds and hidden treasures.
Revente: Another consignment shop just down from Sid & Nancy. This is a great destination for designer items.
Gourmet Shop: Not only does the Gourmet Shop have excellent food, but they also have a great market section with kitchen and home items.
Loose Lucy's: A Columbia institution! This is the perfect destination if you are looking for bohemian-style clothing and accessories, tie-dye, tapestries and incense.
The Oops! Co: You never know what you'll find at Oops but you can always count on something you'll love. It started as a shop for factory irregulars but today they sell a mix of regular and discounted product. You'll find everything from Yeti and Scout bags to trendy dresses and jewelry.
All Good Books: An independent bookstore that offers the perfect place to escape with a cup of coffee (or beer + wine!) They have a kids section and seemingly endless options. Grab some merch while you're there!
Things To Do In Five Points
St. Patrick's Day In Five Points (Mid-March)
Five Points is home to Columbia's St. Patrick's Day events in March each year. The family-friendly 'St. Pat's in Five Points' is typically the Saturday after St. Patrick's Day and includes a fun run, a morning parade and live music all day. Five stages are set up around the area with multiple bands playing at each throughout the day.
A Note On Bars in Five Points
The Five Points area of Columbia, SC has A TON OF BARS. So many that it is a cause for concern for some locals, local businesses and even the University of South Carolina.
Over the years some bars have had their liquor licenses revoked due to violations serving underage drinking, encouraging excess drinking, etc… But! There are also some great bars with some great food that are enjoyed by those who frequent them.
One thing to note is that it can get pretty rowdy in Five Points at night when Carolina is in session. Especially during the Gamecock's football season!
I do want to mention Bang Back Bar & Lounge. It's a newer establishment but is such a unique addition to Five Points. You'll find bar food (wings, pimento cheese hushpuppies, eggrolls…), tacos and even gyoza. Weird menu but it works!
Where To Stay In Five Points
Crazily enough, there aren't any hotels in Five Points! The area is pretty close to downtown, though, so there are places to stay close by. Our top pick is The Graduate on Carolina's campus.
Getting To And Around Five Points
Five Points itself is very walkable. Everything is close by in Five Points (including USC's campus!) and easy to get to. Parking can be a problem, though.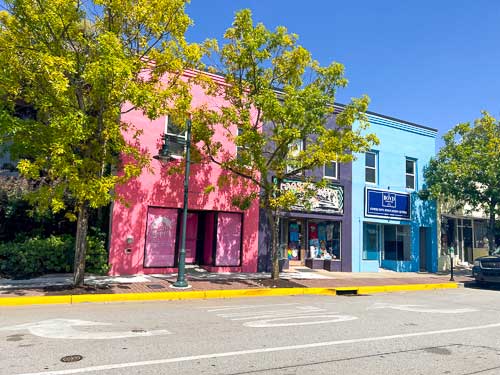 There's street parking all around and several spots on Saluda Ave between Drip and Gourmet Shop. Saluda is divided by a median and there is parking on both sides of it. This is our ideal place to park but sometimes it's just too crowded.
There's a newer parking lot just past the Gourmet Shop toward the Fountain. Otherwise, you may just have to circle around a bit until you find a street spot.
Of course, you can always Uber or take a Lyft in. This is an especially good idea if you plan on checking out any of the many bars in Five Points!