All about Columbia, SC's the Vista
The Vista in Columbia SC's downtown area is an established arts and entertainment district. Situated between the State House and the Congaree River, the Vista is a walkable commercial district full of restaurants, shops, bars and businesses.
The Vista is also known for its vibrant nightlife catering to the more grown-up crowd (compared to Five Points!) If you are visiting Columbia, the Vista is a great place to stay with all of its amenities and several hotels located within the district.
What it's like:
historic · classy · lively

Known for:
restaurants · galleries · museums

Location:
West of downtown Columbia // Between the State House and the Congaree River


Check out our Vista guide and don't miss our Columbia City Guide!
Table of Contents
About The Vista in Columbia, SC
Columbia's Vista district is located just west of the South Carolina State House. It is a charming district with historic brick buildings housing restaurants, shops, businesses and attractions.
The Vista stretches from Assembly Street west to the Congaree River, overlooking the river and giving it the name "Congaree Vista" or "the Vista." The core of the commercial district is located on Gervais street which is where most of the retail businesses are found, however, there are some real gems on the surrounding streets.
Columbia's Vista is the political, business and entertainment hub of the city, with close proximity to the State House, Columbia Convention Center, Colonial Life Arena and the Koger Center for the Arts. With the draw of these attractions, the Vista is a popular place for business and recreational travelers to stay. As such, there are several upscale accommodations in the Vista area.
Restaurants in The Vista
The Vista is known for its varied and gourmet fare attracting patrons from near and far. But don't worry, this isn't yet another directory list of all the restaurants in the Vista. Instead, we wanted to share with you some of our favorite spots to dine in the Vista!
Date Night Restaurants in The Vista
Cola's: Cola's is one of our favorite Columbia spots for southern cuisine. They make their dishes with fresh local ingredients when possible. Located on assembly overlooking the State House, it's a great spot to dine when the weather is nice and the garage doors are open.
Motor Supply Company: One of the Vista's first restaurants, Motor Supply Company has been serving farm-to-table cuisine since 1989. Their menu boasts seasonal southern fare made with locally sourced ingredients where possible. They are open for lunch and dinner (and be sure to check them out for brunch on Saturdays and Sundays!)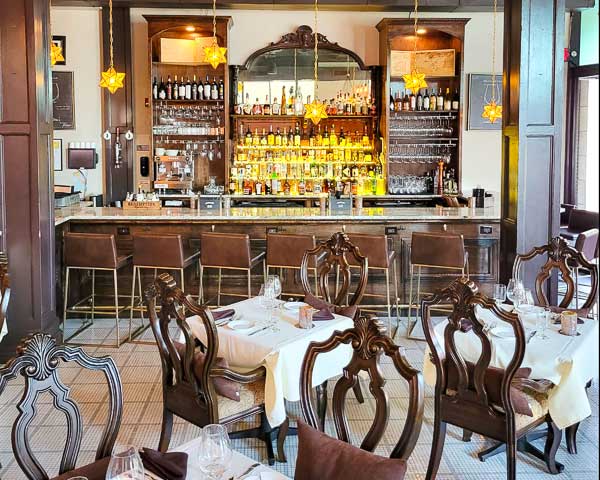 Gervais & Vine: On the casual end of fine dining, this tapas restaurant serves traditional Mediterranean dishes and is known for its excellent wine selection. If you're not a wine drinker, they have a substantial beer list featuring local and regional beers as well as an impressive cocktail list. The small plates are great for sharing! Gervais & Vine can get busy, so be sure to snag a reservation in advance.
Di Vino Rosso: A mainstay in Columbia, Di Vino Rosso has been serving traditional Northern Italian fare for over 10 years. The cozy dining room features white tablecloths and a beautiful bar. Not only do the dishes taste spectacular but they are also presented as works of art. It's a great spot to enjoy a delicious meal for a special occasion.
Grill Marks: For a more casual date spot, Grill Marks is a perfect choice. As a high-end burger joint, they have a casual yet classy vibe. Their gourmet burgers are out of this world and make sure you grab one of their delicious milkshakes!
Seafood restaurants in the Vista
Blue Marlin: If you are a fan of seafood, you have to check out the Blue Marlin in the Vista. Located in an old railroad station, the dining room has a ton of character and makes you want to settle in and enjoy a good meal. The southern-style seafood menu has plenty of fried options as well as shrimp and grits, gumbo and Charleston crab cakes. It's as close to the Lowcountry cuisine as you can get in Columbia!
Pearlz Oyster Bar: A popular Charleston restaurant, Pearlz Oyster Bar has a Columbia location in the Vista. They specialize in raw oysters and low-country cooking. Also, check them out as a bar- Pearlz is open late with a late-night food menu.
The Oyster Bar Columbia: You will find another oyster bar right next to Pearlz! The Oyster Bar Columbia is a less swanky, simple space serving raw and cooked seafood and low-country specialties. No frills- it's the perfect spot for authentic seafood and a cold beer!
Asian restaurants in the Vista
Menkoi Ramen House: Menkoi is an authentic traditional ramen house right in the heart of Columbia. A small cozy space, it's a favorite spot to get ramen on a cold night. It's also awesome for takeout. Be sure to add an order of their gyoza dumplings to your ramen!
929 Kitchen and Bar: This upscale contemporary Korean restaurant specializes in Korean food with a modern twist like their kimchi bulgogi nachos. The space is lively and fun with an exposed brick interior. Make sure you snag a reservation in advance for this popular restaurant!
Boku Kitchen and Saloon: Boku is an upscale casual pan-Asian restaurant and bar located in the heart of Columbia's The Vista District. They have an excellent selection of small plates if you're just looking for a snack or if you want to sample several dishes. We love their pork potstickers and brussels small plates.
SakiTumi Grill & Sushi Bar: SakiTumi offers some of the best sushi in Columbia. They also have a full menu of Japanese grilled entrees including hibachi, wagyu burger, and beef tataki.
Kao Thai Cuisine: Kao Thai Cuisine is a great spot a little off the beaten path. Some of the best Thai food in Columbia. Located in a former fire station, the restaurant has casual vibes and is a great spot to meet friends for a delicious meal.
Coffee, Bakeries and Sweets in the Vista
The Vista has a number of awesome spots to grab a coffee, breakfast or sweet treat! Whether you are looking for a place to sit outside and enjoy a leisurely breakfast for want to enjoy a late-night dessert date, we have you covered!
smallSUGAR: A favorite spot for brunch or an afternoon coffee with a pastry. They have such a cute and classy interior you will feel like you're dining in a world-class cafe. Their covered patio is also a dreamy place for brunch when the weather is nice!
Kaminsky's Dessert Cafe: A cafe dedicated to desserts! How can you go wrong? With a variety of delicious cakes, pastries and other treats Kaminsky's is a great spot to stop in to satisfy your sweet tooth. They have a cool bar atmosphere so they're a great spot for a late-night dessert date!
The Donut Guy: The Donut Guy started as a food truck and is still available every week at Soda City Market. Now you can get their excellent fresh donuts any day of the week at their shop in the Vista. They have a wide selection of donuts, coffee and even ice cream — it's definitely worth a stop!
Breweries & Bars in the Vista
Breweries in the Vista
Columbia Craft Brewery: You can't beat Columbia Craft Brewery for a casual beer with friends. Located about half a mile from Gervais Street, Columbia Craft Brewery is one of Columbia's award-winning breweries. We love coming here to try their latest small-batch brews and to grab a bite from one of the food trucks they have on-site from Wednesday to Saturday.
Twisted Spur: Twisted Spur is a small, upscale brewpub located on Gervais Street in the heart of the Vista. Their wide-ranging beer list has something for everyone. Their food menu also complements their beer with gourmet pub food options.
Columbia has many more craft breweries worth checking out — head over to our list of the best breweries in Columbia, SC for all of the details on our favorite spots.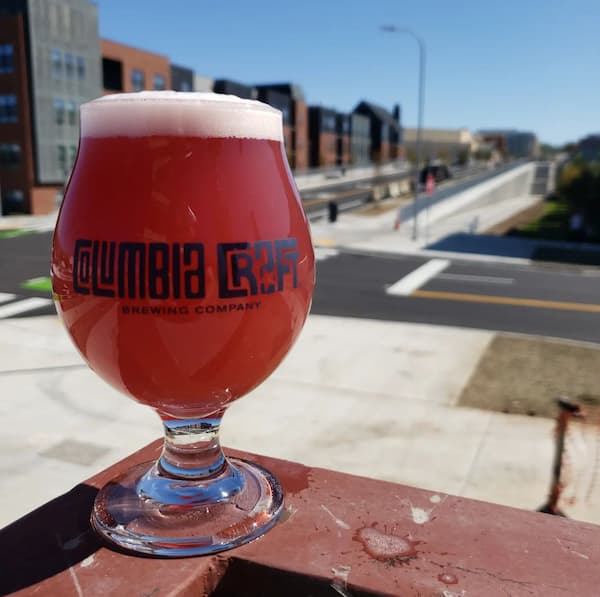 Bars in the Vista
Art Bar: Full of eclectic character, Art Bar is Columbia's funky dive bar. Their casual atmosphere makes for a relaxing night out whether you sit inside or hang out at their outdoor seating. They offer basic yet delicious bar food if you're looking for a snack and a drink.
The Aristocrat: This upscale gastropub is a great spot to have a drink and a bite to eat while enjoying some live jazz. You'll appreciate the vibe as soon as you see the cute exterior.
Tin Roof: Catering to a younger college crowd, Tin Roof is a lively casual bar offering live music, beer and good bar food. They are located right next to The Senate so it's a great spot to grab and drink and something to eat before a show.
Pearlz Oysterbar: While we have the listed above under Seafood Restaurants, Pearlz Oysterbar is a fun upscale bar by night. They have a great late-night snack menu if you're in the mood.
The Vista Attractions
State House: While not technically in the Vista, the SC State House grounds are on Gervais street right across Assembly Street from the Vista. The South Carolina State House is not only the place where South Carolina lawmakers go to work, but is also an architecturally beautiful building steeped in history. The State House grounds are also a lovely place to stroll whether you are visiting the Vista or the Main Street District.
Convention Center: The Columbia Convention Center is host to numerous events and conferences throughout the year. If you will be attending an event at the Convention Center, the Vista is the perfect spot to stay, eat and play! We definitely recommend sneaking out for a quick pastry at Small Sugar! 🙂
Colonial Life Arena: Home of the University of South Carolina Gamecock's basketball teams, this arena is a state-of-the-art venue for sports and entertainment. Be sure to check out what's happening at Colonial Life Arena while you're in town!
Koger Center: Columbia's premier center for the performing arts, the Koger Center is a centerpiece of Columbia's arts and culture landscape. Throughout the year, performances include symphony orchestras, ballets, and off-Broadway shows. The large theater has three levels and 2,256 seats- be sure to reserve your own seat!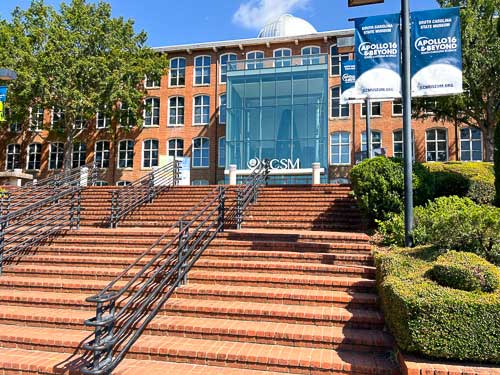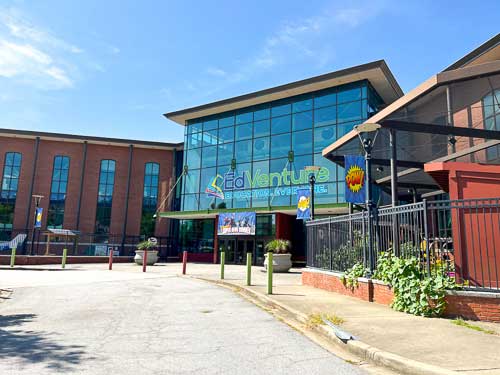 South Carolina State Museum: Located on the west end of the Vista near the Congaree River, the South Carolina State Museum is a great spot to spend a few hours! The SC State Museum, housed in a historic mill building, has four floors with exhibits covering natural history, science and technology, cultural history and South Carolina art. It made our list of top things to do in Columbia, SC and we definitely recommend it!
EdVenture Children's Museum: If you're visiting Columbia with kids, EdVenture is a great indoor space to let them learn, explore and burn off some energy. One of South Carolina's biggest children's museums, EdVenture is a state-of-the-art educational museum for kids of all ages.
Trustus Theater: Trustus Theater is a small community theater located in the Vista. The venue has two small theaters (one stage with 132 seats and the other with 50 seats) making for intimate shows. The Trustus is a must-stop spot for theater lovers. You can buy your tickets in advance here!
The Senate: The Senate attracts talented artists to its intimate 1200-person capacity concert venue. Check out their lineup and buy tickets at their website!
Adluh Flour: Adluh is a producer of flour and cornmeal products in a historic plant in the heart of the Vista. Their claim to fame is that they are the ONLY operating mill in South Carolina out of over 40 that were in operation in the 40's. You can buy their famous grits and flour directly from their mill on Gervais. It's a great and practical idea for a Columbia souvenir! If you are local, the Adluh Store is an awesome spot to buy flour! You can get a 25lb bag for $13!!!
Where to Stay in the Vista
There are a number of hotels in the Vista, each giving you the opportunity to walk around the district to enjoy the food and entertainment it has to offer.
Our list of hotels in the Vista is a bit lengthy. To keep it ordered, we have divided it by which side of Gervais Street the hotel is on.
Note: There are several lights where you can cross Gervais Street, so it doesn't really matter which side of the street you stay on. Everything in the Vista is within walking distance and all of the hotels are close to great restaurants!
Hotels South of Gervais Street
Hilton Columbia Center: This is a great hotel near the Columbia Metropolitan Convention Center. It's also next to the UofSC Alumni Center and within walking distance to the Colonial Life Arena. Nearby restaurants include Hickory Tavern, Five Guys, Menkoi Ramen House and Motor Supply Company Bistro. Ruth's Chris Steak House is downstairs at the Hilton.
Hyatt Place Columbia/Downtown/The Vista: This hotel is right in the middle of the Vista on Gervais Street. There are a ton of restaurants nearby, including Blue Marlin (southern seafood), Motor Supply Company (upscale southern) and Di Vino Rossi (Italian.) Donut Guy and Cupcake DownSouth are just across Gervais and Kaminsky's Dessert Cafe is on the same block.
Hampton Inn Columbia-Downtown Historic District: Hampton Inn is next door to the Hyatt Place mentioned above. It's another great place to stay if you want to be in the heart of the Vista. There are several restaurants nearby including smallSUGAR, which is a favorite of ours for breakfast and lunch. Try their almond croissant!
Hotels North of Gervais Street
Aloft Columbia Downtown: Aloft is on the opposite side of Gervais as the properties mentioned above. Coa Agaveria y Cocina, an upscale Mexican restaurant, is located in the same building. It's also within walking distance of everything else in the Vista, specifically Blue Marlin (southern seafood), Studio Cellar (wine, craft beer, appetizers) and smallSUGAR (breakfast + lunch.)
Cambria Hotel Columbia Downtown the Vista: Cambria is located on the north side of Gervais like Aloft and one block closer to the State House. It's close to Cola's (upscale American) and Mellow Mushroom (pizza), as well as Panera Bread and The Aristocrat (upscale gastropub with jazz music.)
Holiday Inn Express & Suites Columbia Downtown – The Vista: Another property on the outskirts of the Vista– but still within walking distance to several things. It's only two blocks down from all of the action on Gervais Street. It's also only one block over from the Aristocrat, an upscale gastropub with live jazz.
SpringHill Suites Columbia Downtown/The Vista: This hotel is on the outskirts of the Vista, but it's close to the SC State Museum, the Trustus Theater and Publix (the Vista's only grocery store.) It's easily within walking distance to several of the Vista's great restaurants, though. Gervais & Vine tapas bar is across Gervais in this area and is always such a treat!