About Columbia's Devine Street
Devine Street, one of Columbia's premier shopping streets, is home to so many cute local shops and boutiques. It doesn't end there, though. Devine Street also has plenty of places to stop for a bite to eat or have a drink (coffee or otherwise!)
While the retail pockets on Devine Street are somewhat spread out from Five points to the Millwood Avenue intersection, it is still very walkable with sidewalks and tree-lined streets. Surrounded by residential areas, you'll enjoy an inviting neighborhood feel as you stroll along perusing the local shops and eateries.
What it's like:
Charming · Local · Walkable

Known for:
Boutiques · Restaurants · Neighborhood Feel

Location:
Just East of Five Points


Check out our Columbia, SC Devine Street guide below and don't miss our full Columbia city guide!
We divided this guide to Columbia's Devine Street into several areas to help you quickly find what you are looking for. The table of contents below will help you jump around as needed. Happy exploring!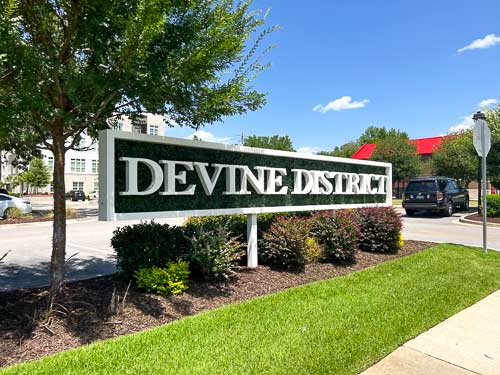 Restaurants on Devine Street
Devine Street has plenty of culinary experiences to offer. Its the perfect area to check out local neighborhood restaurants. Check out some of our favorites below (in no particular order!!)
Great Date Night Restaurants on Devine Street
Il Giorgionne: A family-owned neighborhood Italian restaurant, Il Giorgionne offers delicious food in an intimate yet inviting setting. They offer a wide-ranging menu of Italian dishes with a large selection of wine. They have great pizza, which is why they have a spot on our list of the best pizza joints in Columbia! Whether you are looking for a date night restaurant or a place to enjoy the company of family and friends over a great meal, Il Giorgionne is a great option. Be sure to check out their Saturday brunch (their lemon pancakes are delicious!)
Cantina 76: A very popular restaurant along Devine Street! Cantina 76 is a taqueria, offering a menu with a delicious array of fresh and unique tacos and other Tex-Mex dishes. For those who aren't taco fans, we can recommend the quesadilla and the chimichanga as well. The vibe is lively and upbeat, passing the fun energy on to you as you dine. They also have covered patio seating available for those nice weather days.
Za's on Devine: You can't beat a hot fresh pizza made in a brick oven! Za's consistently delivers quality pizzas and other Italian dishes in its neighborhood restaurant on Devine Street. We love dining inside where you can see the food being made in their open kitchen or outside on their patio when the weather is nice.
Meditteranean Fare on Devine Street
Arabesque on Devine: You'll find authentic middle-eastern (Lebanese) food that is perfect for lunch or dinner at Arabesque. We love the fresh ingredients and flavor that Arabesque has to offer. Their hummus is excellent and you can't go wrong with their mouthwatering lamb chops. Be sure to check out their extensive pizza selection if you're in the mood!
Mediterranean Tea Room: A longtime fixture on Devine Street, Mediterranean Team Room offers classic Mediterranean dishes like gyros, kebabs, kofta and greek salads. A favorite for locals, you'll definitely enjoy this neighborhood restaurant and its friendly staff. It's a great spot for lunch or dinner!
Burgers and Sandwiches on Devine Street
Henry's Restaurant and Bar: Henry's makes an excellent burger and great fries. In addition to that, they offer other options ranging from chicken fingers and wings to hot dogs and club sandwiches. They have a great bar set up making it a good spot to relax and have a drink. They also have outdoor seating on a covered patio. You can also check them out for Brunch on Saturday and Sundays from 10am – 2pm.
The Devine Cinnamon Roll Deli: As one of our favorite breakfast spots, we have The Devine Cinnamon Roll Deli listed below in our breakfast section, but we would be remiss if we did not include them here as well. They have an excellent deli sandwich and hotdog selection. They even show up on our list of favorite delis in Columbia, SC.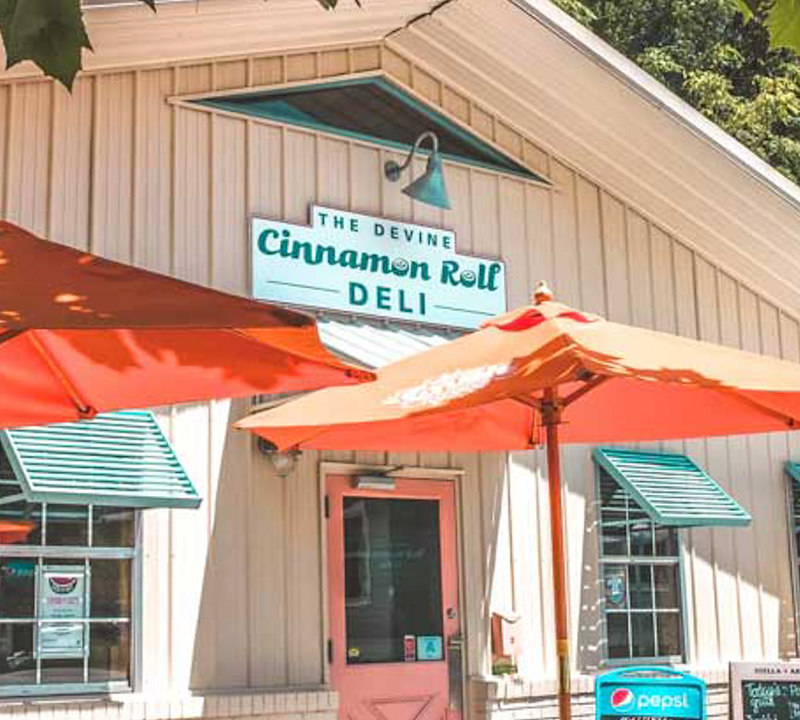 Burger Tavern 77: If you want to try a new style of burger, Burger Tavern 77 is sure to have something to offer. Their menu is packed with tons of unique burgers in addition to appetizers, sides, salads and more. They have a full-service bar with a large selection of beers on tap. And if you're looking to dine al fresco, they have you covered (no pun intended) with a covered patio.
Backstreets Grill: One of the newer restaurant additions on Devine Street, Backstreets Grill is a classic casual bar and grill serving burgers, sandwiches, pizzas and various other entrees. The lively bar-like atmosphere always makes for a good time. Make sure you check out their truffle fries!
Breakfast, Coffee, Bakeries on Devine Street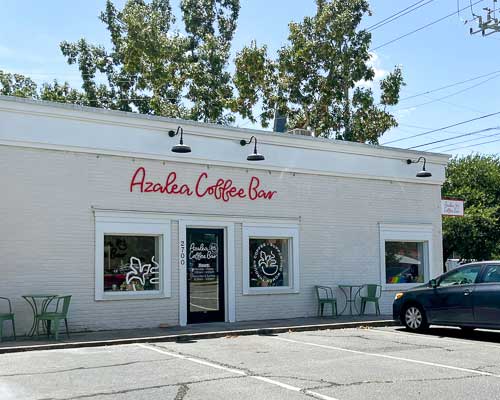 Azalea Coffee: A cute coffee shop with a seriously great (#instagramworthy) mural by a local artist at the center. Azalea is on a mission to feature women-owned businesses in everything they do, whether it's a local baker, the coffee producers or the mural artist herself. You'll find a great place to catch up with a friend or get some work done. We love all of their specialty drinks, especially the 9 to 5 (espresso, white chocolate sauce, organic beetroot powder, milk, rainbow sprinkles.)
Blum Coffee: Another cute coffee shop but you should expect nothing less on Devine Street! Blum has a really fun espresso menu with seasonal botanical-inspired drinks (ex. Basil Habanero, Grapefruit Brown Sugar and Rose Cardamom.) There are a ton of 2 seater tables, which fit a laptop perfectly! 🙂
Silver Spoon Bake Shop: You've gotta be ready to snag Silver Spoon when available! The bakery switched from daily hours to a weekly pre-order during COVID. Pre-ordering opens on Wednesday evenings at 8PM and you can pick up your order from their porch on Fridays from 4-6pm. It is WORTH IT!!! Especially if cinnamon rolls are on the menu or their frosted sugar cookies.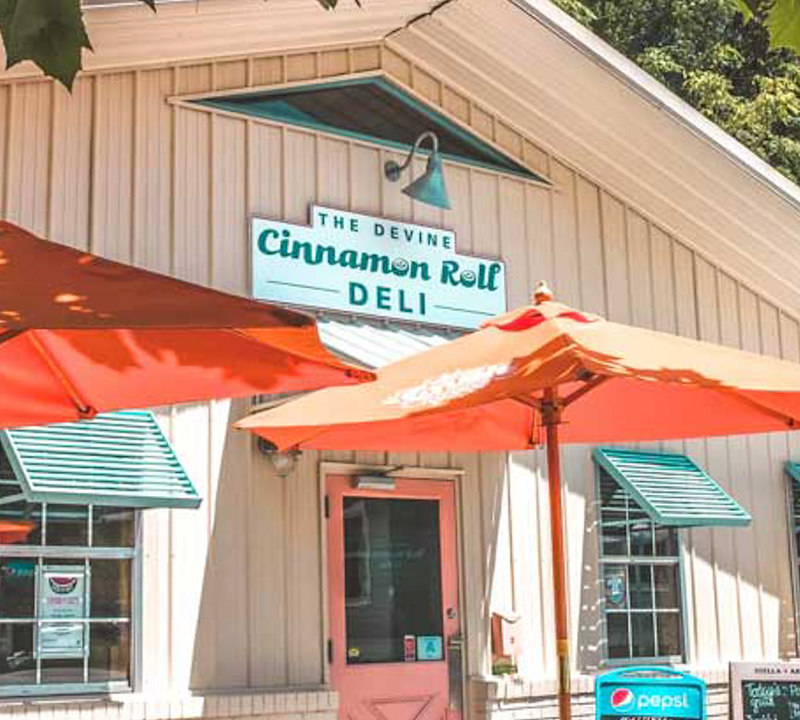 The Devine Cinnamon Roll Deli: Oh, this is such a great addition to Devine Street. It's take out only right now but you can order online. Not only can you grab amazing cinnamon rolls (hence the name…), but you can also get a fantastic breakfast or lunch.
Their pimento cheese grits (Saturdays and Sundays only) are drool-worthy. I always get the Big Max breakfast sandwich (2 eggs, cheddar cheese, black pepper thick bacon, and whole grain mustard spread) on sourdough. The mustard is such a great touch! All sandwiches come with a mini cinnamon roll. Parking can be tricky but there is street parking available out front.
Devine Cinnamon Roll Deli is on our list of the best delis in Columbia!
Eggs Up Grill: A great spot to grab a classic breakfast, burger or sandwich. They open at 6am daily and keep the coffee flowing until 2pm. Eggs Up is a kid-friendly restaurant with high chairs, coloring books and crayons available. You'll find all your breakfast favorites like pancakes, eggs, bacon and even a Belgian waffle.
Publick House: Publick House is a great neighborhood bar with a dimly lit authentic pub feel. They have great wings and fish and chips to go with their extensive drink selection. If you're looking for extra entertainment they have a pool table and dartboards.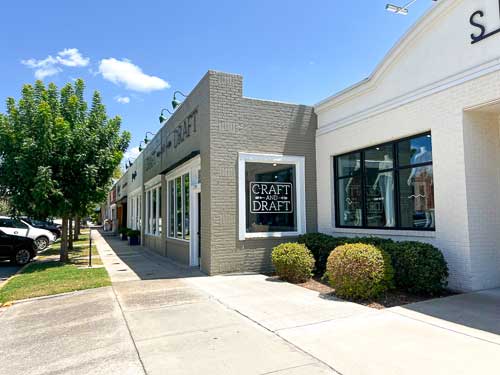 Craft and Draft: If you are into craft beer, Craft and Draft is a must-stop for you. They are a craft beer store and taproom with 12 rotating craft beers on tap. The staff is very knowledgeable and it's a great way to try out new craft beers. It's also worth noting that they are dog friendly in case you are out walking with your pup!
Nightcaps: Another great neighborhood dive bar, Nightcaps is a laid-back spot for drinks and bar food.
Shopping on Devine Street
One thing that stands out about Devine Street is just how local all of the shops are! And most are female-owned. You can rest assured that shopping on Devine Street at one of these stores listed below will lead to someone doing a small business owner happy dance.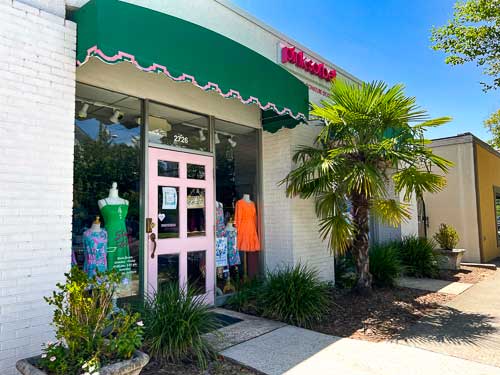 Pink Sorbet: Columbia's only Lilly Pulitzer Signature Store and it's just perfect. It's such a happy shop, from the pink door to the pink and green awning above. You'll find all of the latest and greatest Lilly pieces, from colorful dresses to bright workout gear, they have it all! You can also shop online through Pink Sorbet.
Duck Duck Goose: A local shop full of the cutest baby and kids clothing around featuring signature southern clothing. Duck Duck Goose has a great baby selection, so it's a wonderful shop to pick up something for a new little one. They also offer monogramming services for most of their inventory. You'll find a great book and toy selection, as well as perfect seasonal gifts. And I can't mention Duck Duck Goose without calling out that it is the most gorgeous store in all of Columbia! You will be ready to move in with their darling decor.
Marigold Modern Kids: Another fun baby + kid shop on Devine Street, Marigold Modern is filled with progressive + modern clothing brands (ex. Bobo Choses, Pink Chicken, Red Caribou). They have coffee-table-worthy books for kids, Banwood bikes and Moon Pinic calendars.
Half-Moon Outfitters: A great stop for outdoor clothing for the whole family. You'll find footwear, camping gear, outerwear, sunglasses and more at Half-Moon from brands like Prana, Sorel, The North Face, Carhartt and Birkenstock. You can also grab an Eno hammock from Half-Moon!
Blossom Shoes and Such: A girly boutique out of Greenwood and Greenville, SC. You'll find shoes at Blossom, of course, as well as handbags, jewelry, candles, sunglasses and gifts galore. It's my go-to local shop for gifting!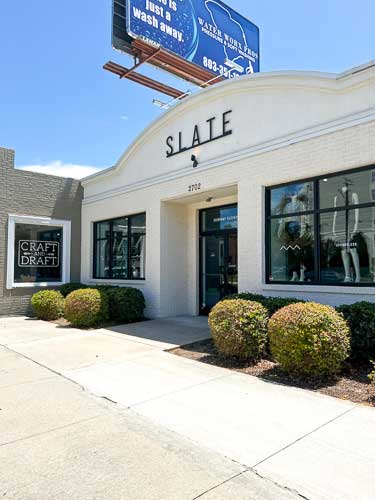 Slate on Devine: A locally-owned women's clothing boutique with brands like ABLE, Ranna Gill, AGolde and Farm Rio. Slate specializes in 'elevated basics' so you are sure to find the perfect jeans and black tee.
Just the Thing: A longtime Devine Street favorite with everything from handbags, clothing, jewelry and shoes. Just The Thing has two locations on Devine Street just next to each other (with Marigold Modern right there, too!) Their 2734 Devine Street location is where to shop for clothes and shoes and 2732 is home to jewelry and accessories.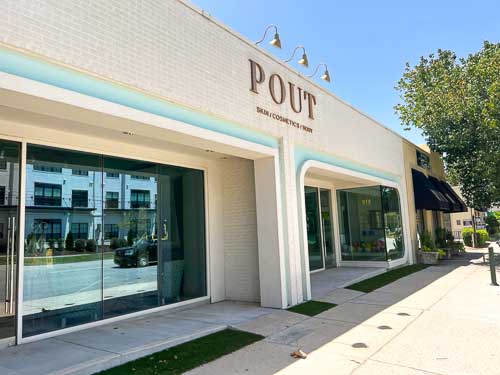 Pout: a beauty boutique featuring the latest luxury beauty products and an array of innovative skin services. I love visiting Pout! You'll find everything from Tata Harper skincare to Diptyque candles.
Non(e)such: A gift and home decor shop with higher-end finds. Nonesuch is a local favorite for wedding registries. You'll find everything from classic tabletop decor to thoughtful baby gifts for life events.
Getting to and around Devine Street
Devine Street is a walkable commercial corridor located just to the East of Five Points. The walkable area runs from Five Points to the intersection of Devine Street and Millwood Avenue, which is a little over a mile long.
The majority of the retail storefronts are in a half-mile stretch in the middle of that area. There is street parking along Devine Street and side streets and many of the businesses have their own parking lots.