We had such a fun day at Citadel Park in Columbia (err.. Forest Acres…) and I wanted to share it in case anyone was looking for some inspiration on what to do in Columbia, SC with kids. Now, of course there are the obvious Riverbanks Zoo and EdVenture destinations, but sometimes a day out at the park is just what everyone needs. And that's just what we did!
Today's destination: Citadel Park in Columbia for a picnic and playdate
Groucho's Deli to-go
The weather has been amazing lately, so I packed the kids up and ordered Groucho's before leaving the house. Groucho's is on our best deli list in Columbia and one of our go-tos! I got an Apollo for myself, a junior Apollo for our oldest and packed a lunch from home for our youngest. There are a ton of Groucho's Delis around Columbia, but I opted for the Forest Drive one since it's so close to Citadel Park. They make it really easy to just run in and grab your order and I have never had an issue with it not being ready. I always make sure to grab a half sweet / half unsweet too. They have the best ice!!
A picnic at Citadel Park
After grabbing our lunch we hopped over to Citadel Park in Forest Acres. It's about a two minute drive from Groucho's (assuming you can turn onto Forest Drive!!). I let the kids run around while I ate in peace on a bench nearby. That's a monumental moment for a parent to young kids! A quiet lunch! The kids love running around the park and I felt safe letting them do so while I watched from the bench.
There's a great toddler-sized play structure at Citadel Park as well as a larger one for the bigger kids. Oh, and bouncy t-rex dinosaurs for you fellow parents of dino-loving kids! There are also swings and slides, as well as a great rubber ground that is perfect for the inevitable slips and trips. It really is a great playground in Columbia for all ages!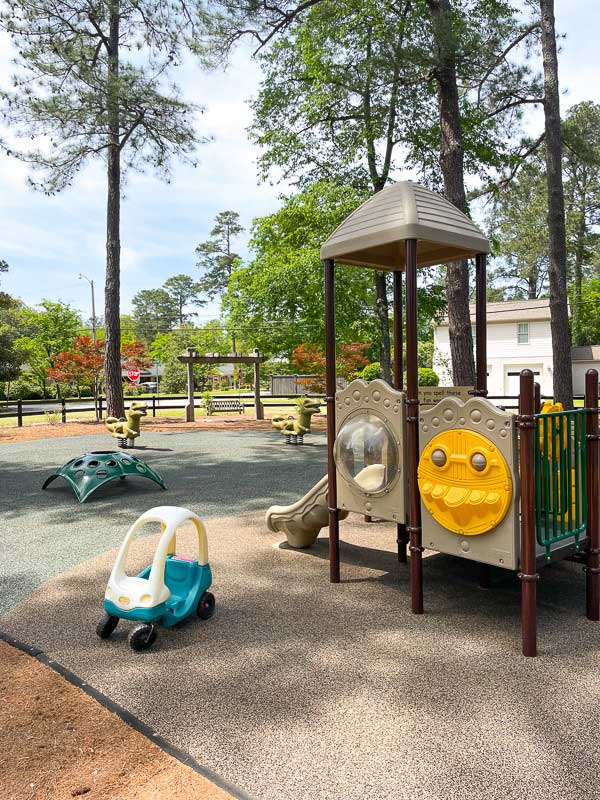 I eventually corralled the kids over to eat a few bites of lunch before they got back to playing. And then I finished the extra chips and 45 Sauce. It was amazing! 🙂 And I didn't get any photos of the food because there was definitely not time for that!
I had such a fun day out and I hope this post inspires you to have a picnic park adventure of your own in Columbia!
Once summer hits and the temperatures are in the high-90s, we will switch our picnic lunches to picnic breakfasts! I love getting out early with the kids and letting them burn off energy before it gets too hot out.
If you are looking for more playground adventures in the area, make sure to check our guide to the best playgrounds in Columbia, SC!